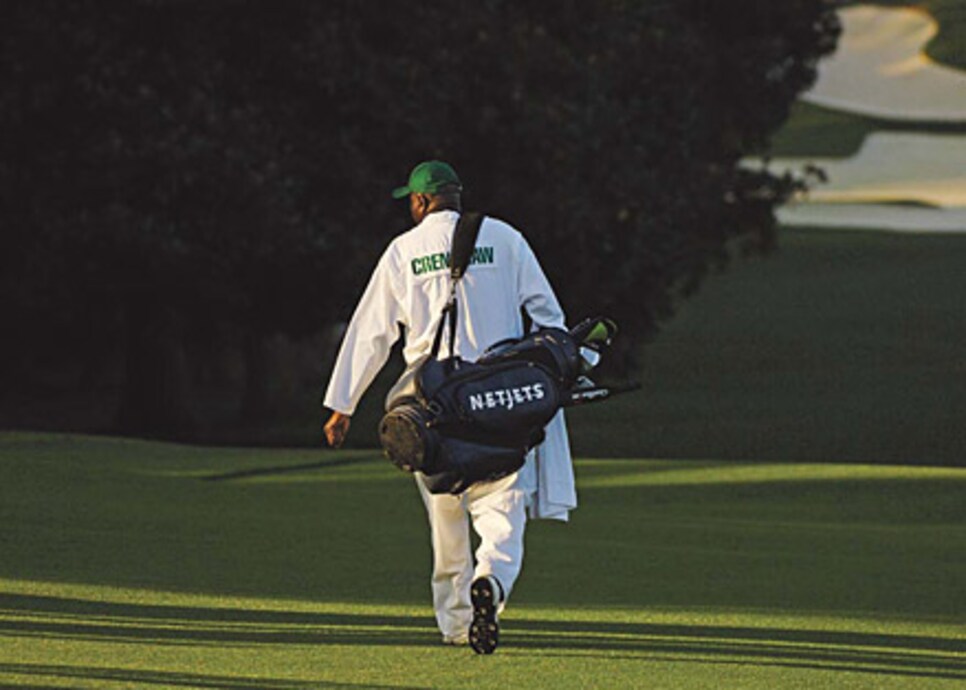 Jackson has caddied in 45 Masters, starting at 14, and has been with Crenshaw for 30.
Carl Jackson holds the record for caddieing in the Masters. Even if it's not in the books.
Because, for all the records that have been kept since the first Masters in 1934, nobody ever bothered to keep track of who caddied each year.
But it's a record just the same, supported by anecdotal evidence, news accounts and common sense.
Not that Carl Jackson, at age 60, would ever make a fuss about it. "I guess I hold the record," he says, in a soft voice that belies his commanding 6-feet-5 presence.
Of course he does. Nobody else comes close.
Jackson caddied in his first Masters in 1961, at the age of 14, and with just one notable exception, he has caddied in every Masters since then. That's 45 Masters and counting, 30 of them on the bag of Ben Crenshaw, carrying for Crenshaw in two victories (1984 and 1995) as well as in one they should have won.
Jackson was on the bag for a Masters contender when he was 17, became a last-minute substitute after a death threat six years later, and was close to an Augusta National member who went on to become the club chairman. (Close enough that it earned Jackson another record.)
The best we can figure, the record for caddieing previously belonged to the late Willie Peterson. He began in 1949, took Jack Nicklaus' bag in 1959 and carried for five of Jack's six titles. When Augusta National agreed in 1983 to allow players to use their regular tour caddies in the Masters, Peterson's streak ended at 34.
With that change in policy, tour caddies or family members soon replaced the Augusta National caddies in the Masters. Except for Jackson, who keeps adding to his record. To put it in perspective, Tiger Woods' caddie, Steve Williams, would have to caddie well past age 60 to match Jackson's achievement.
As Jackson prepares for his 46th Masters, he shrugs at the possibility of breaking another record: Arnold Palmer's 50 appearances. (It's a record Gary Player will match this year and likely surpass in 2008.) The onus is on Crenshaw, now 55, to keep using his eligibility as a past champion.
"I don't know if I can last that long," Crenshaw says. "Especially with as much course as they've got out there now. If and when I give it up, I'll do everything in my power to make sure Carl has somebody's bag during the Masters for as long as he wants to continue. I do know this: Everything I've achieved over the years in the Masters, I owe to Carl Jackson."
Jackson was the prototypical Augusta National caddie in the 1960s, joining the many young black men who worked at the all-white golf club because that's where the money was. Jackson quit school at 13, unable to afford the clothing required by a new dress code. After a stint at Augusta Country Club, he started caddieing full-time at Augusta National, where the club provided uniforms, caps and sneakers. A skinny 6-footer, he competed successfully for bags against caddies twice his age. He made $5 a bag, plus a tip of two or three times that amount, which he'd give to his mother to help feed his six brothers and two sisters.
His big break came at age 14, when he filled in as caddie for member Jack Stephens, who would become the club and Masters chairman in 1991. Carl caddied for him all season, usually Thursday through Sunday, and Stephens paid him $500 a week, a fortune for someone whose mother was earning $5 a day as a maid. Jackson worked as an Augusta National caddie, Stephens' caddie mostly, all through the 1960s. When the club's two most prominent members, original Masters chairman Clifford Roberts and former president Dwight Eisenhower, expressed concern about employing a truant, Stephens prodded Jackson to enroll in home study. Carl would earn his high school diploma at 17.
In Jackson's first Masters, "I got a ceremonial player, Billy Burke," he recalls. [Burke had tied for third in the first Masters, in 1934.] "He was one of the last guys to play in a necktie," Jackson says. "He told me, 'I'm going to teach you how to caddie in the Masters.' "
Burke, who missed the cut, spent the two rounds showing young Carl where to stand while players teed off, where to stand while they putted and which fairways to forecaddie.
During the next few years, Jackson developed a knack for reading the greens and analyzing the wind. "Anyone can tote a golf bag," he says. "I had instincts for the game. And I got to know the golf course pretty well. Like, a lot of people misread 12 green. If you're putting toward 13 tee, it's downgrain, but they don't know that. They think it's flat. Augusta's got its little secrets."
In the beginning, Jackson was at the bottom for Masters assignments. After Burke, he was given players not likely to be in contention, amateurs Deane Beman and Downing Gray. "We all had to take our turn with Downing Gray," he says.
In 1964, Jackson was assigned Bruce Devlin, a young pro from Australia, and for the first time, Carl got a taste of the action. In the fourth round, paired with Gary Player, Devlin was three strokes off the lead. On the par-3 fourth, Carl recommended a 4-iron. "Too much," Devlin said. "Give me the 5."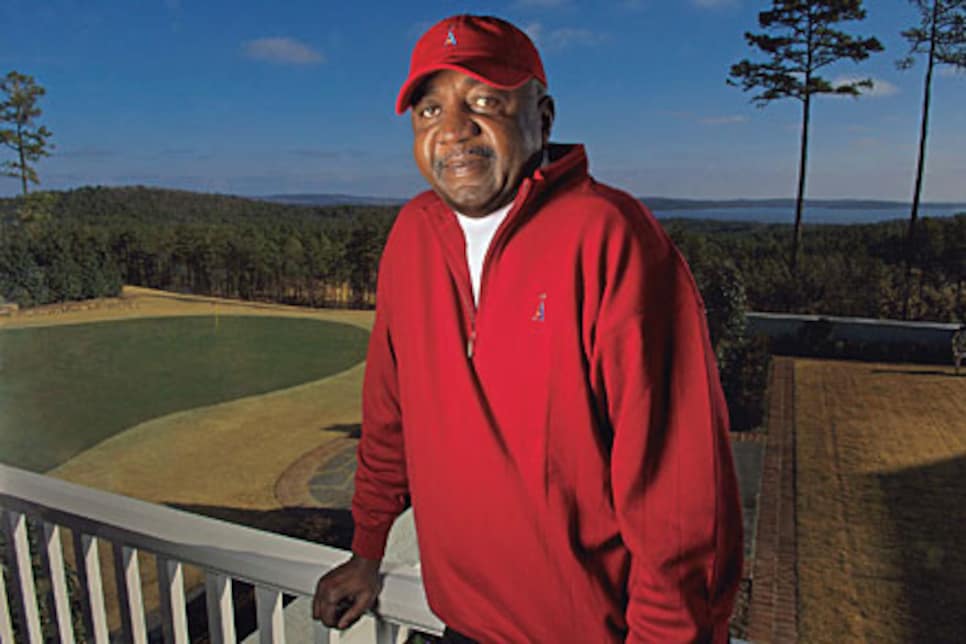 Jackson remembers Player clearly disagreed with Devlin's choice, but a player cannot offer advice to another player. So, as Devlin prepared to hit, Player walked to the front of the tee and faced the green, blocking Devlin from swinging. Player stood there, as if he were judging the distance or the wind. Devlin finally asked Player to move, and he did, silently shaking his head.
"Devlin buried the shot in the front bunker, took triple bogey," Jackson says. "We never got the momentum back." Devlin finished fourth behind Arnold Palmer, in what would be Palmer's final victory in a major championship.
Six years later, Jackson would end up on Player's bag, through a strange set of circumstances. In 1970, the National Association for the Advancement of Colored People was picketing outside the front gates of Augusta National, specifically protesting Player's appearance and the apartheid policies of his home country of South Africa. Early in the week, Jackson's assigned player made a remark about the picketers, and Jackson ended up refusing his bag. He was prepared to sit out the tournament, and Stephens supported his decision, even promised he'd pay Jackson what he would have earned.
But on Tuesday, Player's usual Masters caddie, Arness Nipper, received a death threat and said he wanted to be reassigned. An assistant pro explained the situation to Jackson and asked if he'd fill in.
"I told them, 'He's a world-class player, and I get a chance to caddie for him? Heck yes, I'll do it,' " Jackson says.
Player, who had won the Masters in 1961, played exceptional golf that week. On the final hole on Sunday, he was tied with Billy Casper, who was in the same group, and Gene Littler, who had just finished. Player hit a perfect drive to the middle of the 18th fairway.
"Player asked, 'What do you like?' " Jackson recalls. "I called a 5-iron. He was anxious and ready to hit and said, 'Carl, I feel pumped up. I'm going to hit a 6-iron.' It was a great looking golf shot, but it fell into that front bunker. We got up there, and he had a fried egg. He told me to go up there and flag the hole [tend the flagstick]. Flag the hole? It was a fried egg. But I did it, and he hit such a great shot. That ball bounced three inches past the hole and ran on. He didn't make the putt coming back."
Jackson shakes his head at the recollection. "The man hit every club I suggested, all the way through 71 holes. Then he went against me on that 72nd hole."
That bogey cost Player a spot in the playoff, won by Casper. Jackson assumed he would be caddieing for Player again in 1971, but when the week arrived, Jack Stephens pulled him aside.
"Mr. Stephens told me he wanted me to caddie for Charlie Coe. I told him, 'Mr. Stephens, he's just an amateur. I've got Gary Player -- he could win.' And Mr. Stephens told me, 'Whatever Player's caddie makes, I'll pay you more.' And he did."
Jackson won't say it, but the implication is clear: Player had requested a different caddie, and Stephens was letting Carl down easily. Player, by the way, did win the Masters a second time in 1974, and a third time in 1978.
In 1973, Jackson left his job at Augusta National and moved to Little Rock to work for Stephens as a handyman and caretaker as well as caddie. "I took care of his hunt club, his houses in West Palm Beach and Little Rock," Carl says of Stephens, who died in 2005 at 81. "Whatever needed to be done, I got the job done. I lived in his house for nine years while I got married and he got married."
Carl befriended Stephens' son Warren, who would spend summers with his dad. They'd play cutthroat, one-on-one basketball games. Early on, the older, taller Carl always won, forcing Warren to develop some game. Carl now works as the caddie manager for Warren, who founded The Alotian Club in Little Rock and patterned it after Augusta National. Their sons attended high school together and were star linebackers on the same football team.
As Jack Stephens' Augusta caddie, Jackson was still eligible to carry in the Masters. He did a couple of years with Steve Melnyk, then for Lou Graham the spring before Graham won the U.S. Open. In 1976, Stephens arranged for Jackson to take the bag of Ben Crenshaw, then 24. Crenshaw finished a distant second to Raymond Floyd that year, and he felt an instant compatibility with Jackson. Ben played by instinct; Carl caddied by instinct. They were both shy by nature, even talked alike, in drawn-out Southern cadences.
Crenshaw's two Masters victories are famous for their visual images. In 1984, it's the footage of the enormous birdie putt he sank on the 10th hole in the final round, his third consecutive birdie, but what Jackson remembers is the poor approach that left such a long putt.
"Man, he hit that putt, and it seemed like it took five minutes for that ball to get to the hole," Jackson recalls. "It just kept creeping along. You couldn't believe a player could hit a putt with touch like that. By the time the ball went in the hole, I was down in the woods, jumping up and down, I was so excited. Ben was looking back up the fairway, checking out Tom Kite."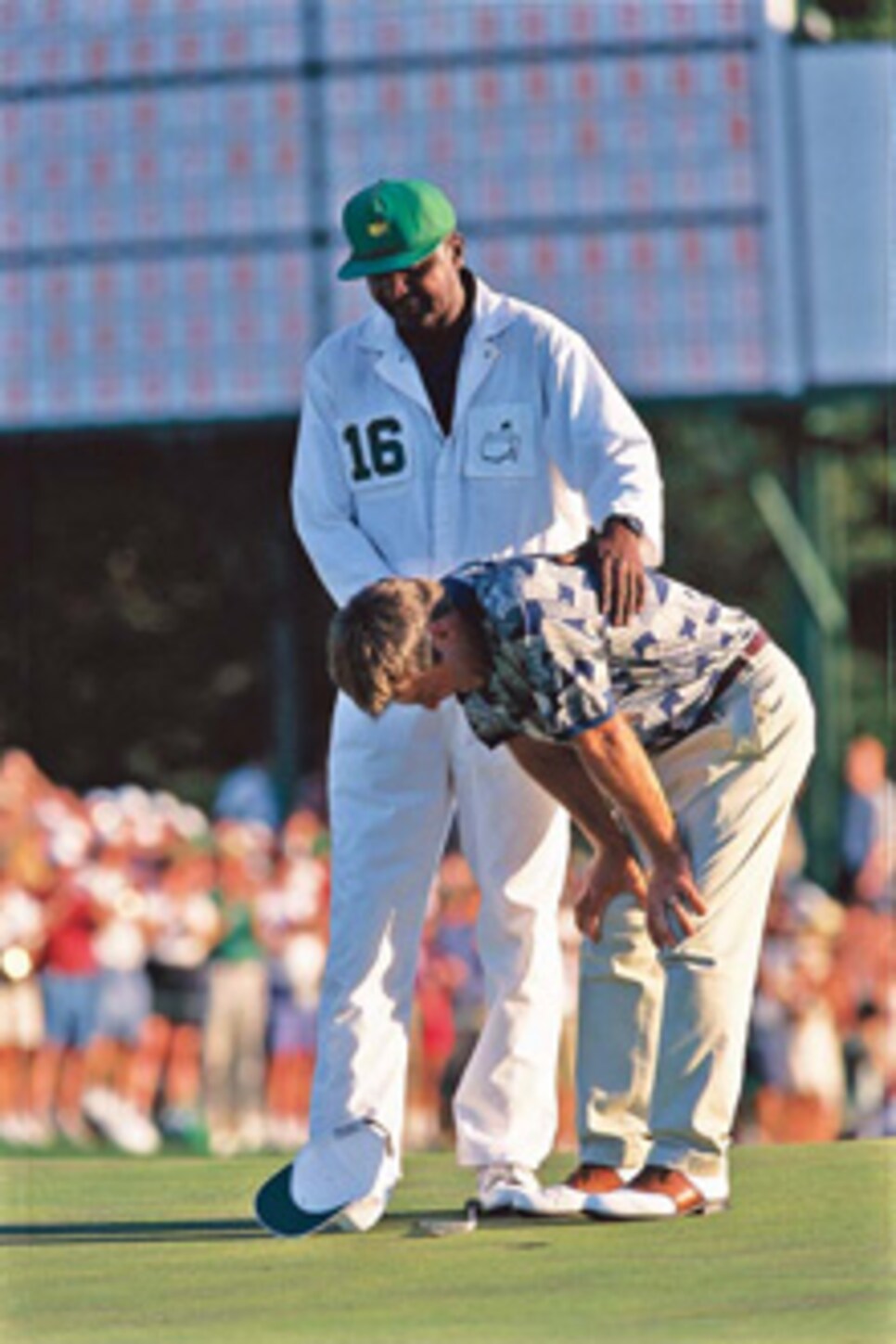 Kite, the third-round leader, was still contending as Crenshaw teed off on the par-5 13th. "We drive our ball on 13, it's a good drive, and I was thinking 4-wood," Jackson says, dismissing the notion of laying up in front of the water guarding the green. "I'm ready for him to go for it. But Ben starts walking around."
Crenshaw paced around, stalling for time. Jackson recalls him "rubber-necking" in the direction of the 12th tee, where Kite was prepared to tee off. "Come on, Ben, get about your business," Jackson remembers saying under his breath. But Crenshaw kept fidgeting until Kite swung.
"Sure enough," Jackson says, "Kite hit it in the water...Ben came back to the ball and said, '8-iron.' "
Asked about his recollection of that day, Crenshaw laughs. "I was definitely watching every leader board, but I think Carl gives me too much credit for how far I hit the ball. I think I asked for a 5-iron to lay up, not an 8."
The other famous image is Crenshaw in 1995, after putting out for his second Masters title, sobbing on the final green. Some photos show Carl holding him up and hugging him. Others show Crenshaw a solitary figure, bent over, his hands to his face.
"That was a few seconds that seemed like it took forever," Carl says. "I walked over and hugged him and was looking through the gallery and saw his brother crying, his wife crying and his friends crying. Now I'm getting all choked up. And then this other caddie's telling me, 'Get that flag. Get that for a souvenir.' The idea of getting the flag on the side of the green helped me not to cry. So I just walked away to get that flag before someone else did.
"Ben was dealing with so much that week," Jackson says. "I learned from him on Monday that his teacher, Mr. Harvey Penick, had died. He was trying to hit some practice balls, and make travel arrangements to go to the funeral, and he went out to play on Monday afternoon. On the ninth tee, I looked at Ben, and he was reaching for the ball, way out there. I said out loud, 'Damn, Ben, it looks like you're playing hockey.' I told him, 'We need to go to the practice tee.'
"So we did. I sat down on the ground, with my body this close to the ball, just trying to get him to keep his swing in tight. He'd hit a ball, and I'd just roll another in the spot with my finger. I moved his ball position back and told him to keep his shoulder turn tight. At the end of that session, Ben said -- and you could tell it was heartfelt in his voice -- 'Carl, that is absolutely the best session I've had in a long, long time.'
"You don't realize how well he played till it was over. You don't make a bogey on the back nine until the 72nd hole on Sunday? You don't bogey 4 through 7 the whole week? Man, it was magic."
The only disagreement the two ever had occurred in the 1989 Masters. Crenshaw was the 54-hole leader and still had a share of the lead on the 17th hole in the final round.
"It was ours to win or lose," Jackson says. "I'm on a wedge at 17. I told him that, and Ben just slumped his shoulders and walked away. He said, 'I'm going to hit this little 9-iron.' I said, 'No, it's a pitching wedge.' Well, we went back and forth, to the point I said, 'Please, please, hit the pitching wedge.' And Ben said, 'Carl, I've got to hit this 9.'
"So he did. He hit a pretty-looking shot, but it hit too close to the pin and hopped on over the green into a terrible position. I think he's still kicking himself about that."
Crenshaw bogeyed the hole and finished one shot shy of the playoff won by Nick Faldo over Scott Hoch.
Jackson has missed only one Masters since 1961. In January 2000 he was diagnosed with colon cancer. He spent the entire year in treatment but has recovered. Crenshaw used a tour caddie at the Masters in 2000 but welcomed Jackson back the next year.
"I keep telling him he's going to be the first player to win the Masters in his 50s," Jackson says. "We know, if the right conditions show up, if it's dry and firm, he can win it on the greens. All the good putters they talk about these days, I know they can't putt the ball with the touch and imagination that Ben Crenshaw has. On fast greens, Ben Crenshaw is still the best putter there is."
"We had those dry conditions for the first two rounds last year, and we were in the top 10 going into the weekend [tied for 10th after rounds of 71-72]. I told him, 'Now we can talk about winning.' But the rains came on Saturday, and I just about cried. We lost 50 yards on the tee shots." (Crenshaw closed with rounds of 78-79 to finish 47th.)
ANOTHER RECORD, FOR ALL TIME
Carl says another Crenshaw victory in the Masters is more important to him than any personal record. Besides, he already holds another Augusta National record. This one, he says, has witnesses.
"I lay claim to being their first official black guest. Mr. Stephens and I were there in May of 1988. He was the only member on the property and didn't have a golf game. So he told me to call the pro shop and get a couple of the pros to play golf with him and me. Well, the buzz went through the club as soon as I called.
"By the time we got to the first tee, every employee at the club was standing out there, like it was the Masters. Mr. Stephens hit first, from the regular tee, and the two pros and I hit from the back tee. When I hit that drive and it landed over that trap up there, the crowd started cheering; you'd have thought I'd just won the Masters. It was something. But they couldn't follow us; they had to go back and do their jobs."
Using borrowed shoes and borrowed clubs, Jackson says he played indifferently that day, but he had one other highlight. He outdrove both pros on the par-5 15th and had just 130 yards to a back-right flagstick for his second shot. He reached the green in two with just a pitching wedge.
"Fifteen played short, even back then," Carl says with a grin.