"Caddies are even crazier than golfers. You know why? Because we know golfers are crazy, and we still want to work for them!"
Steve Williams is golf's man of the moment following the publication of Out of the Rough, his memoir about a career that included 12 years as Tiger Woods' caddie. By almost any standard, and certainly by golf's, Williams is an eccentric character—which makes it so interesting that he took a standard path to the top of the profession. He was already caddieing at a local club by age 6, he worked the New Zealand Open when he was 12, and he left home to try his luck on the European Tour before his 16th birthday. Williams was seemingly born and bred to the job.
That predictable journey actually makes him an outlier. As far as I can tell, there's no such thing as a "normal" career trajectory that brings a person to the world of professional golf. When you hear enough of the bizarre origin stories shared by players and caddies and equipment reps and agents and etc., you begin to guess that a series of rogue tornados gathered them up from far-flung corners and deposited them, puzzled but willing, onto a golf course.
Even in this context, Michael Collins has a strange story to tell. He's a senior golf analyst for ESPN now, but before that he was a caddie, and before that a stand-up comedian. The way he leapt from career to career without stumbling is a result of his relentless charisma—Collins is the sort of irrepressible, born entertainer who will approach anyone, at any time, without even a shadow of fear. If they're not receptive to his charms, he's not bothered—he'll just try again later, and with the same friendly energy and wide smile, as if he didn't remember the first snub.
Of course, I never snubbed him in the first place—partly because while writing Slaying the Tiger, my book about the 2014 PGA Tour season, I needed all the friends I could get, and partly because he was very funny. And when it came time to study the world of caddies, I knew he had the inside dope.
There is a lot of money in caddieing, at least potentially, but very little power.
Collins first became interested in golf in the late '90s and fell in love with the game so quickly that he tried to book his stand-up gigs around PGA Tour stops. He soon discovered that a thousand other comedians had come up with the same idea, and he was briefly stymied. Then, in 1998, he landed a show in Hilton Head during what was then the MCI Classic when another comedian had to back out. By that point, he had incorporated golf jokes into his routine, and when a friend offered to take him to a practice round, he jumped at the chance. The minute he walked through the gates on a Tuesday, near the practice green, a golfer approached him.
"Hey man, how you doing?" the golfer said, shaking his hand. "Long time, no see."
"What's up?" said Collins. He was happy to be speaking to a pro, but also a bit confused—this man was a complete stranger.
"Are you performing?" the golfer asked.
"Yeah, I've got shows all week," said Collins, now even more puzzled that a professional golfer not only recognized him, but knew he was a comedian.
"Perfect man, I'm going to come to the show, is that alright?"
"Yeah, that'd be great!" said Collins, letting his natural enthusiasm take over. "I'll be here all week."
The golfer walked away, and Collins' friend stared at him in disbelief.
"You know Billy Andrade?"
"I've never seen that dude before in my life," he said, amazed and gratified that his reputation had preceded him.
As Collins later learned, the golfer had never seen him before, either—Andrade thought he was having a conversation with Darius Rucker, the lead singer of Hootie & the Blowfish. Collins' nickname, "Little Hootie," was born.
Later, out on the course, he horrified his friend by ignoring decorum and striking up a conversation with Omar Uresti and his brother-slash-caddie Rusty. The Urestis liked Collins so much that they let he and his friend under the ropes, and walked a few holes together. Collins gave them free tickets for his show that night, and they hooked him up with a clubhouse pass for the week. They came to the show, had a great time, and by Saturday night there were 50 golfers and about 100 caddies in the audience.
Meanwhile, Collins took advantage of his access at the course to pretend he was already a caddie. Starting the next day, he threw a towel over his shoulder and blew right by security as he marched to the driving range.
"Omar and the other dudes were wondering how I got on the range with no credentials," Collins told me. "And I was like, 'Look, man, I'm dressed right, I got a towel on my shoulder, and when I walk by security I looked pissed off. I try to give a mad face, because I'm thinking, who's going to stop a pissed off black guy? These are volunteers! They're like, why do I have to take an ass whoopin' from a mad black caddie?' "
That week, Rusty taught him a little about caddieing, and Collins got to experience PGA Tour golf from inside the ropes. Once, while he was walking down the range, a golfer stopped him and asked for advice. He took a half swing, looked back at Collins, and nodded at his club.
"Does that clubhead look square to you?"
Collins understands now that the player was asking whether the face of the club was squared up to the ball. At the time, he had never heard the term, and thought the man was asking whether the head of the club was shaped like a square. Collins took a closer look, and thought that it was more like a rectangle. But that was basically a square, right?
"It looks pretty square to me," he said. "It looks fine."
The golfer hit a great shot, and thanked Collins. When he walked back to the Urestis, Omar nodded at him.
"What did Tom Watson want?"
"The aspect of caddieing that's the most rewarding and yet the most maddening is the psychological side. What's the hardest thing for a human to do? Look in the mirror and say, 'It's my fault.' Imagine having to do that 18 holes a day. It's why these guys all have sports psychologists, and it's part of the gig for a caddie too. You gotta listen to these dudes bitch, and then you gotta not let them get too low, you gotta not let them get too high."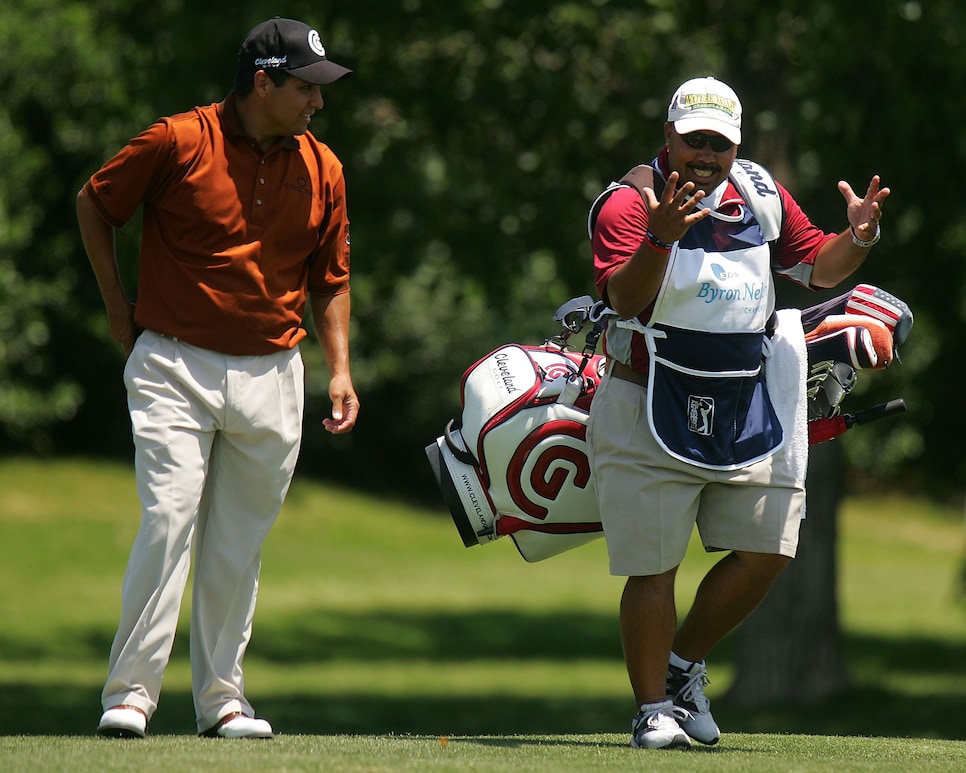 Collins liked his time so much that he began to follow the tour, performing where he could and making friends with the players. Sometimes other caddies would let him carry the bag on a Tuesday or Wednesday for a practice round, happy to delegate their duties and focus on yardage. He picked up knowledge on those days by watching the caddies operate, and on the last day of the 1998 season, Rusty Uresti, who now caddies for Jeff Maggert, called him over, gave his bib to Collins, and told him to bring Omar home. Uresti made par, and Collins was officially hooked.
He landed his first real gig the next season when Robert Gamez called him up, struggling on the Nike Tour, and asked if he wanted to take the bag. Collins jumped at the chance, and it sparked a decade-long odyssey that included caddieing stints with Gamez, Steve Hart, Omar Uresti, Daniel Chopra, Chris Couch, Brenden Pappas, Rich Beem, Scott Piercy and Kevin Streelman. The players who hired him liked the way he could make them laugh on the course, and how he wasn't afraid to call them out if they started to whine or get angry at themselves. He once told Gamez that he was going to "call INS on his Mexican ass" if he hit a fairway shot in a bunker, and another time he pretended to remove his belt to whip Pappas after the two had an argument.
There were great moments, as when he won the Nationwide Tour Championship with Couch on Halloween weekend while wearing an afro wig and a giant Nike visor, or the first time he talked a player into a different club and it led to a tap-in birdie. But as he came to find out, there's a lot of pain and unpredictability that goes along with being a caddie. Over the course of a decade, Collins experienced most of it.
He was fired over and over—a common occurrence for caddies—and the only one who gave him the courtesy of a face-to-face sacking was Piercy. Most golfers fired him by phone, but one of the players—Collins preferred I didn't mention him by name—had his wife do the dirty work. That golfer was partly annoyed at Collins' growing fame from a part-time gig with Sirius radio and the USA Network. He would sometimes say things like, "there can only be one Kobe, Mike," in a not-so-subtle jab at his growing status, and he once refused to say hello to Collins' parents when they came to a tournament.
When a player like Jordan Spieth emerges with an unknown caddie like Michael Greller, it's a given that other caddies will try to poach the young star.
Most of the time, it wasn't nearly as hostile. When Omar Uresti fired Collins, they were both crying on the phone together, and almost every firing took him by surprise—such is the uncertain life of a tour caddie. One of the worst examples came after he and Couch earned a tour card together, Collins got married in December and canceled six months worth of comedy gigs in anticipation of his first year on the PGA Tour. Within a month, he had been fired again, and as usual, the excuse was nothing more elaborate than, "I need to make a change."
Collins never won on the PGA Tour, but many of the players for whom he caddied—almost all of them, actually—did go on to win. Luckily for Collins, he was an immediate hit on the media side, and was able to parlay his experience into gigs for Sirius XM radio, USA, the Golf Channel, and finally his current position at ESPN. Most caddies aren't so fortunate, and in a job with no job security and no contracts, where you can be fired at any moment, there have been some bad endings.
"You can get canned for any reason whatsoever," Collins said. "Like what if you caddie for a dude, and his brother gets laid off work, and his brother has a wife and three kids, and the dude is like, 'I'm not just going to send you a check every week, you've got to come out and work'? Well, the caddie's out now. It's not his fault, and he didn't do anything wrong, but situations like that just happen. They happen a lot."
There is a lot of money in caddieing, at least potentially, but very little power. The instances of a caddie taking matters into his own hands are few and far between. Steve Williams famously loved to shed his caddie bib on the 18th hole of tournaments Tiger was going to win, in order to showcase the Valvoline logo on his shirt and satisfy his sponsor. Today, outside sponsorships for caddies aren't kosher—some wear Nature Valley hats, although that deal is facilitated by the PGA Tour.
There has long been talk of unionizing among the caddies, and the Association of Professional Tour Caddies formed in 2013 to fight for healthcare and retirement benefits, and to improve the general treatment of caddies and their families on Tour stops. (The movement was spawned by an incident at the 2013 Barclays, when security guards kicked caddies' wives and children out of a caddie area during a weather delay.) This February, the APTC filed a multi-million dollar lawsuit against the PGA Tour, alleging that they are unlawfully made to wear the logos of the tour's corporate sponsors and are denied a piece of the revenue—as Golf.com's Michael McCann put it, they see themselves as "unpaid human billboards." There are now almost 200 caddies represented in the suit.
Since caddies are self-employed contractors, they mostly foot their own bills. Just like the golfers, they pay their own travel expenses, and though the PGA Tour will reimburse caddies who work at least 15 events up to $2,000 in annual health insurance costs, most caddies pay around $10,000-$12,000 per year in family health expenses—an exorbitant cost that some handle by not buying insurance at all. As far as pensions, there is nothing to speak of, and though Williams skated by for years with his Valvoline sponsorship—threatening him meant threatening Tiger, the only player who was, in many ways, above the rules—now there are no sponsorships outside the tour's purview.
Regardless of how that fight turns out, there will always be a good number of caddies who make a solid living at the job. Payouts vary from person to person, and can be negotiated, but as Collins explained to me, the baseline rate at each tournament is "10-7-5." Ten percent of the player's earnings for a win, seven percent for a top-ten finish, and five percent for anything else—which is nothing if a player misses the cut. As a hedge against those lean times, most caddies also make a weekly retainer of somewhere around $1,000.
Depending on the player, a caddie can earn hundreds of thousands of dollars per year, or barely squeak by. It creates an intensely competitive culture, and as Collins explained to me, caddies aren't immune to backstabbing each other. Collins himself, because he didn't come from a traditional golf background, often felt that he was being undermined by caddies who coveted his players, and when a player like Jordan Spieth emerges with an unknown caddie like Michael Greller, it's a given that other caddies will try to poach the young star. Because there is no job security, loyalty isn't guaranteed—if a caddie can jump to a more lucrative job, he'd be a fool to stay with his current player when he may eventually get fired anyway.
With the exception of golfers like Chris Kirk, who employs a rotating cast of caddies, most players stick with just one. The relationship depends on a lot of factors, chiefly personality, and being a good caddie is about far more than the "three S's"—show up, stand up, shut up. Many golfers use the pronoun "we" when discussing their rounds, and that's a good indication of how they feel about the partnership.
"How many times, when a dude in the Tour de France takes off by himself, does he get caught?" Collins asked. "Every single time. And the golfers who try to play by that philosophy of 'I can do this on my own' are not successful."
A caddie has to be a relentless worker who scouts out golf courses and can drop accurate yardages without hesitation. He also has to know the contours of a course, be able to read greens, understand the wind, and know how his player hits each club in each situation. There's an old bit of wisdom that says a good caddie will save his player one stroke per round, which is the equivalent of four strokes per tournament, which adds up to thousands of dollars over the course of a season and can mean the difference between staying on the PGA Tour and dropping into the abyss. These important jobs go along with the menial tasks—carrying the bag, raking the bunker, drawing clubs, finding water, etc.
A caddie with an ego is a caddie at risk—some players prefer to read their own greens, or pace their own yardage, or walk 18 holes in silence, and that's their prerogative. A good caddie also has to be a psychologist, knowing exactly what to say after a bad hole or a bad round, and when to say nothing. When I asked Collins about Bubba Watson's treatment of Ted Scott, he laughed at me. Bubba wasn't even close to the worst golfer out there, he said, and those little outbursts mean nothing in the grand scheme.
"This is the thing people don't understand," he said. "That outburst that Bubba had, he's not really yelling at Teddy. He's yelling at himself. As a caddie, the last thing you want is your dude to be jacked up and pissed at a bad hole, because if he can't let it go, guess what's happening on the next hole? He has to let it go, and if that means he's gotta take it out on me, so be it, take it out on me. As long as we birdie the next hole, it's all good. And people go, 'How's he treat his caddie like that?' And then we go birdie-birdie-eagle and guess what? I'm laughing all the way to the bank. And so is Bubba."
He understood my counter-argument, which was that some people perceive the golfer and his caddie as a master-servant situation, and it seems particularly cruel and tone-deaf when a wildly rich player like Bubba abuses the person beneath him, regardless of his real intention or the real dynamic. While that may be true, Collins said, each caddie has to understand the true meaning of the outburst, despite how it may look, and sacrifice a bit of pride. He told me a story about caddieing for Streelman at the Travelers Championship, when he read the wind correctly but Streelman hit a thin shot and pulled it into the water.
"Mike, that was completely the wrong wind," Streelman yelled. "Dammit, it was off the right."
Collins said nothing, and a few holes later, Streelman apologized. When the words "I'm sorry" came out, Collins put the bag down.
"Don't ever apologize to me on the golf course," he said. "Ever."
The point is, a golfer needs to be in the moment, and a caddie has to accept whatever that means. Unlike Streelman, who is a considerate person, many golfers will never apologize. And many of them, because they don't like to admit their own mistakes, will persist in believing the caddie was wrong. Even if he knows it's not true, the caddie has to absorb that abuse, and also to deal with the inevitable mood swings of his player. It may be a partnership, but there's no doubting which of the partners has more power.
While working for Pappas, Collins once watched him hit a shot from a low bunker, and became furious when Collins didn't know exactly where the ball had gone.
"I'm counting on you!" he yelled. "You have to know where it goes!"
"You're 6'4" and I'm 5'5", motherfucker!" Collins shouted back. "If you can't see where the ball goes, how am I going to see where it goes?!"
Pappas laughed, but he could just as easily have fired Collins after the round. That's why a caddie has to tolerate almost anything, and assume a deferential role in the relationship. Some cannot—there are stories of caddies dropping the bag mid-round and leaving, or dumping balls into a lake to spite their player. Those caddies never work again, even if they felt justified in the moment.
The one thing the best caddies have in common is that they don't take anything personally. If they're good at their jobs, and can read their player, they stand to make a lot of money. But they have to fight for those dollars at every step—along with respect and status. The good ones prosper, but it's never easy.
Most of this material was excerpted from the original manuscript of Ryan's book Slaying the Tiger, which was published by Random House in 2015.