College Golf
2023 NCAA Men's D-I Golf Regionals teams selected: Who's in, who's out?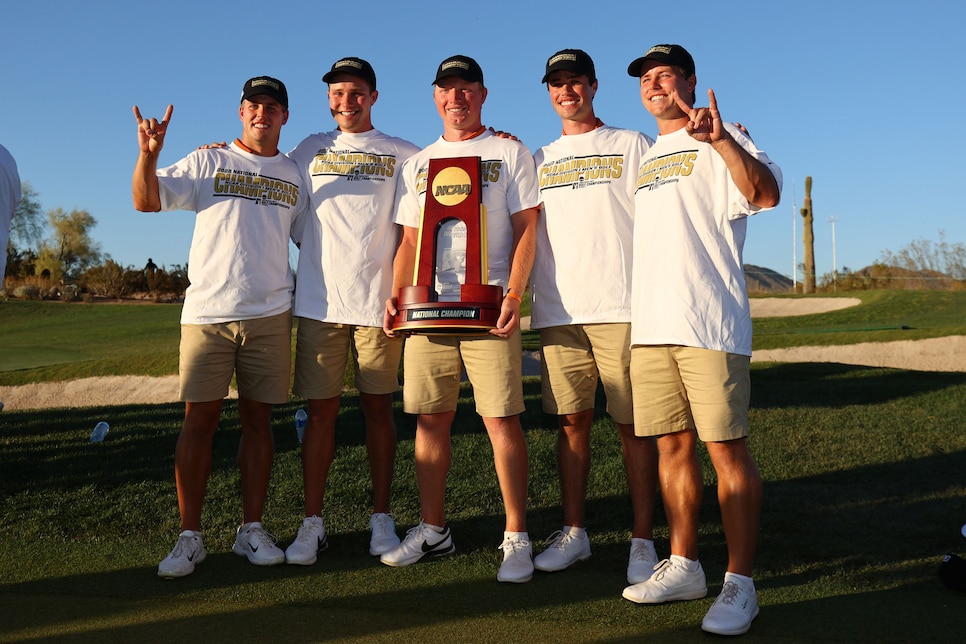 Vanderbilt, North Carolina, Illinois, Arizona State, Texas Tech and Pepperdine earned top seeds when the NCAA men's golf committee announced on Wednesday the 81 schools and 45 individuals to play in the six 2023 NCAA Men's Regional tournaments being held around the country May 15-17.
The top five teams from each regional and the low individual not on those teams advance to the NCAA Championship at Grayhawk Golf Club in Scottsdale, May 26-31.
Texas earned a No. 3 seed in the East Lansing Regional as it aims to defend its team title from a year ago. The last school to repeat as men's winners was Alabama in 2013 and 2014. Vanderbilt's Gordon Sargent earned medalist honors a year ago and is trying to put himself in position to be the first back-to-back winner since Phil Mickelson in 1989 and 1990.
This is the 14th year the men's national championship is including match play to decide the team champion. The tournament begins with a 72-hole stroke-play segment to crown an individual champion (who will earn exemptions into the U.S. Open this summer and next year's Masters) and whittle the field down to eight schools. Those teams will then compete in a head-to-head match-play bracket.
Thirty-six programs have advanced to match play since the format was adopted in 2009, with Oklahoma State having the most appearances with nine, followed by Illinois and Texas with seven.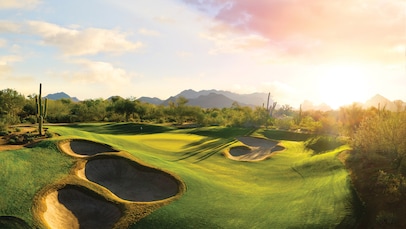 Designed by Tom Fazio, the Raptor Course is one of two 18-hole layouts at Grayhawk. The course, which hosted the PGA Tour's Frys.com Open between 2007-'09, features generous fairways and greens, and has been lauded for excellent conditioning. The Raptor Course is also the host of the NCAA Men's and Women's Division I Golf Championships from 2021 through 2023.
View Course
Auburn University Club, Auburn, Ala.
Teams (listed by seed; conference champs in brackets)
Erik Jansson, Jacksonville State
Cameron Clarke, Southern Miss
Jackson Skeen, Tennessee Tech
Luka Naglic, Arkansas State
Killian McGinley, Fairfield
The Cliffs at Keowee Falls, Salem, S.C.
Teams (listed by seed; conference champs in brackets)
San Diego State [Mountain West]
Northern Illinois University [Mid-American]
Long Island University [Northeast]
Kieron van Wyk, College of Charleston
Seth Taylor, Coastal Carolina
Eagle Eye GC, East Lansing, Mich.
Teams (listed by seed; conference champs in brackets)
Arkansas Little Rock [Ohio Valley]
Illinois State [Missouri Valley]
Purdue University Fort Wayne [Horizon League]
Tyler Goecke, Wright State
Palmer Jackson, Notre Dame
Mikkel Mathiesen, Wright State
Caleb VanArragon, Valparaiso
Anthony Delisanti, Valparaiso
Jack Simon, St. John's (N.Y.)
Teams (listed by seed; conference champs in brackets)
East Tennessee State [Southern]
Long Beach State [Big West]
Kansas City [Summit League]
Aidan Thomas, New Mexico State
Garrison Smith, New Mexico State
Brady McKinlay, Utah Valley
Jimmie Austin G.C. at U. of Oklahoma, Norman, Okla.
Teams (listed by seed; conference champs in brackets)
UNC Wilmington [Colonial Athletic Association]
Louisiana Lafayette [Sun Belt]
Arkansas-Pine Bluff [SWAC]
Luke Gutschewski, Iowa State
Vicente Marzilio, North Texas
James Swash, Louisiana Tech
The Institute GC, Morgan Hill, Calif.
Teams (listed by seed; conference champs in brackets)
Charlotte [Conference USA]
Northern Colorado [Big Sky]
Matthew Manganello, Fresno State
Matthew Sutherland, Fresno State
Riley Lewis, Loyola Marymount
Julien Paltrinieri, Santa Clara
Caleb Shetler, San Jose State
Pono Yanagi, Washington State
Casey Leebrick, Sacramento State