Viewer's Guide
2022 Augusta National Women's Amateur: Field, TV listings, storylines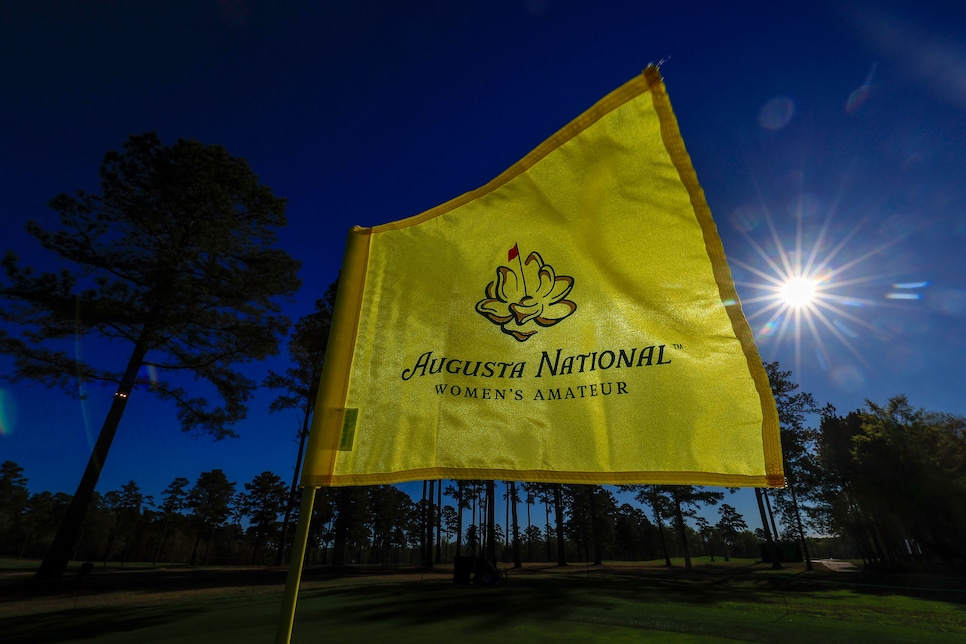 It's only been three years since the inaugural Augusta National Women's Amateur was held, and yet the tournament has already become a significant event on the golf calendar. A field of 72 players—including 22 of the top 25 and 41 of the top 50 in the Women's World Amateur Golf Rankings—will be competing with the hope of joining Jennifer Kupcho and Tsubasa Kajitani as champions.
As in the two previous playings (the 2020 edition of the event was cancelled due to COVID) the tournament's format is 54 holes of stroke play spread out over four days. The first two rounds are played Wednesday and Thursday on the Island and Bluff nines at Champions Retreat Golf Club in Augusta. The top 30 players after 36 holes will then advance to the final round, played on Saturday at Augusta National Golf Club. (A playoff will be used if there are ties to get to 30 players.) All 72 players, however, will get to play on Friday at Augusta as the tournament pauses for a day for a practice round.
NBC will cover Saturday's final round from Augusta National from 12 noon-3 p.m. EDT. The broadcast will also be streaming on Peacock and the NBC Sports app.
Golf Channel will have highlights and live reports during the first two competitive rounds at Champions Retreat Golf Club. A "Making the Cut" show also will air on ANWAgolf.com approximately two hours prior to the scheduled end of play on Thursday, streaming the end of the second round and the playoff for the final spots advancing to play Saturday at Augusta National.
Defending champion Tsubasa Kajitani is not competing this week but six players who finished in the top 10 a year ago are: Emilia Migliaccio (runner-up), Rachel Heck (T-3), Ingrid Lindblad (T-3), Emma Spitz, (T-3), Rose Zhang (T-3) and Beatrice Wallin (T-10).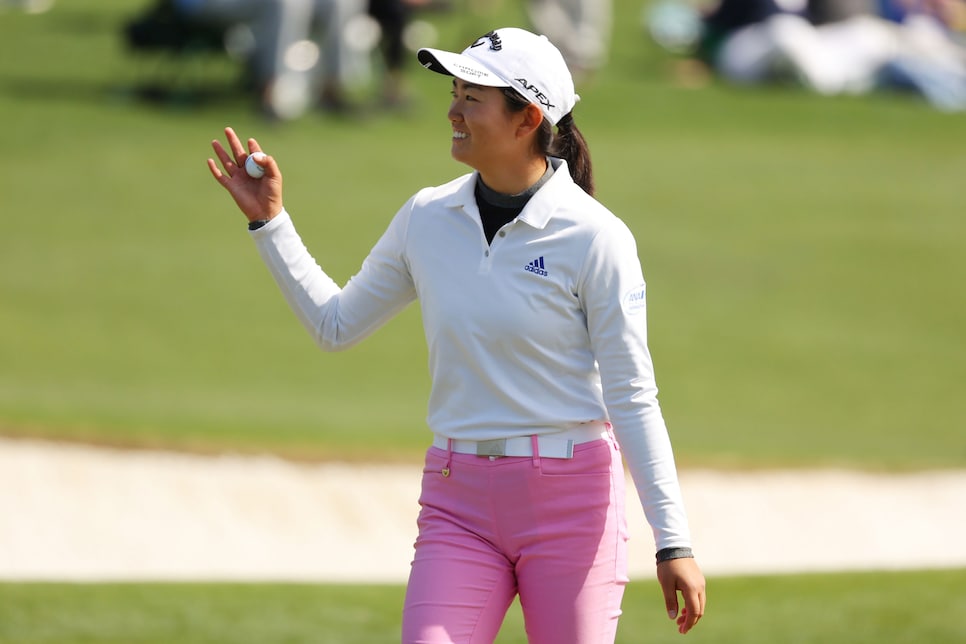 Rose Zhang, a Stanford freshman and the No. 1 player in the Women's World Amateur Golf ranking, reacts after finishing T-3 at the 2021 Augusta National Women's Amateur.
Kevin C. Cox
Nine players are in this week's field who have appeared in the ANWA in 2019 and 2021, including four who made the cut both years: Erica Shepherd, Emma Spitz, Beatrice Wallin and Rose Zhang.
Twenty-four countries are represented in the 2022 ANWA field, including 33 players from the United States and 39 from other international countries. Japan leads the international contingent with four players, followed by China, Germany, South Korea and Sweden with three apiece.
Thirty-four U.S.colleges and universities are represented in the field. Stanford leads the way with five current members of the roster in the field (Rachel Heck, Aline Krauter, Caroline Sturdza, Lei Ye and Rose Zhang), plus one commit (Megha Ganne). Wake Forest claims the next-highest number with four players in the field.
NAME, COUNTRY, AGE, COLLEGE, RANKING
Amari Avery, U.S., 18, Southern California, 42
Jenny Bae, U.S., 20, Georgia, 80
Shinsil Bang, Korea, 17, N/A, 15
Carla Bernat Escuder, Spain, 18, Tulane, 113
Hailey Borja, U.S., 20, Michigan, 150
Phoebe Brinker, U.S., 20, Duke, 117
Jensen Castle, U.S., 21, Kentucky, 61
Briana Chacon, U.S., 20, Oregon, 92
Hannah Darling, Scotland, 18, South Carolina, 11
Anna Davis, U.S., 16, N/A, 99
Louise Duncan, Scotland, 22, University of Stirling, 49
Alexandra Forsterling, Germany, 22, Arizona State, 20
Annabell Fuller, England, 19, Florida, 40
Megha Ganne, U.S., 18, Stanford (Commit), 16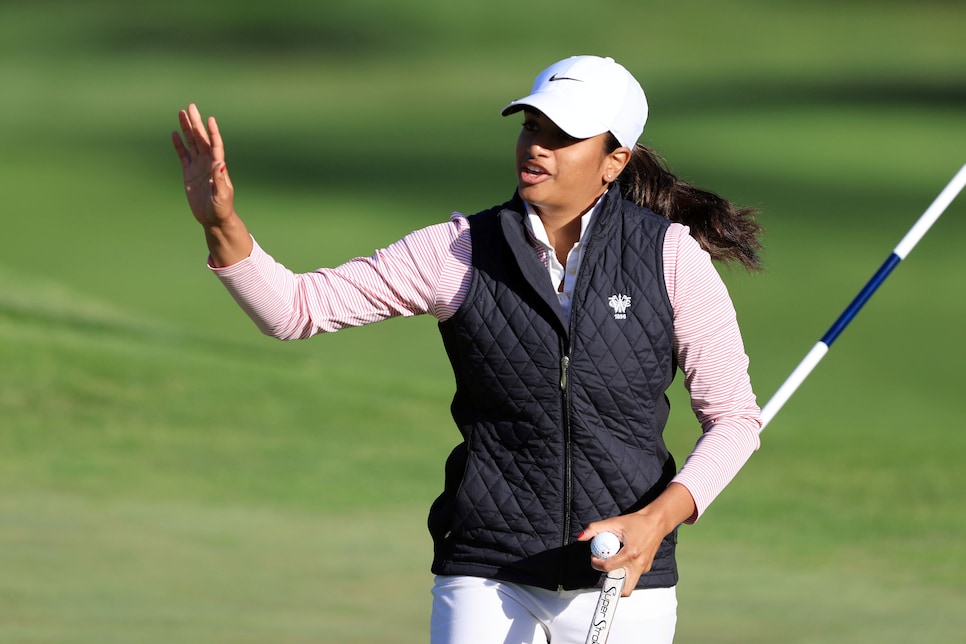 Megha Ganne was low amateur at the 2021 U.S. Women's Open.
Sean M. Haffey
Savannah Grewal, Canada, 20, Clemson, 191
Mizuki Hashimoto, Japan, 19, Tohoku Fukushi University, 28
Rachel Heck, U.S., 20, Stanford, 3
Youmin Hwang, Korea, 18, N/A, 4
Julia Johnson, U.S., 22, Ole Miss, 21
Auston Kim, U.S., 21, Vanderbilt, 124
Irene Kim, U.S., 21, Northwestern, 125
Sara Kouskova, Czech Republic, 22, Texas, 27
Aline Krauter, Germany, 22, Stanford, 29
Rachel Kuehn, U.S., 20, Wake Forest, 9
Ashley Lau, Malaysia, 22, Michigan, 30
Jeong Hyun Lee, Korea, 15, N/A, 52
Amalie Leth-Nissen, Denmark, 17, N/A, 14
Beth Lillie, U.S., 23, Virginia, 65
Ingrid Lindblad, Sweden, 21, LSU, 2
Carolina Lopez-Chacarra, Spain, 18, Wake Forest, 10
Hsin-Yu Lu, Chinese Taipei, 20, Oregon, 33
Caitlyn Macnab, South Africa, 20, TCU, 60
Emily Mahar, Australia, 22, Virginia Tech, 45
Antonia Malate, U.S., 21, San Jose State, 138
Caley McGinty, England, 21, N/A, 13
Carolina Melgrati, Italy, 19, Arizona, 36
Ashley Menne, U.S., 20, Arizona State , 74
Emilia Migliaccio, U.S., 22, Wake Forest, 12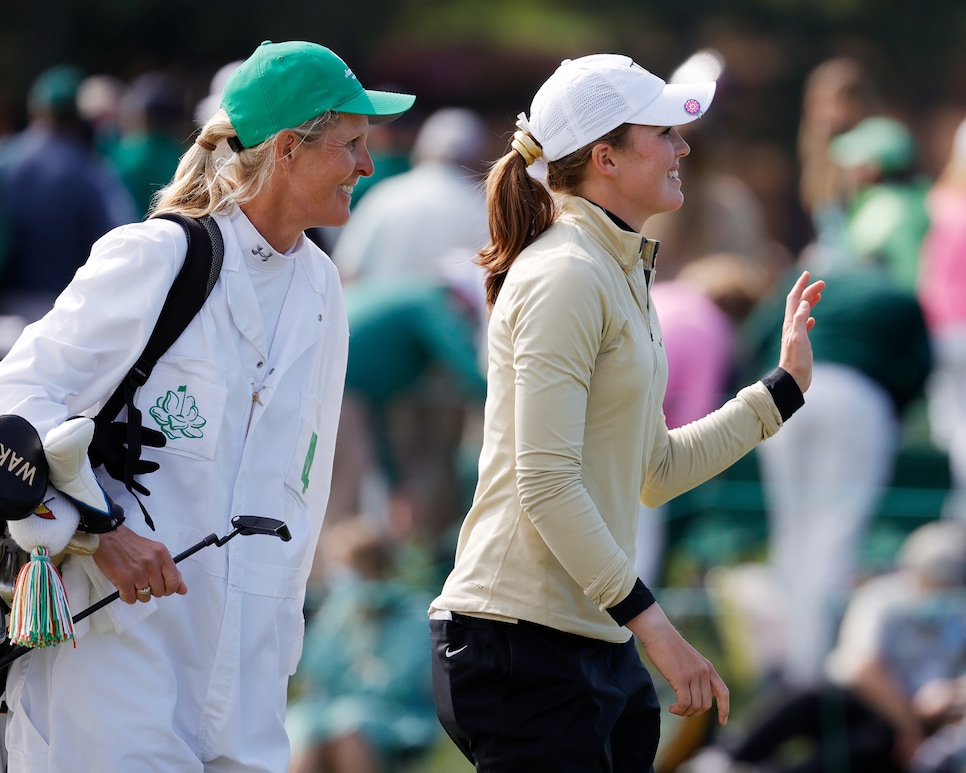 Emilia Migliaccio, whose mother caddied for her a year ago, is back after losing in a playoff to Tsubasa Kajitani.
Jared Tilton
Benedetta Moresco, Italy, 20, Alabama, 19
Anna Morgan, U.S., 20, Furman, 97
Hinano Muguruma, Japan, 19, N/A, 22
Katherine Muzi, U.S., 21, Southern California, 100
Mychael O'Berry, U.S., 22, Auburn, 171
Meja Ortengren, Sweden, 17, N/A, 18
Alexa Pano, U.S., 17, N/A, 67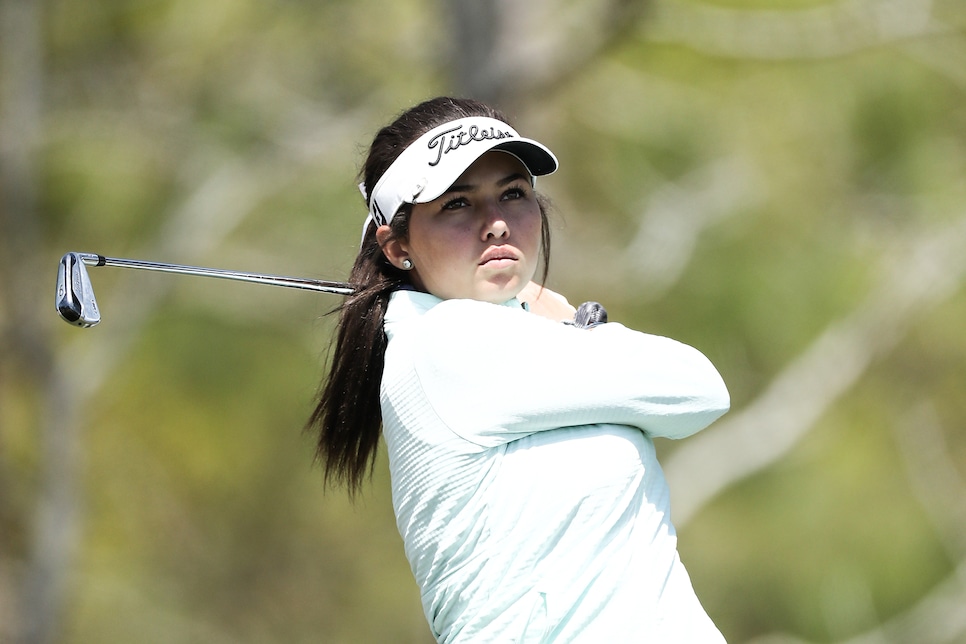 Alexa Pano has competed in the Drive, Chip and Putt National Final at Augusta National and the ANWA.
David Cannon
Valery Plata, Colombia, 20, Michigan State, 43
Avani Prashanth, India, 15, N/A, 126
Kirsten Rudgeley, Australia, 21, N/A, 44
Amanda Sambach, U.S., 19, Virginia, 106
Megan Schofill, U.S., 20, Auburn , 71
Paula Schulz-Hanssen, Germany, 18, Arizona State (Commit), 32
Aneka Seumanutafa, U.S., 21, Ohio State, 88
Erica Shepherd, U.S., 21, Duke, 35
Ivy Shepherd, U.S., 21, Clemson, 87
Bailey Shoemaker, U.S., 17, Southern California (Commit), 142
Ellie Slama, U.S., 23, Oregon State, 104
Emma Spitz, Austria, 21, UCLA, 7
Latanna Stone, U.S., 20, LSU, 41
Caroline Sturdza, Switzerland, 19, Stanford, 64
Shannon Tan, Singapore, 17, Texas Tech (Commit), 62
Rina Tatematsu, Thailand, 20, Oklahoma State, 54
Ayaka Tezuka, Japan, 16, N/A, 23
Beatrice Wallin, Sweden, 22, Florida State, 5
Lauren Walsh, Ireland, 21, Wake Forest, 26
Crystal Wang, U.S., 21, Illinois, 131
Yana Wilson, U.S., 15, N/A, 46
Lei Ye, China, 20, Stanford, 38
Xiaowen Yin, China, 17, N/A, 8
Rin Yoshida, Japan, 18, N/A, 34
Liqi Zeng, China, 15, N/A, 24
Rose Zhang, U.S., 18, Stanford, 1
Avery Zweig, U.S., 15, N/A, 172