A quick glance at 15-year-old Avani Prashanth's competitive golf résumé screams "child prodigy." Using that term to describe the native of India—who this week will become the first golfer from her country to compete in the Augusta National Women's Amateur—may seem like a leap. But it's far from it: The prodigy gene runs in her family.
Prashanth first picked up a club two months shy of her fourth birthday. Around that time, MS Prashanth, Avani's dad, wanted his own father, a retired army officer, to take up the game. Avani begged to come with the two of them. Hesitant to bring his toddler to the course, MS Prashanth was reminded by his father that several cousins in their family were prodigies in Carnatic music, a southern Indian form of classical music. Maybe Avani's inexplicable eagerness to try her hand at golf was a sign?
A decade later, perhaps it really was. Avani has become a bit of a golf celebrity in her country, holding the highest ranking of any Indian female amateur at No. 126.
"I never really had the thought when I was little of wanting to play golf professionally. I just loved the sport from the start," says Avani, who sits on Zoom call in front of a grandiose display of trophies over her shoulders. "Every time I won a tournament, it pushed me. I just wanted to keep winning and winning and winning."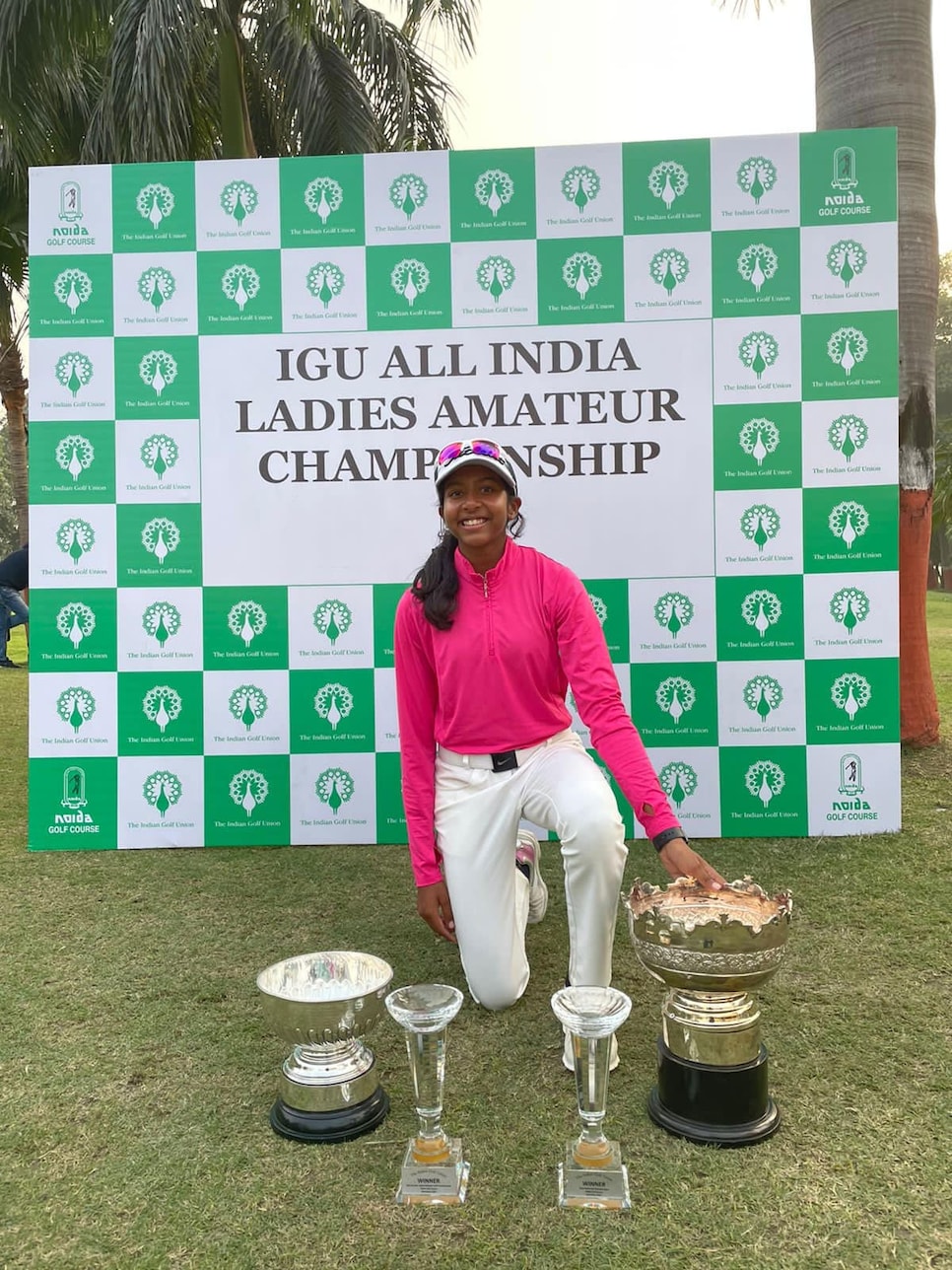 Prashanth shows off some of her hardware from tournament victories in India. (Photo courtesy of the Prashanth Family)
Golf is a budding game in India, and Avani's home city, Bengaluru, with a population of 11 million, is arguably one of its biggest hotspots. According to Joy Chakravarty, former media director for the Indian PGA Tour, golf started to blossom in India in the late 1990s. The game was first popular in the northern cities of New Delhi and Chandigarh, but when Arjun Atwal became the first Indian to win on the PGA Tour in 2010 at the Wyndham Championship, it started to expand.
Avani's home region is known as the "Silicon Valley of India." Once large tech companies began to migrate there, the city's two golf courses turned into six. Now Bengaluru is home to several golf academies and the majority of India's up-and-coming players, some of whom are familiar names.
Anirban Lahiri, a Bengaluru native, brought great pride and excitement to the Indian golf community with his runner-up finish to Cameron Smith at the Players Championship earlier this month. Similarly, at the 2021 Tokyo Olympics, 23-year-old Aditi Ashok sent both Bengaluru and the entire country into a frenzy with her impressive chase for a medal before finishing fourth. She even earned recognition from Indian President Ram Nath Kovind.
Now, the country of 1.4 billion can root for another emerging Bengaluru star who will undoubtedly help India's golf community flourish. "Aditi's performance in the Olympics was very, very inspiring. So was Anirban's performance at the Players," Avani said. "Both of them need to play well for the game of golf to grow in India, and their performance has definitely inspired me to do well at Augusta."
Avani's positive yet determined mindset has propelled her during her amateur career. In 2021, the teen was the youngest player to win the All India Ladies and Amateur titles (both the stroke-play and match-play portions) and the All India Junior Girls—all in one year. At the Asia-Pacific Women's Amateur in October, the ninth-grader finished tied for 16th, the best result by an Indian amateur making her debut. The impressive performance, as well as Avani's two wins on India's professional women's tour, likely prompted her special invitation to the Augusta National Women's Amateur.
"When I got the call from the tournament director, I was on the 16th hole of a practice round, shooting five under from 6,500 yards," Avani said. "He told me he has never shot that low in his life, and then broke the news to me. I was obviously very excited because I'd be playing Augusta, and no one from India has ever been invited to that tournament."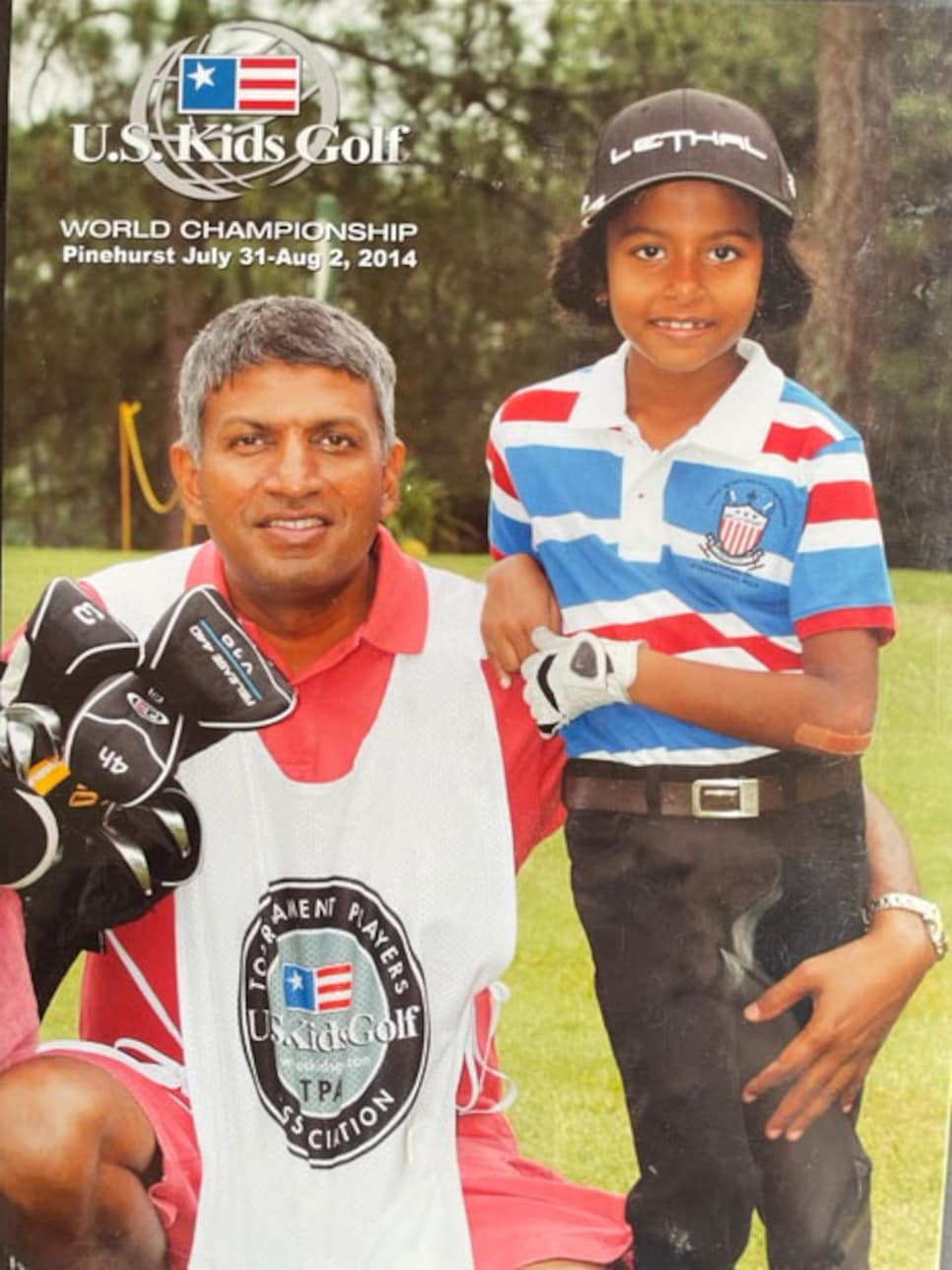 Avani with her father, MS Prashanth, during a tournament in 2014.
Despite Avani's small 5-foot-7, 114-pound frame, she isn't short in the distance department. When the pandemic hit in 2020, Avani was averaging 220 yards off the tee. With the help of a makeshift at-home hitting bay and her father's launch-monitor investment, she emerged in 2022 carrying her driver 255 to 260 yards.
Avani's distance gains are just one factor in her ability to compete and win against older competitors. She's constantly simulating pressured environments in her practice regimen, entering every round she plays into a strokes-gained tracking app called UpGame. Plus, at home in Bengaluru, Avani frequently plays matches with some of India's top male amateurs.
"I mainly play with boys, especially 19- or 20-year-olds," Avani says. "I just love how competitive it gets. Even though you are good friends, that friendship aspect goes off and you just become competitors on the course. There's a lot of pressure playing with them. If I hit one shot badly, the hole is theirs."
Outside of golf, Avani is very much a typical teenager. She's busy with school work, likes to play soccer (though she stopped competing seriously a few years ago to prevent injury) and watches TV (she's a big fan of "The Office").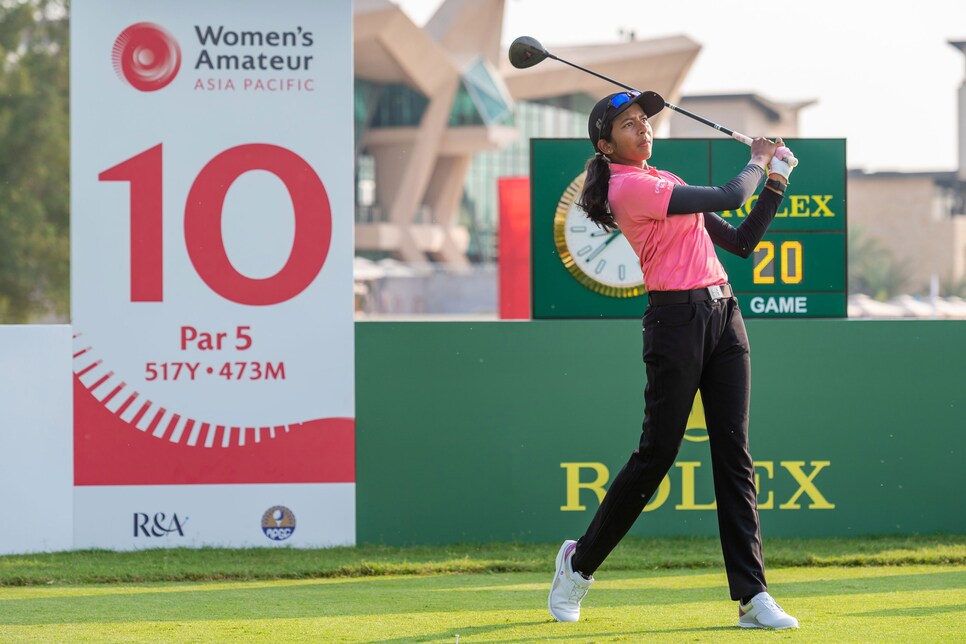 Avani Prashanth had a top-20 finish at the Asia-Pacific Women's Amateur in October.
Graham Uden/R&A
Avani's golf peers in Bengaluru understand who they're dealing with when she steps on the tee, but her classmates at Greenwood High International have a harder time grasping just how good she is at her extracurricular activity.
"[My friends] obviously see when I win tournaments, and they get really excited for me," Avani said, "but they don't really understand golf."
Come Wednesday morning, Avani will tee it up at Champions Retreat Golf Club outside Augusta, and if she makes the ANWA's 36-hole cut, she'll move on to Augusta National for Saturday's final round, which will be broadcast around the world. Golf is far from a mainstream sport in India, but Avani has brought added attention to the game simply by being invited to this event. Regardless of her performance, Avani's classmates will be a bit more attune to their classmate's talent after her time in Georgia.