Take Augusta National Golf Club, for example. It's back at No. 1 among America's 100 Greatest after barely losing the top spot it had held for four years, to Pine Valley, in 2013. When Golf Digest started ranking courses in 1966, Augusta National was already a national showcase, green and glorious on golfers' newly purchased color-television sets. It was also an exclusive bastion of white males. But we were ranking golf courses, not club policies. Today, Augusta National is still green and glorious, with more trees (minus one iconic presidential pine), but it also has minority and female members, if not ladies' tee boxes. What's more, its palatial practice facility invites youngsters to play Punt, Pass and Kick with golf balls on the Sunday before the Masters. None of that matters to our course rankings, but it sure is encouraging for the future of the game.
Point is, things change, including our rankings. This is not your grandfather's 100 Greatest. In fact, for those who are actual grandfathers, it's not even the 100 Greatest of that generation. To begin with, there are only 24 courses among the Top 100 that have been on every national ranking Golf Digest has ever produced. These include Augusta National, Pine Valley and such stalwarts as No. 3 Cypress Point, No. 5 Merion (East), No. 6 Oakmont, No. 7 Pebble Beach, No. 9 Winged Foot (West), No. 12 Seminole, No. 24 Riviera, No. 28 Pinehurst No. 2 and No. 50 Scioto. Among other permanent fixtures, No. 33 Olympic (Lake) is at its lowest position ever on the list, as are No. 39 Medinah (No. 3), No. 69 Inverness and No. 92 Laurel Valley.
What's surprising are the many well-known names that have not always been ranked. These include No. 4 Shinnecock Hills, No. 8 National Golf Links of America, No. 14 Chicago Golf Club, No. 19 The Country Club (Clyde/Squirrel), No. 25 Prairie Dunes and No. 35 San Francisco Golf Club. Which goes to show, in the course-ranking game, nobody's perfect.
Of course, 51 of today's 100 Greatest didn't even exist in 1966. Of those, 26 were built in this century, including No. 30 Gozzer Ranch, No. 44 Pikewood National, No. 68 Whispering Pines and No. 96 Pete Dye Course at French Lick Resort. (Fit that name on your shirt.) Still, of the seven courses joining America's 100 Greatest in 2015, only two were built in the past 30 years: No. 42 Erin Hills, which opened in 2006 (full disclosure: I was a co-designer with Michael Hurdzan and Dana Fry) and No. 100 Streamsong Red, a 2012 design by Bill Coore and Ben Crenshaw.
So is there a pattern apparent in the latest version of America's 100 Greatest? Most definitely, but before we discuss that, we honor the Golden Anniversary of our ranking.
In the 1960s, the late William H. Davis, a founder of Golf Digest, conceived the idea of a ranking of championship courses, basing it primarily upon USGA Course Ratings, the figure long used to determine each amateur's handicap. With the help of a mapmaker, C.S. Hammond & Co., Davis ran the list next to a gatefold map of America, plotting the 200 locations in the October 1966 issue and calling it America's 200 Toughest Courses. On that list, which ran alphabetically by each state (absent Alaska), every course was the equal of every other course. The project had taken three years to compile because Davis found thousands of U.S. courses had the same basic two-digit handicap rating. So he relied on top players, golf writers, association officials and USGA executive director Joe Dey to help him winnow it down.
Davis reprised the 200 Toughest the next year, again strictly state by state. In 1969, he assembled a national board of notable golfers to produce a tighter version, America's 100 Most Testing Courses. Courses were ranked alphabetically within groups of 10: First 10, Second 10 and so on. Augusta National always appeared at the top of the Top 10, leading to the mistaken assumption that Golf Digest considered it the nation's top course. When Augusta was demoted to the Second 10 in 1981, it became the cover story.
The obligation to acknowledge something in each state was abandoned. (To this day, there are 10 states that have never had a course make the 100 Greatest list: Alaska, Iowa, Maine, Montana, New Hampshire, North Dakota, South Dakota, Utah, Vermont and Wyoming.)
In 1971, the ranking was renamed America's 100 Greatest Tests of Golf. In 1975, the board began meeting to debate factors beyond championship worthiness, and the list became America's 100 Greatest Courses.
A decade later, board members became panelists, who were required to play and evaluate courses using a series of architectural criteria, and their evaluation numbers produced the first numerical ranking of the Top 100, led by Pine Valley at No. 1 for 22 of the next 24 years. (It was dethroned by Pebble Beach in 2001-'02.) In the beginning there were 125 panelists; today there are 10 times as many. The same process is used today, although the categories have been redefined over the years.
What has changed the most is the impact of America's 100 Greatest. The list has triggered competition, which is healthy, and escalated costs, which is not. Sadly, the original impresario of the whole business, Bill Davis, has never been honored by the American Society of Golf Course Architects, despite the fact that America's 100 Greatest led directly to course designers becoming as famous as fashion icons (and architecture fees spiraling upward).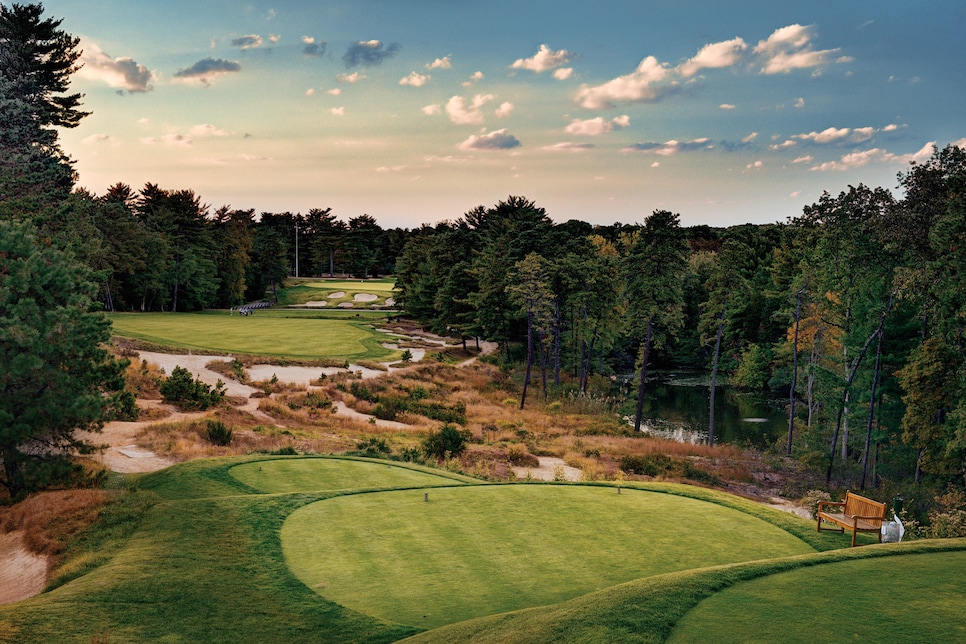 The bad news for today's architects is that the hottest course designer, according to the two-year snapshot provided by America's 100 Greatest, is a guy who has been dead for 89 years. Three Seth Raynor designs join the Top 100 in 2015: No. 52 Camargo Club, No. 64 Yeamans Hall and No. 99 Shoreacres. (Camargo and Shoreacres had been previously ranked. This is the first appearance for Yeamans Hall.)
All three are classic designs, with geometric features and replica holes, each studiously restored in recent years by architect Tom Doak, one of the top design practitioners of today, who worships early architecture and fashions his work in that style, as evidenced by No. 18 Pacific Dunes, No. 38 Sebonack (a co-design with Jack Nicklaus), No. 54 Ballyneal and No. 55 Old Macdonald (a co-design with Jim Urbina). Not for nothing does Doak call his firm Renaissance Golf Design. But the term restoration is misleading. Though Doak has recaptured green sizes and bunker depths, strategies and angles, he has also installed state-of-the-art irrigation and turf. These are classics that have been fully retrofitted for today's game.
According to this survey, the stars of the 1980s and 1990s might be in eclipse. Past PGA Championship hosts Shoal Creek (No. 102) and Sahalee (108) slipped into our Second 100 Greatest. Still, 1988 PGA Championship host Oak Tree National returns to the Top 100 at No. 51 after an absence of 15 years.
Jack Nicklaus, known for his championship layouts, had three designs fall from the 100 Greatest: Shoal Creek, Mayacama (No. 101) and No. 106 Harbour Town, his initial collaboration with Pete Dye and a longtime PGA Tour favorite. This is the first 100 Greatest on which Harbour Town does not appear since it debuted (in the Top 10!) in 1971. Kapalua, another longtime PGA Tour stop, also lost its Top 100 standing (No. 110) despite being a product of Coore and Crenshaw.
None of Tom Fazio's designs dropped from the Top 100, but 10 fell several spots, and five moved slightly up. When you have as many courses ranked as Fazio (33 in the Top 200), some fluctuation is expected.
What to expect in our next rankings in 2017? Take a look at our Second 100 Greatest. Doak's Streamsong Blue, a companion to Streamsong Red, sits at No. 120. Coore and Crenshaw's Colorado Golf Club is at No. 125 and rising. No. 130 Chambers Bay hosts the U.S. Open this summer, which will attract more panelist attention. And the Second 100 contains four more Seth Raynor courses. In golf design, when you're hot, you're hot. Even when you're dead.