The Distance Debate
Masters 2022: Augusta National chairman Fred Ridley's position on distance is clear enough to those who listen closely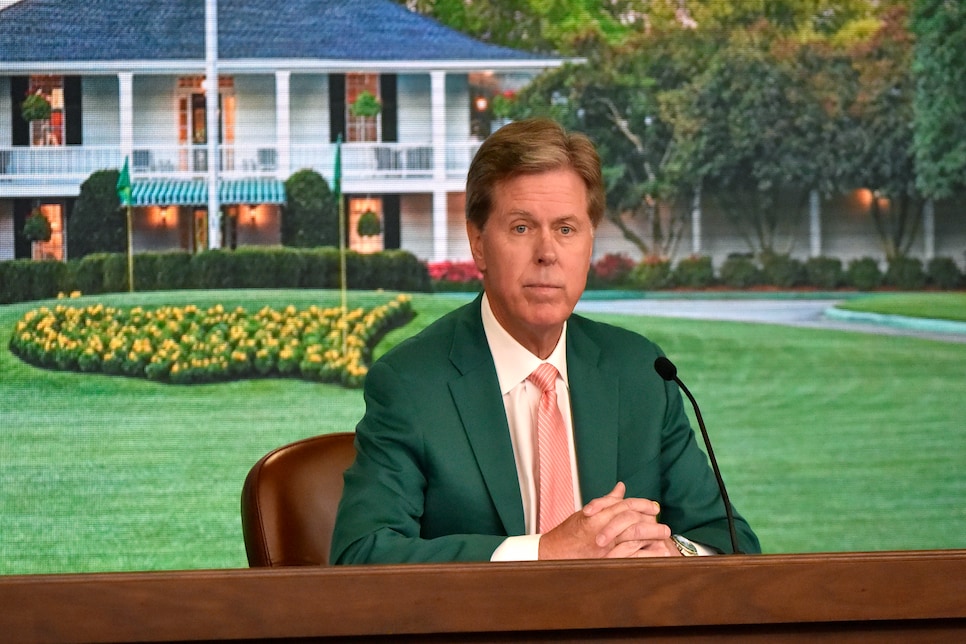 When it comes to distance, Augusta National Chairman Fred Ridley has been patient. Resolute that something should be done to rein in distance, responsible in adapting his course for the current status of the game's longest hitters, but generally insistent that massive changes to the layout that we saw in the early part of this century weren't immediately necessary because change was coming to the rules governing clubs and balls.
At Wednesday's annual pre-Masters address with the media, Ridley seemed to concede that both the rules and the course may change, and the latter likely will not depend entirely on the former.
Tiger Woods on the recent changes to Augusta National
The five-time Masters champion discusses the latest tweaks to holes Nos. 11 and 15.
Ridley addressed the media Wednesday with comments that endorsed the recent announcement by the USGA and R&A of potential new equipment standards that could roll back distance for elite golfers by shortening the golf ball and making drivers both less hot and less forgiving. He also acknowledged that any such changes were hard to predict and were some time off.
Those changes could include increasing the test swing speed for golf balls that by some estimates would reduce how far conforming balls fly by 15-20 yards. Other changes for elite competitions might affect drivers so they have less spring-like effect that might reduce distance by another 5-10 yards. Less forgiveness on off-center hits at the elite level may cause players to swing a little slower, shortening distance even more.
"We recognize this is an intricate topic that won't result in solutions overnight, and we support the level of consideration displayed by the governing bodies throughout this process," Ridley said. "We look forward to further discussions during the comment period this summer, as well as future recommendations and ultimately implementation."
For those reading tea leaves, the phrase "and ultimately implementation" seems to carry some measure of portent. You don't speak of looking forward to rule changes being implemented unless it's going to have some specific hoped-for effect. In this case, it would be some reining in of distance at the elite level of men's golf.
Ridley's comments would in that way reflect earlier comments made by USGA CEO Mike Whan on the Five Clubs podcast with Gary Williams. While not wanting to put words in Ridley's mouth but acknowledging that the two had spoken about the distance issue multiple times, Whan suggested that Ridley continued to push for change.
"I think Chairman Ridley knows that without change, he'll buy more subdivisions and Augusta will play 9,200 yards," Whan said. "While that might be fine for the Masters, that's really not a model that others can replicate. He understands his role as a leader and people follow what they do. And if that's how we're going to solve distance long term—which is just, 'Hey, get over it,find another subdivision to buy'—then man, we are not really paying attention to the future of the game.
"It's not an option [for others], and he doesn't want that to be an option. He's both excited and encouraging when I've talked to him. His last comment to me was, 'Mike, keep going and don't stop.'"
In Wednesday's media session, however, Ridley also made it known that nothing regarding a distance rollback was clear in his mind at this point.
"We won't know for some time because there's sort of a process that everyone has agreed to as to how any equipment changes such as this are going to take place," Ridley said. He was referring to the somewhat involved rulemaking procedure that involves the ruling bodies announcing "areas of interest" and then seeking comment from manufacturers and other constituencies in golf. From those comments, which in this case have a Sept. 2 deadline, there will be more consideration and research and review by the ruling bodies, potentially followed by more formal proposals for actual rule changes, followed again by another period of comment by manufacturers. Those kinds of changes could be easily five years down the road until any kind of reality, and the amount of consensus building in front of the governing bodies is a bigger project than all the construction enhancements to Augusta National since it was a plant nursery.
Front and center in the case for distance-related changes to the rules or the course is, of course, the iconic par-5 13th hole, which has been lengthened slightly over the years. The hole has been as short as 465 yards until being stretched to its current length of 510 yards in 2011. Ridley has said in the past the hole's second shot today lacks the "momentous decision" that founder Bobby Jones originally intended, and he wants to bring it back. Today, he said he has hesitated to change the hole's length and look because of its special place in Masters history.
"The 13th hole does not have the same challenges that it has historically," he said. "The fact that players are hitting middle to short irons into that hole is not really how it was designed. My reluctance to date has been that it's such an iconic hole. Probably along with 12 and maybe 15, the three holes where the most history has been made at Augusta National. So that has been sort of a counter to doing anything. But at some point in time, it's something that we likely will do. We just don't have anything to say about it right now."
What Ridley did say, though, is that any equipment rules changes aren't likely to be enough for a hole that's already been lengthened 45 yards since 1984 and he thinks is still too short by today's standards.
"I don't know what the changes [to the equipment rules] are going to be. But what I'm saying is, I think the likelihood of a ball going 50 yards shorter is not very great," he said, later adding, "if there are some marginal modifications to the equipment rules, from what I have observed over the past few years with the players and their athleticism, their strength, their size, the efficiency of their golf swings, I don't think that we are going to see [a rule change that results in] courses being shortened."
No one laughed, although it's worth noting that the 13th hole played shorter in 1984 (465 yards) than it played in 1976 (485 yards). His point was that distance rollback rules alone wouldn't be enough to restore the momentous decision to the 13th hole.
"Regardless, we are going to go forward on our own timetable and make changes we think to," Ridley said. "Perhaps the two factors might converge, but I don't think that what the governing bodies do is going to have a direct impact on what we might do at 13 or any other hole on the golf course."
More Masters 2022 stories from Golf Digest