Equipment
What's In My Bag: Billy Horschel
Age: 29 | Lives: Jacksonville Beach, Fla. | Story: A three-time winner and 2014 FedEx Cup champion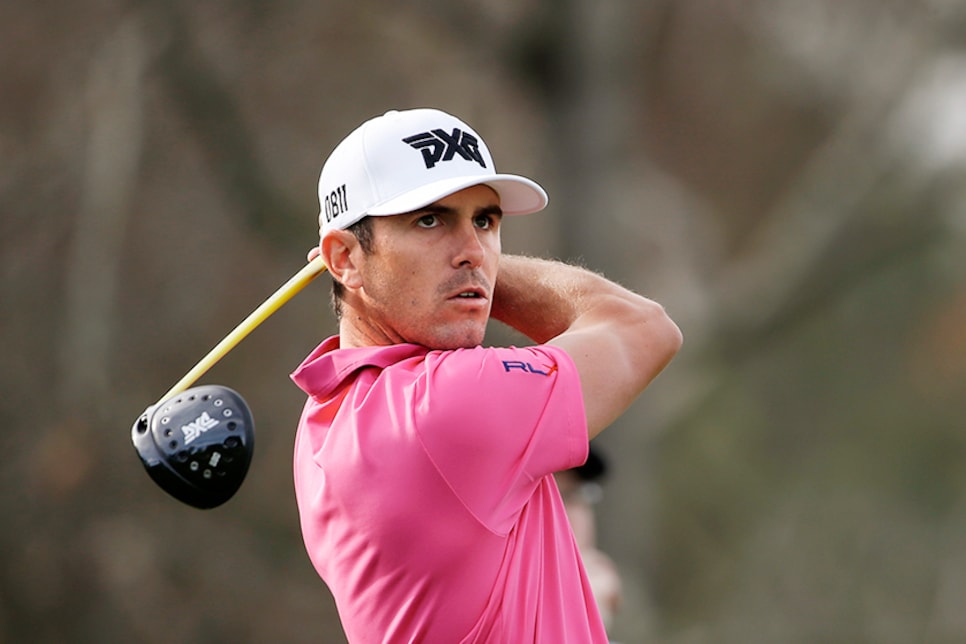 Photo By: Sean M. Haffey/Getty Images
Photo By: David Cannon/Getty Images
Photo By: Courtesy of Billy Horschel
What's PXG?
Parsons Xtreme Golf was started by GoDaddy.com founder, Bob Parsons. There are six of us playing PXG on the PGA Tour.
Photo By: Sean M. Haffey/Getty Images
Why Make A Switch?
I tested these clubs for the first time in July at Sea Island with my coach, Todd Anderson, and fitter, Craig Allan. We looked at the TrackMan data, and I was impressed. When Zach Johnson called me, I told him: I'm making the switch. I know he made his own decision, but I was happy to give him my input.
DRIVER
Specs: PXG 0811, 10˚, Project X Hzrdus, 65 grams, X-flex, 45.25 inches, D-4. Initially I put the weights forward to control my spin. But after practicing in more tournament-like situations, I moved the weight back and toward the heel to get more draw from my ball flight.
Photo By: J.D. Cuban
FAIRWAY WOODS
Specs: PXG 0341 (14˚, 17˚) Project X Hzrdus shafts, 75 grams, X-flex, D-3 swingweight. Any pro will tell you: Woods are tough to change. But these are easy to flight. I can hit a high, soft shot into greens on par 5s or hit a flat cut if I need to.
Photo By: J.D. Cuban
IRONS
Specs: PXG 0311T, 3- and 5-iron through pitching wedge, True Temper Dynamic Gold S400 shafts, Golf Pride V55 FC 58 grips. The feel is what stands out in the irons. It's a combo of a firm yet soft feel off the face.
Photo By: J.D. Cuban
WEDGES
Specs: PXG 0311: 52˚, 56˚ and 60˚, True Temper Dynamic Gold S400 shafts. On my 60-degree, I worked with the people at PXG to design it, and they milled the head to my specs. So I can get a duplicate any time.
Photo By: J.D. Cuban
PUTTER
Specs: PXG Brandon 2, 35 inches, 4˚ loft, 71˚ lie, 338-gram putterhead. My putter has always been a money club. I thought I'd ask PXG's designers to build me a putter, but the looks in this stock putter were sharp. The clean sightlines help me repeat my setup.
Filling the paint
Everyone knows how big of a Florida Gators fan I am. Before every round, I mark UF's team colors on each Titleist Pro V1x.
Check out my coin
When I got this 1936 silver quarter from a Checkers Drive-In in college, I knew it was cool. I had just lost a 1986 one, the year I was born, so it was perfect timing.
Long-term fix
I'm not superstitious. But I stick with what works. I've used this divot-repair tool since the mini-tours.
Flower power
You should want to look good on the course. Go for bold over bland. It gives me confidence. I love RLX Golf's line of clothes. Don't shy away from different!
Stars and stripes
I really want to rep the USA in the Ryder Cup this year like I did in 2007 at the Walker Cup. Rickie Fowler and I won our foursomes matches, and I'd like to do it again.
Photo By: David Cannon/Getty Images
What life is about
This is a huge year for me. Playing in a Ryder Cup in the States would be a dream. Also, to represent USA in the Olympics is a goal. But at the end of the day, most important are my wife, Brittany, and baby girl, Skylar.
Photo By: Courtesy of Billy Horschel