The Do's & Don'ts Of Playing Golf At A Private Club
You shouldn't be intimidated as a guest at a country club. Maybe in the past, but more than ever, private-club regulations are changing to be increasingly inclusive. Still, it's nice to have some guidelines on what you can and can't do. Can you take that phone call? Should you be taking photos? In general, asking your member-host is a good rule of thumb. This guide will answer most of your questions—so you're prepared to enjoy the golf when you pull up to the club.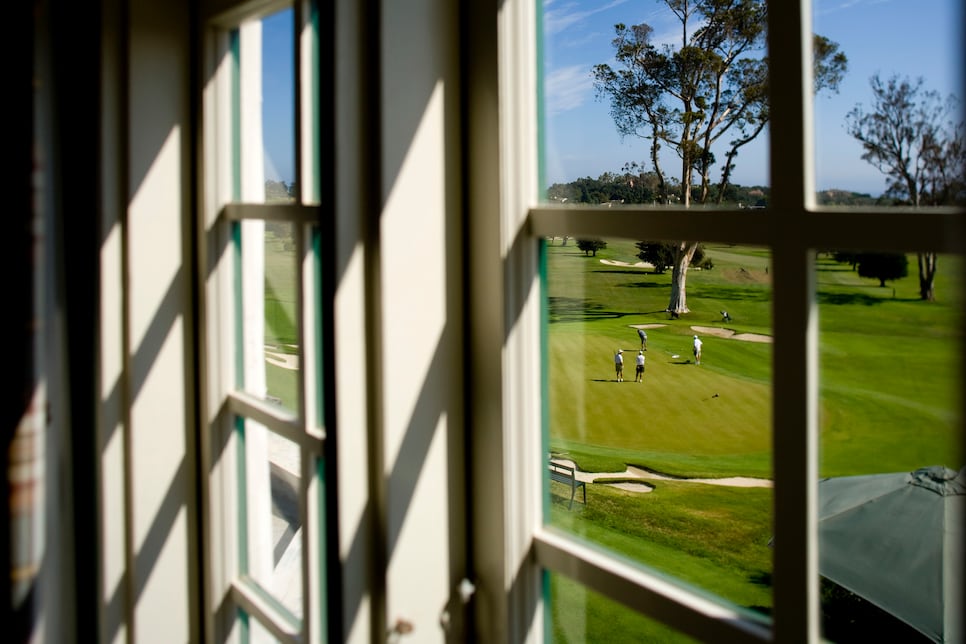 Photo By: © 2008 Joey Terrill All Rights Reserved
Should I be nervous?
Of course not. A private club is accustomed to hosting a new assortment of guests every day, including those unfamiliar with the customs of "proper golf etiquette." The important part is to be respectful to the staff, your host and other members. Everything else is secondary.
Photo By: © 2008 Joey Terrill All Rights Reserved
Do you have to use the bag drop or can you carry your clubs from your car?
Either works fine at most clubs. Most clubs will have their bag-drop attendants ask you your name. This is where you can introduce yourself to the club. If a club doesn't want you carrying your clubs, someone will hustle out to assist you.
Photo By: Andrew Kaufman
Where should you change your shoes?
Every private club locker room welcomes guests and will provide a place for you to change and leave your street shoes. If you'd rather slip on your golf shoes before leaving your car, be a little more discreet than you'd be at a muny. Some more traditional clubs don't like the look of people changing shoes in the parking lot. Most are cool with tennis shoes or flip-flops. Though when in doubt, spikeless golf shoes are a safe play.
Should you pay the guest fees?
You can offer, and should always offer to pay for both caddies. A pro move is to do so before getting to the course. Oh, and don't forget to bring cash. A lot of clubs don't have an ATM.
Photo By: Andrew Kaufman
Who else should you tip and when is it appropriate to do so?
The locker-room attendant and the folks getting and cleaning your clubs are the usual suspects to tip. If the attendant shines your shoes, try to throw him a couple bucks. It's great to make a good impression with these guys –- especially if you're invited back.
Photo By: Andrew Kaufman
What's the dress code at private clubs?
Ask your member host before you leave home. A few clubs require long pants. Most clubs have a no-hat policy in the clubhouse, and if not, it's just good manners. A collared shirt is a must at all but a small handful of clubs. In some cases, you might need a blazer for dinner. Some pro advice from our style guru Marty Hackel: Dress like you are meeting your future "in-laws" for the first time.
Photo By: Andrew Kaufman
What do I do if I show up before my host?
You don't have to wait outside or in the locker room if you arrive early. It's totally cool to go warm up in the practice area. Tell someone at the bag drop or in the locker room that you're a guest of [Insert name here] and they'll make you feel at home.
Photo By: Andrew Kaufman
Do you need a handicap to play at a private club?
In most cases, no, and it's not even essential that you be a good golfer. The only requirement? Make sure you're not holding folks up with your slow play. Your host will let you know if you need a handicap.
Photo By: Andrew Kaufman
What's the protocol for ordering food and drinks?
If you are a guest at a private club the host will likely be picking up the tab. Some clubs might offer a guest voucher for the day if you pay in the golf shop. But really, if you want to offer to pay, do it with your host ahead of time. It can look tacky to do so while you're at the club.
Can you buy stuff from the golf shop as a guest?
Most clubs will welcome your money in their shop. Some private clubs will only charge a member's account for merchandise. But most shops will accept cash or a credit card.