Presidents Cup
The best and worst -- mainly worst -- uniforms of the Presidents Cup
Dave Barry once noted that golf is "open to anybody who owns hideous clothing." The Presidents Cup has not helped this cause. With the help of Golf Digest Fashion Director Marty "Mr. Style" Hackel, we look back at some of the studs and duds from Team USA's wardrobe: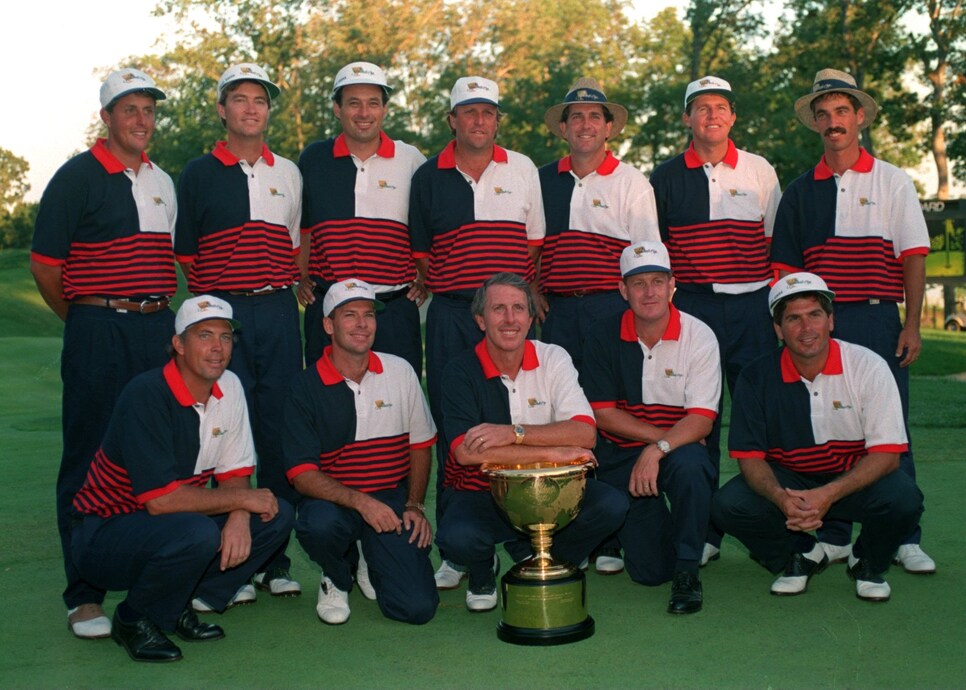 Photo By: AFP/Getty Images
Photo By: AFP/Getty Images
1994 Presidents Cup
I'm told to beware of judging the sins of the past by the standards of the present. But, holy cow, what the hell is this?"There is certainly a lot going on here," says Hackel.
Photo By: Getty Images
1996 Presidents Cup
If this design looks familiar, it's the same pattern that adorned your country club's locker room walls in 1983."Whoever put this together had no idea what they were doing, or how this shirt would be presented on television," remarks Hackel.
Photo By: US PGA TOUR
1998 Presidents Cup
"This is a classic example of a different fit from a different time," Hackel says. "The pants, especially Steve Elkington's, are a strong cut. But it's remarkable looking at how long the sleeves were in 1998."Fun fact: The '98 attire could also serve as a camping tent.
Photo By: US PGA TOUR
2000 Presidents Cup
Although their demeanors seem to say, "Can you believe we have to wear this?" compared to other uniforms, the 2000 iteration appears clean-cut and defined."The sleeves are terribly long, but as we saw in 1998, that was in at the time," Hackel notes.
Photo By: Getty Images
2003 Presidents Cup
"Not a lot of color, but it's an understated, classical look with nice trim and tailoring," Hackel says.
Photo By: AFP/Getty Images
2005 Presidents Cup
Marty has no qualms with this outfit: "It's crisp, a more fitting look than what we've seen in years past."I, however, tried matching up these shirts to a color wheel, and the closest I could come is "slate" and "stone." Last I checked, these colors are not found on Old Glory. By the way, this photo looks like an advertisement for the Macy's men department.
Photo By: Getty Images
2007 Presidents Cup
Hey, this doesn't look too embarrassing!"The pants are not properly cut and the shirts run slightly long, but this does have a more 'uniform' feel," Hackel says.
Photo By: Getty Images
2009 Presidents Cup
Photo By: US PGA TOUR
2011 Presidents Cup
I remember watching this live and thinking, "Huh, the USA shirts must have been stolen, and they're borrowing the International team's backups." Turns out -- and I hope you're sitting down -- I may have been a tad ignorant."The green and yellow are the national colors of Australia," notes Hackel. Given that the 2011 Presidents Cup was held at Royal Melbourne Golf Club, the Americans are giving a nod to their hosts.Which, OK, I get. But call me old fashioned, I remember when AMERICA wore AMERICAN colors! #Beall2016: Make America America Again
Photo By: Getty Images
2013 Presidents Cup
Wait a second; is that a uniform that features red, white and blue? Do you believe in miracles?!?!
Photo By: Getty Images
2015 Presidents Cup
Sure, these don't knock your socks off. But compared to the horrors we just traversed, they could be much, much worse.
Photo By: AFP/Getty Images