Courses
The 10 Most Exciting Holes On The PGA Tour
The 17th hole at TPC Sawgrass -- a treacherous par-3 island green surrounded by a legion of spectators -- is one of the most unique experiences in sports. But while the 17th is noted for its excitement, it's far from the only one that delivers non-stop theater. Here are the 10 most thrilling holes on the PGA Tour.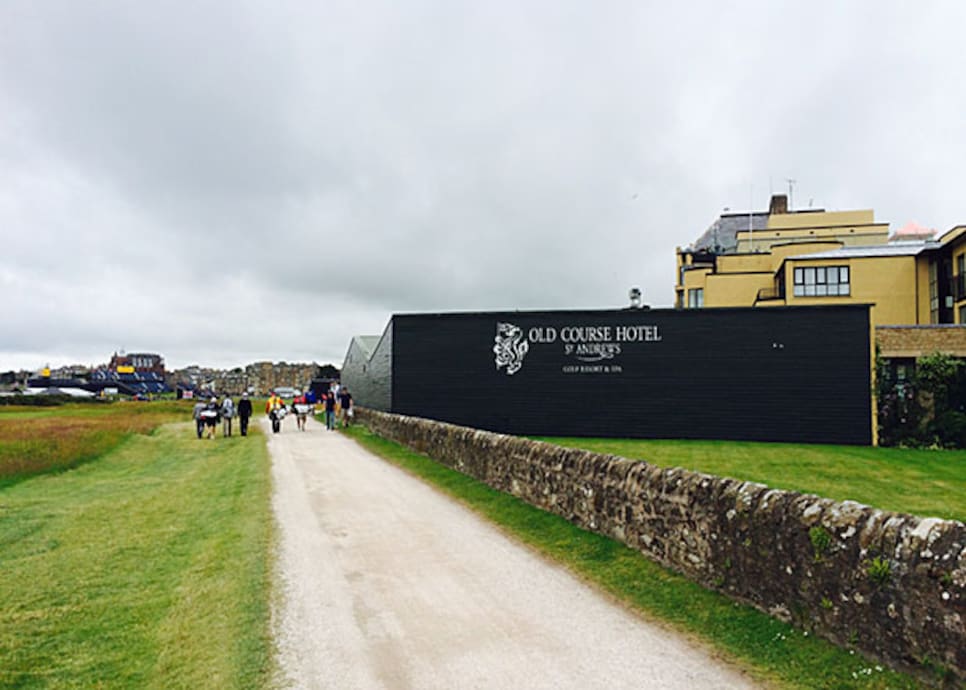 Only annual stops included on list
For the purposes of this gallery, we are only counting holes the pros see in tournament action, canceling out Cypress Point's picturesque 16th, and at courses they see every year, giving the boot to gems like the Road Hole at St. Andrews or the fifth at Pinehurst No. 2.
TPC Sawgrass -- 17th Hole
The 17th at Sawgrass is one of the most duplicated designs in the world, but no one can replicate the drama that unfolds here during the Players Championship. This was recently evidenced by Rickie Fowler's three birdies during the final round on the hole (two coming in playoff format) to capture golf's fifth major in 2015. Quick rant: Why do people call the 17th an island green? It's connected to land. My Ohio education would lead me to believe that's called a peninsula.
TPC Scottsdale -- 16th Hole
The hole on its own merit isn't that great; many observers have noted the 17th hole -- a drivable par 4 -- would produce better theater. But with a healthy history of memorable moments, from a Tiger Woods hole-in-one to the infamous caddie races, the 16th's status as one of the tour's signature holes is undisputed.
Quail Hollow -- 18th Hole
A 480-yard par 4, featuring a narrow fairway guarded by a creek on the left and deep bunkers on the right. Quail Hollow's conclusion brings out the best (Rory McIlroy's 50-foot birdie for a 62 to capture his first PGA Tour victory at the 2010 Wells Fargo) and worst (David Toms came to the hole with a five-shot lead in 2003 and took an 8, holding on to win by one stroke) in players. As Jaime Diaz
wrote
, "No final hole says 'Man Up!' like this one."
Congressional -- New 18th Hole
Previously the penultimate hole at Congressional -- old No. 18, while an aesthetically-pleasing par 3 over a lake and against the backdrop of the clubhouse, was nondescript from a player's scoring viewpoint -- the members wised up and revamped the course's layout. Now Congressional ends with a 466-yard par 4, one that bends downhill yet requires an accurate tee shot to a water-guarded green.
Photo By: Getty Images
Augusta National -- 15th Hole
I'm sure there's a contingent that will cry foul, citing No. 13 as where the green jacket is won or lost. Others will vouch for the 12th or 16th as ground zero for Augusta excitement. Hell, you could make a case the entire back nine warrants a spot on this list. However, given that an eagle or double-bogey are both easily attainable here, coupled with the most intimate patron framework at the Masters, the 15th gets our vote.
Photo By: Getty Images
Kapalua Resort -- 18th Hole
Jordan Spieth's eight-stroke dominance at this year's Tournament of Champions was an aberration. Four of the previous six outings at Kapalua were decided by a stroke or sudden death. And the resort's 18th hole -- a minor 663-yard par 5, usually swept in wind -- provides the perfect platform for the tournament to be decided.
Photo By: Getty Images
Muirfield Village -- 14th Hole
Far be it from me to tell Jack Nicklaus -- only the greatest golfer ever and one of the 20 best architects of all-time -- how to set up a tournament. BUT, if I was the Golden Bear, I would move up the tee box on No. 14, which usually hovers around 340 yards, to entice more players to take a go at the green. Of course, even in its current configuration, the hole -- guarded by a creek, adjoined with bunkers and deep rough -- is one of the best on tour, so perhaps we should throw that suggestion out the window.
Photo By: Getty Images
Pebble Beach -- 18th Hole
Pebble Beach has a host of signature holes on its roster -- No. 7, No. 8, No. 17 -- but the closing par-5 continually packs the biggest punch from a must-see perspective. At 550 yards, it's not much of a distance challenge for the pros. Conversely, the famous fairway tree puts a paramount on navigation. And the 100-yard bunker securing the coast adds both an optic and testing touch to the finishing hole, making the 18th one of the best in the world.
Photo By: Getty Images
Riviera -- 10th Hole
Bubba Watson admitted he's "scared to death" of this hole, and with good reason: Though it's only 315 yards, a firm, tight and sloped green, one that's shielded by sand traps, makes the 10th a nightmare for players at the Northern Trust Open. This creates an environment where birdies can be had, but doubles and triples are not abnormal. As tour pro Ryo Ishikawa
summed
up, "It's a fun hole to watch, but tough to play."
Photo By: US PGA TOUR
TPC River Highlands -- 15th Hole
This inclusion may surprise some as, while extremely well run and attended, the Travelers Championship would not be considered one of the tour's upper echelon events. But TPC Highlands is undoubtedly, from a spectator's and player's view, one of the most fun venues on tour. The 15th epitomizes this sentiment. Under 300 yards, this hole seems easily reachable from the tee. Alas, a mounded green, with a lake on the left and sand on the right, brings more bite than the scorecard says. And laying up is no easy matter, with deep rough, trees, and sand surrounding a narrow fairway.
Photo By: Getty Images