FRAME-BY-FRAME-ANALYSIS
Swing Sequence: Troy Merritt
Anybody can learn from Troy Merritt's efficient driver swing. View his swing with analysis provided by Steve Dahlby, Merritt's coach and the teaching professional at Phoenix Country Club.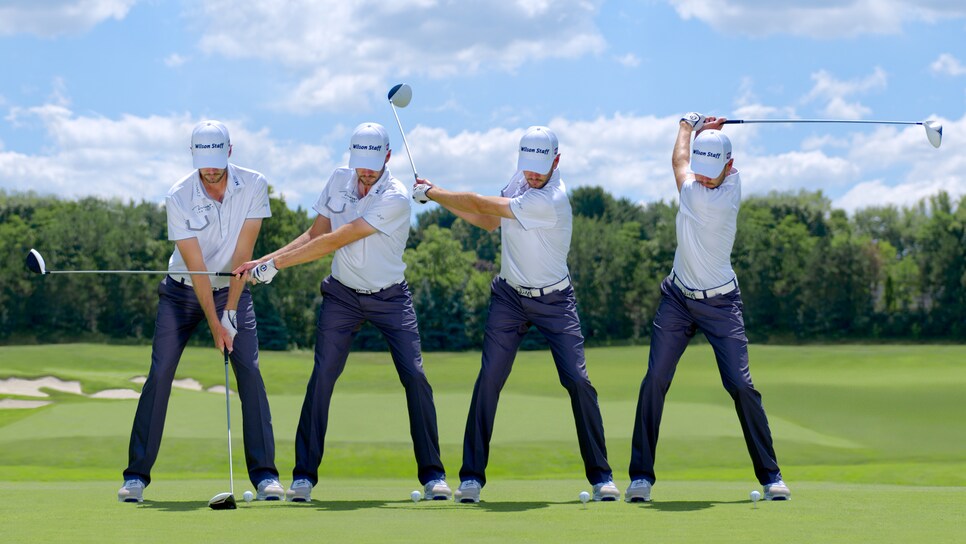 FLEXIBILITY, FEEL AND A KNACK FOR WINNING
Troy Merritt might be the winningest player in pro golf, but he has only one PGA Tour victory. As an amateur Merritt won more than 100 tournaments, including 21 in college—and five straight his senior year at Boise State. He even won the PGA Tour Qualifying School in 2009, and before that the 2009 Mexico Open in only his 12th start on the Web.com Tour.So what happened after he made it to the PGA Tour in 2010? He went 95 tournaments without hoisting a trophy. "I lost my way for a while," Merritt says. "I needed to eliminate the big miss to the right. That happens when I get too fast starting down."Last summer he'd missed five consecutive cuts coming into the Quicken Loans National, where he made an adjustment in his setup, moving his hands forward. Bingo! Merritt shot a third-round 61 and got his first win on the big tour. We took the photos below two days later. (Swing analysis is provided by Steve Dahlby, Merritt's coach and the teaching professional at Phoenix Country Club.)Merritt says, "I also started making putts. You have to make putts to make cuts." And to win, he could add.
PRO-FILE: TROY MERRITT
Age: 30 6-1 / 170 pounds Boise, IdahoDriver:
TaylorMade M1 460
9.5 degreesBall:
Titleist Pro V1
THE ADJUSTMENT
"The week of his first tour win, Troy pressed his hands a bit more forward at address," says his teacher, Steve Dahlby. Merritt says the change immediately clicked and helps him make a more unified takeaway.
WIDE AND EXTENDED
Merritt's solid stance and athletic setup position promote a smooth, wide start to the swing. Dahlby says, "We like to see the clubhead, clubshaft, hands and arms work together during the backswing while the lower body stays quiet and stable."
WINDING THE SPRING
Swinging to the top, Merritt makes a tremendous upper-body rotation against a stable lower body. "Most average golfers would need more hip turn to get the club to parallel, but not Troy," Dahlby says.
SERIOUS LEG DRIVE
Starting down, Merritt shifts hard to his left. Dahlby says when Merritt gets out of sync, his head falls back as his lower body drives. "He's good here, and his right foot is still down. That shows he's pushing against the ground for power."
PLAYING BY FEEL
"Troy likes to play golf with his eyes and hands, not by swing mechanics," Dahlby says. Notice the logo on Merritt's cap is almost exactly where it was at address—his eye line is not shifting. "Troy's quiet head reminds me of Jack Grout holding a young Jack Nicklaus' hair many years ago."
NO HOLD BACK
Look at Merritt's great extension and balance through the ball. "Troy feels like he simply swings the club down the line, releasing everything," Dahlby says. "His head finally moves so he can find the ball in flight."