Swing Sequence: Padraig Harrington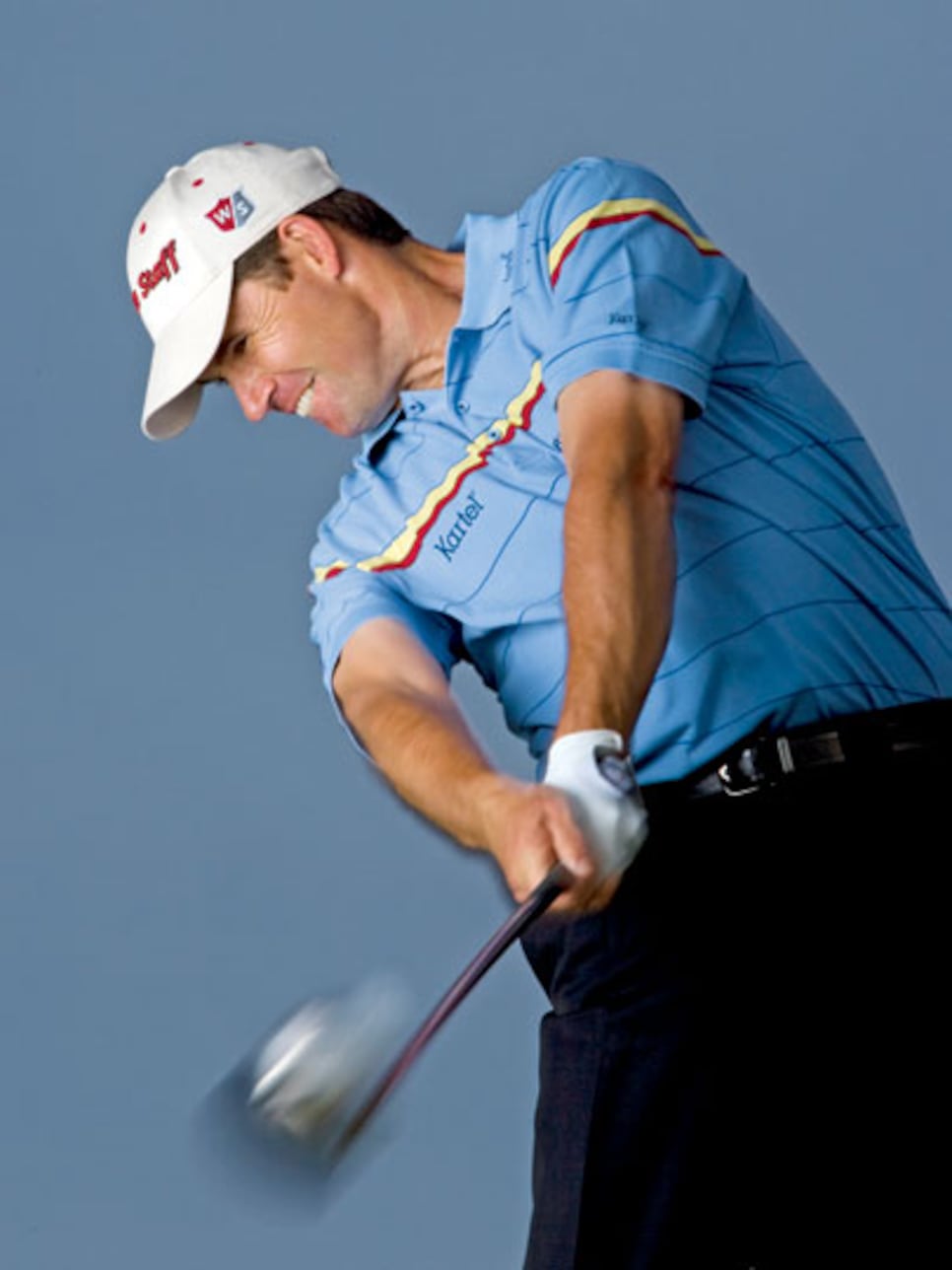 AGE: 37HEIGHT: 6-feet-1DRIVER: Wilson Staff Dd6+, 9 degreesBALL: Titleist Pro V1xDRIVING DISTANCE (rank): 294.2 Yards (33rd)BIRDIES PER ROUND (rank): 3.97 (tied first)My swing keys have long been the same: rotation and connection. Those are my basics, the places I look if my body and arms are out of sync, especially on the downswing.One major focus on my backswing is my right knee. I want to maintain its position from address to the top of the swing. Then, my downswing thought is a feeling of rotation in my hips rather than any lateral slide.When I'm swinging well, my bad shot is a slight push. That can lead to a hook if I get afraid of the ball going right. But I actually play my best when I fear the left side.But guarding against going left can cause problems. Take the 72nd hole when I won the British Open at Carnoustie. In a slight left-to-right wind, I aimed down the middle. But then I chickened out and let the ball go on the wind -- and into the burn. Maybe I was overconfident in my ability to hold it in the breeze. I certainly felt no fear until my downswing. I think I'd have hit a better drive if I hadn't been as confident.
A MAJOR CHANGE
Padraig Harrington's swing changes were worth the waitThis is a swing that took all of 10 years to build. Back in 1998, when Padraig Harrington first showed teacher Bob Torrance his action, in the words of the venerable coach, "It needed a lot of work.""His shoulder plane was very flat," says Torrance in his deep Scottish brogue. "His club was across the line at the top. And his legs had nothing to do with his swing. As a result, he hit his irons sky-high and was short off the tee, at least relative to those he was playing against. None of those things is true now."Indeed, perhaps no world-class player since Nick Faldo has so obviously altered his method, the continuing result of Harrington's almost peerless work ethic and Torrance's willingness to spend up to nine hours a day standing on the practice ground, a place he jokingly calls "the salt mines.""Padraig's swing is very much together now," says Torrance, who teaches a devoted band of European tour players, including his son Sam, Paul McGinley, Paul Broadhurst and Stephen Gallacher. Most days Torrance can be found at the Inverclyde Driving Range in the north Ayrshire town of Largs, two minutes "up the hill" from his home. "His leverage, the connection between his arms, club and body and his leg action -- all have changed markedly," says Torrance.What hasn't changed is the pair's desire to improve what is already one of the most admired and consistent all-around games in golf. Underlining that claim is the fact that Harrington this year ranks among the PGA Tour's top 10 in such diverse stat categories as putts per round, scrambling, birdies per round and scoring. He can get the job done in many different ways."Padraig works just as hard now," says Torrance. "Winning the Open has done nothing to diminish his desire to get better. I say to every player who comes to me, 'You must strive for perfection; you'll never reach it, but you must strive for it.' Padraig does that. He'll win another major."
From a relaxed start, he makes a beautifully wide takeaway.
Brilliant! His right leg has maintained its angle and position.
Look at the shaft: That it bisects his biceps shows it's on plane.
The back of his left hand faces the target, and his upper left arm is on his chest.
He's perfectly balanced here. I bet he could hold that pose for as long as he wants.