Paddy's Power
How Padraig Harrington's amazing power gains just backfired on Shane Lowry in an expensive way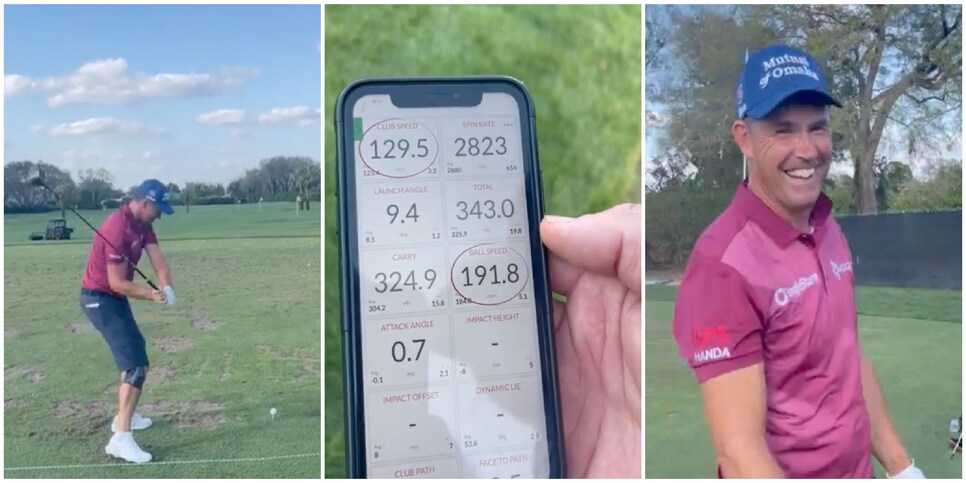 If you're an older golfer dreaming of more distance, there's no more inspirational story than Padraig Harrington. Harrington is 51 years old and is quite literally swinging faster than ever. He's playing some great golf because of it, too: He won four times on the PGA Tour Champions last season—including the U.S. Senior Open—and finished T-2 in his first senior tour start in 2023.
And he's also the winner of a recent bet against Shane Lowry.
On the range ahead of this week's Arnold Palmer Invitational, Harrington was bashing a few drivers when his friend and fellow pro Shane Lowry came over to watch. Lowry proposed a bet: If Harrington gets to 191 mph ball speed on his next drive, Lowry will substitute his credit card in exchange for Harrington's in their game of credit card roulette (which is when a group of players, caddies and others go to an expensive dinner, and rather than split the bill, toss all their cards into a pile and pick one out at random).
Harrington gave it a big lash. He knew exactly when he hit it...
With Paddy's dinner for the next week paid for, it's worth taking a quick look at how Paddy is able to generate such impressive speed at a time when, in theory, it's supposed to be waning.
Harrington was bleeding swing speed and not happy about it, so Jacobs ran what he calls a "a kinetic energy analysis" on his golf swing. Which, simply put, means looking how Harrington's body was generating power and then converting that power into swing speed.
"I didn't do anything new to him," Jacobs says. "We re-organized him so his different segments transferred more energy to the clubhead more efficiently and consistently, which led to more stabilized speed."
Jacobs says Harrington's center of mass is now about "seven inches" closer to the target than it used to be. Now, Harrington is using the weight of his torso to get his arms going, and the muscles in his arms to release the clubhead as hard as he can. It creates a powerful chain reaction, with no weak links.
The 51-year-old is enjoying some career-high ball speeds because of it. And now, some free dinners, too.