Golf Equipment
Gear On Tour: The Web.com Tour Championship
What players are using at the Web.com Tour Championship at TPC Craig Ranch in McKinney, TX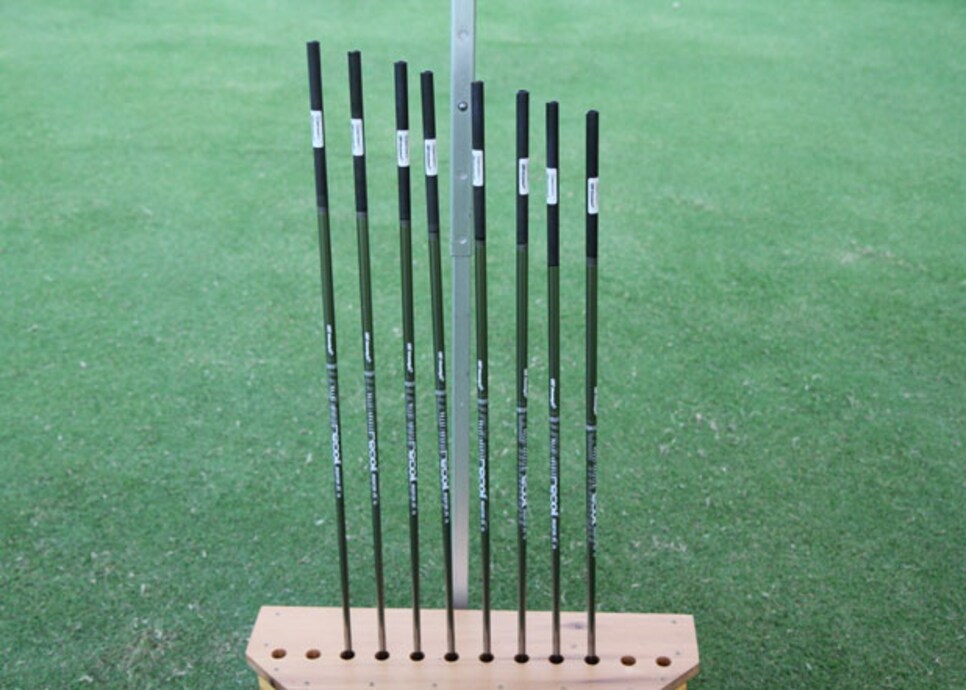 New!
UST Mamiya ReCoil prototype graphite iron shafts.
Cornhusker
Scott Gutschewski's golf bag features a Nebraska Cornhusker cover.
Irons
Scott Gutschewski's Cleveland 588 CB irons.
Daddy's girl
Dawie van der Walt's Scotty Cameron 2.6 putter is custom stamped with his daughter's name.
Custom Cover
Andres Gonzales' custom putter cover sports an elephant on top along with this distinctive visage.
Brian Stuard's bag
Close shave: Brian Stuard carries the Barbasol golf bag.
Vokey wedge
Brian Stuard's 52__*__ SM4 Vokey wedge.
B.J. Staten's bag
B.J. Staten has some personalized clubs in his bag.
Vokey wedge
B.J. Staten's 56-11 Vokey wedge bent to 57-10 is stamped with his son's name.
Alma Mater Cover
David Lingmerth uses an Arkansas Razorback cover.
IJP Putter Cover
Lingmerth represents Ian Poulter's IJP Designed apparel and uses this IJP custom putter cover.
Ping Driver
Lingmerth uses a Ping i20 driver.
Swedish detail
Lingmerth's Ping i20 driver has custom paintfill to match the Swedish flag colors.
Ping i20 irons & Anser wedges
Lingmerth's Ping i20 irons and his Anser wedges also have the blue and yellow paint.
Sam Saunders' golf bag
Hint: Who do we think of when we see "Bay Hill"?
Razr MB irons
Sam Saunders' custom-stamped Razr MB irons.
Odyssey 2-ball putter
Sam Saunders' Odyssey 2-ball putter given to him by his grandfather, Arnold Palmer.
Luke List's golf bag
Luke List's clubs tout his hometown.
Razr MB irons
Luke List's Razr MB irons are custom stamped with "JupLife" refering to Jupiter, Fl where he lives.
Gut Instinct
List employs an Odyssey White Hot XG Sabertooth belly putter.
Morgan Hoffman's golf bag
Morgan Hoffman's bag provides personal encouragement.
Vokey wedge
Morgan Hoffman's custom stamped Vokey wedge says, "Get Saucy"!
Driver Shaft
Morgan Hoffman's UST ProForce V2 driver shaft won't get lost!
Scotty Cameron Putter
Hoffman's Scotty Cameron "Tour Only" CT Studio Select Newport putter.