Golf Equipment
What the Ryder Cuppers are using for the matches at Medinah Country Club.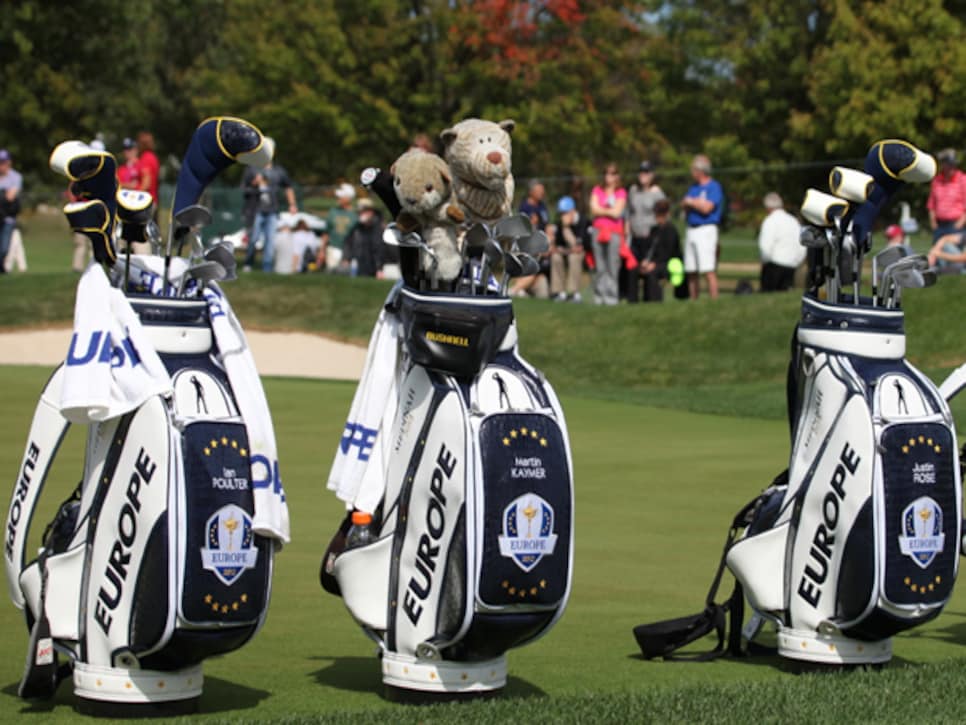 European Team bags
The navy/white color scheme of the Euro bags is clean, classic and understated.
Dustin Johnson's bag
The U.S. bags, however, are a bit louder than their Euro counterparts. (Not that there's anything wrong with that.)
Dustin Johnson's irons
A closer look at Johnson's bag shows that he uses the TaylorMade MB irons, which are blade irons that have a weighting port for consistent swingweight and center of gravity from iron to iron.
Steve Stricker's bag
Stricker's bag is a bit more understated than Johnson's.
U.S. leather headcovers
The leather U.S. headcovers (as seen on Stricker's bag) are simple and traditional.
U.S. headcovers
The U.S. pom-pom headcovers are old school.
Tiger's headcovers
Woods isn't relinquishing his iconic tiger headcover this week.
Lee Westwood's irons
Westwood, who finished in last place at the Tour Championship on Sunday, uses Ping i20 irons. Let's hope his game wakes up this week. (Or not, depending on which team you're rooting for.)
Sergio Garcia's headcover
The 32-year-old pays homage to his birthplace with this bull headcover.
Sergio Garcia's shoes
Adidas has designed shoes that match Garcia's outfits. We all have access to that luxury, right?