Recapping the exciting final-round pairing at the AT&T National Pebble Beach National Pro-Am of Phil Mickelson and Tiger Woods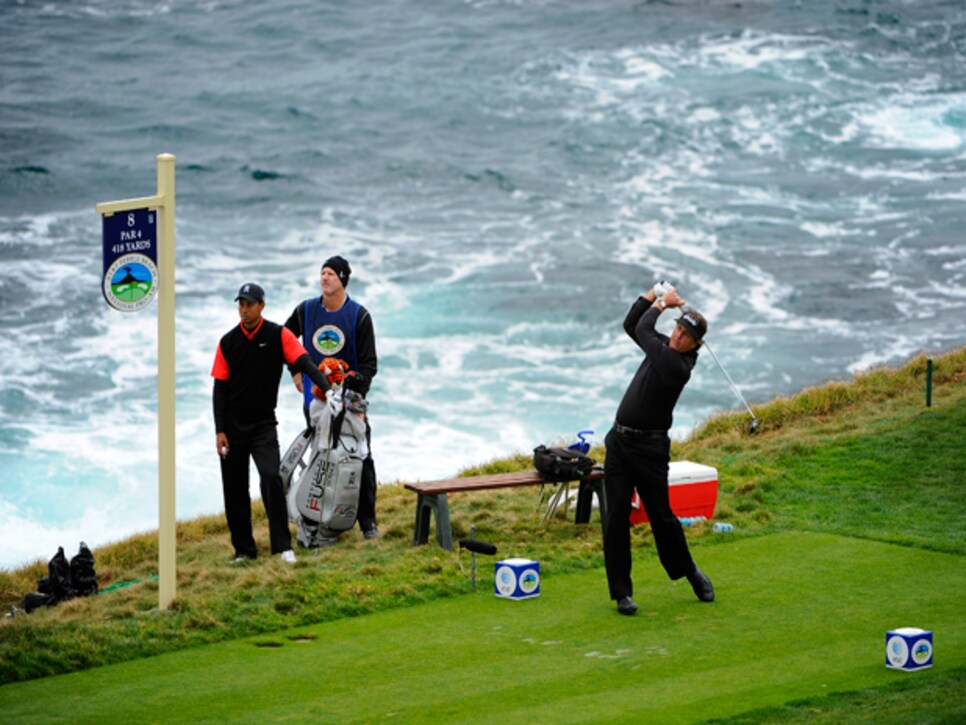 Tiger watches Phil tee off on No. 8. Why the long face for Woods despite such beautiful surroundings? He had just missed a two-foot par putt on No. 7.
Woods hits his second shot on the eighth hole. He would miss the green right and fail to get up-and-down for a second-straight bogey to fall four shots behind his rival and playing partner.
Mickelson hits his approach shot on No. 9. He finds the green and makes a routine par to cap off a spectacular front-nine 31. Meanwhile, Woods makes a third-straight bogey to fall even further behind.
Tiger reacts after holing out from a greenside bunker on No. 12. With Mickelson struggling on the hole, it appears for a moment that Woods is back in the tournament...
...But after watching Woods' unlikely birdie, Mickelson responds by
drilling a 30-footer for par
to maintain his healthy lead over Woods and the rest of the field. He would make a similar-length putt for par on No. 15 as well to all but close out the tournament and keep his scorecard clean of any bogeys.
Tiger, who struggled mightily with the putter all day, looks for answers late in the day. None would come.
Mickelson tees off on No. 14. Not surprisingly, this penultimate pairing drew the biggest crowds all day.
Tiger Woods reacts after hitting an errant third shot on the par-5 14th. He'd get a break by
hitting a cameraman by the green
, but still made a bogey on what was one of his last chances to make a Sunday charge.
Meanwhile, with the lead, Mickelson lays up on the par-5 14th. The move pays off as he would stick his third shot close and make yet another birdie.
A dejected Tiger takes a moment to collect himself.
Woods tees off on No. 18. While he put together perhaps his two best shots of the day to reach the par 5 in two, he would three-putt again. His final-round 75 drops him all the way down to T-15 and keeps the longest winless streak of his PGA Tour career intact.
In contrast, it's all smiles for Phil. After finishing off a flawless final-round 64 (the best score of the day by three shots), Mickelson holds his latest trophy while hugging his wife, Amy. The hardware brings his career total to 40 PGA Tour wins, making him just the ninth player in golf history to reach that milestone.