The Masters
Sunday's Birdies and Bogeys
Who were the winners and losers on Sunday at Augusta National? It's time to take a closer look with another edition of birdies and bogeys.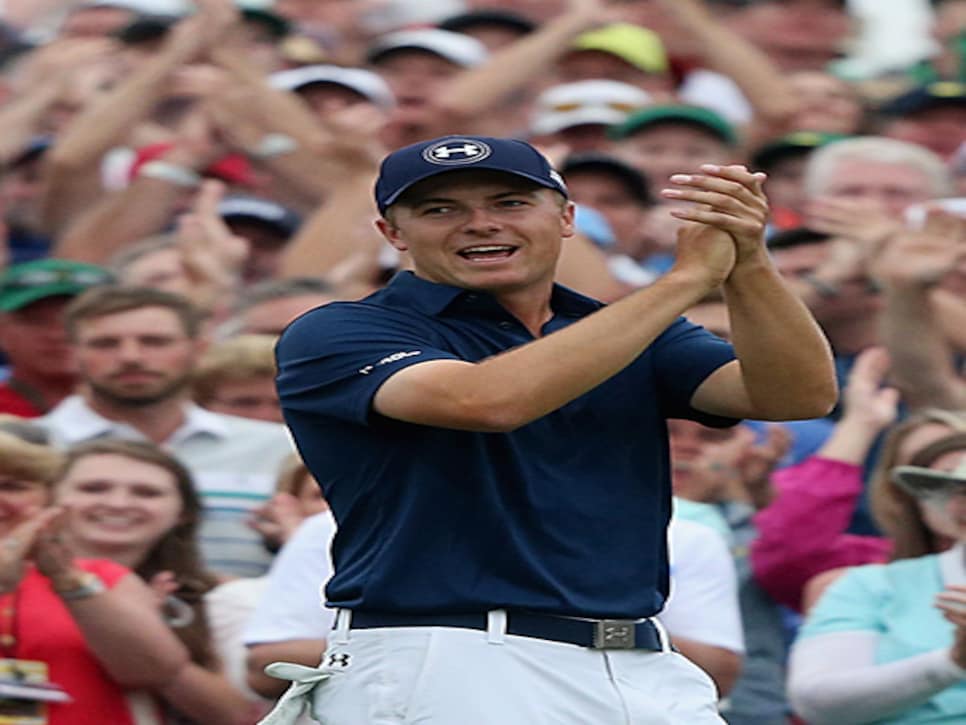 Birdie: Jordan Spieth
Three nights of sleeping on the Masters lead is a lot to ask of anyone, let alone a 21-year-old kid. Now factor in the fact that Jordan Spieth stumbled in the final group of the Masters last year, and one could understand why Greg Norman in 1996 and Rory McIlroy in 2011 were never too far from anyone's minds before the final round. But Spieth was a rock on Sunday, never letting anyone get closer than three shots en route to matching Tiger Woods' 1997 Masters scoring record at 18-under par. It might not have made for the most dramatic final round. But it did explain why Spieth is the next great star in golf. -- Sam Weinman
Birdie: American golf
We'll reserve judgment over what Spieth's emergence means for USA's chances in the Ryder Cup. That's always a wild card. But what it does make clear is that American golf fans have their next star to rally around. With all due respect to Bubba Watson, Dustin Johnson, Patrick Reed or Rickie Fowler, no player has a brighter future than Spieth -- based not only on this week, but his resume over the last year. And as much as we like and respect Rory McIlroy, we like the idea of having our guy to challenge him in the years to come. -- S.W.
Bogey: Jordan Spieth's chasers
Those chasing Spieth were more victims of his fantastic play than their own shortcomings, but the pack of competitors let opportunities slip. When Spieth bogeyed the fifth and seventh holes, Rose failed to capitalize after bogeys of his own on the sixth and ninth. When an early Sunday charge from Phil could have rattled Spieth, Mickelson turned in even par. Charley Hoffman, meanwhile, playing in the second-to-last group, shot 74 and was irrelevant from the start. Jordan Spieth was undoubtedly the best player this week, but those chasing him did little to convince anybody else otherwise. -- Luke Kerr-Dineen
Birdie: Rory McIlroy
Man, if it wasn't for that front-nine 40 on Friday. Rory McIlroy could've added a bit more drama to this Masters Sunday, because he played stellar golf the rest of the way. The four-time major champion didn't complete the Grand Slam in his first attempt going for it, but he still tied Hideki Matsuyama for the low round on Sunday (66) and bested playing competitor Tiger Woods by seven shots. It's his second straight round in the 60s on Masters Sunday, rallying for a T-8 last year. But Rory will leave Augusta with an empty feeling and undoubtedly ponder his chances if he hadn't faltered so badly on Friday afternoon. -- Stephen Hennessey
Bogey: Jason Day
One of the pre-tournament favorites, Day opened with a 67, but shot 74-71-75 after to fall out of the top 25. Day is still relatively young, but seeing another 21-year-old win a major before him -- while blowing past him in world rankings -- has to be a bit frustrating for the 27-year-old Aussie. Day is arguably the best current player without a major-championship win. Although he's got plenty of time to get his name off that list, Jordan Spieth's win must only motivate Day to get it done even faster. -- Alex Myers
Bogey: Tiger Woods
The 14-time major champion's latest comeback finally hit a couple snags on Sunday. For one, he struggled mightily off the tee, hooking his opening drive and not hitting a fairway until the 13th hole (he hit only two on the day). One of those wild drives proved extra costly when Woods hurt his wrist hitting off a root in the pine straw on No. 9. He shook his right hand several times after that, but managed to eagle No. 13, birdie No. 15 and salvage a 73. After, he said he popped the bone back in. Impressive. His T-17 is his best finish since the 2013 BMW Championship, but getting dusted by seven shots by playing partner Rory McIlroy on Sunday was a disappointing way to end an otherwise successful week. -- A.M.
Birdie: Hideki Matsuyama
While 21-year-old Jordan Spieth (rightly) got all of the attention, the just-turned-23-year-old Matsuyama had another solid performance in a major championship. Matsuyama's 66 matched Rory McIlroy for the low round on Sunday and it vaulted him into his first top-five finish at one of golf's four biggest events. The result also ties the Japanese star with Jordan Spieth with a PGA Tour-best five top-fives this season. Unlike Spieth, the wins haven't come as quickly, but there's no reason to think that's not going to change. -- A.M.
Bogey: Adam Scott
Hopes and dreams of past Masters competitors have rested on the back part of Augusta National's property, particularly the famed par-3 12th hole, Golden Bell. Adam Scott wasn't in contention like year's past but he still fell victim to the most famous par 3 in the world. The 2013 Masters champion dunked two balls in Rae's Creek before escaping with a triple-bogey 7. It summed up a poor week – finishing with two 74s and a T-38. -- S.H.
Bogey: Masters Drama
For as great as the coronation of Jordan Spieth was, the Masters is always better with an element of drama. In that respect, the 2015 Masters was found wanting. Spieth raced to a big lead on Thursday and extended it on Friday. On Sunday, Justin Rose birdied the first two holes and looked like he'd force the issue to Spieth, but the 21-year-old's birdies on the first and third completely neutralized the threat before it even began. It was like that all day, totally void of any suspense, although we doubt Jordan will mind. –L.K.D.
Birdie: U.S. Open buzz
Not that the U.S. Open needs more in the way of intrigue, but the way this Masters has played out, there's plenty to be excited about in two months at golf's next major. Start with Jordan Spieth looking to follow up on his Masters title, continue with Phil Mickelson going for the career Grand Slam, and keep going with Tiger Woods appearing to be back healthy and capable of good golf. And don't forget Rory McIlroy, and a new venue at Chambers Bay, and ... well, you can probably tell we're pumped. -- S.W.