PGA Championship
Sunday's Birdies and Bogeys
Who were the winners and losers on Sunday at the PGA Championship? Let's take a closer look with another edition of birdies and bogeys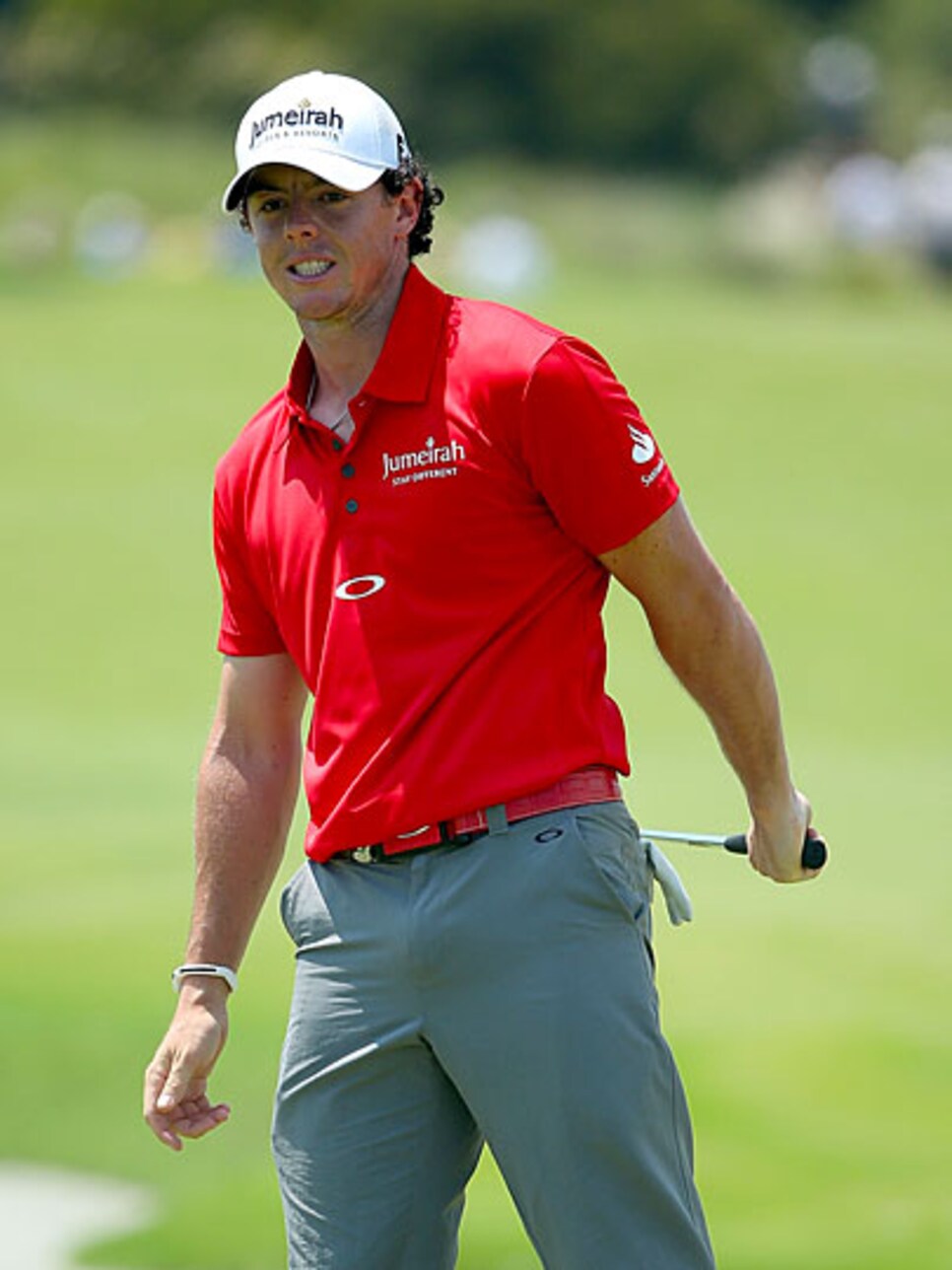 Photo By: Andrew Redington/Getty Images
Photo By: Ross Kinnaird/Getty Images
Photo By: David Cannon/R&A/R&A via Getty Images
Photo By: John Raoux/AP Photo
Photo By: Evan Vucci/AP Photo
Photo By: David Cannon/Getty Images
Photo By: Evan Vucci/AP Photo
Photo By: Andrew Redington/Getty Images
Photo By: David Cannon/Getty Images
Photo By: Jonathan Ferrey/Getty Images
Photo By: Sam Greenwood/Getty Images
Birdie: Rory McIlroy
At Congressional, the question was how McIlroy would hold up given his recent collapse at the Masters. This week, the questions were about a dismal summer stretch that rendered him irrelevant in the two previous majors. In each case, McIlroy has provided a resounding answer. McIlroy's display over the final 36 holes at the Ocean Course was no less impressive than his U.S. Open win at Congressional, both a product of remarkable ball-striking and timely putting. With the win, McIlroy takes over the No. 1 spot in the world ranking, and becomes the first player from the U.K. since Tommy Armour 1930 to win the PGA. Surely, as Tiger Woods has shown, McIlroy will face more tests in the years to come. But thus far he's shown an ability to respond.
Photo By: Andrew Redington/Getty Images
Bogey: Tiger Woods
Given how his Saturday went, Woods should be commended for at least being relevant on Sunday. But even in playing 28 holes on Sunday in 2-under par, Woods' PGA will be defined by how he squandered another promising start at a major. As was the case at the U.S. Open, Woods took a 36-hole lead into the weekend and then fell flat in the third round. As was the case at the British Open, he spent most of Sunday playing a futile game of catch-up. It's long been known that Woods is a better leader than a chaser. For Woods to add to his major haul, he needs to avoid the missteps that derailed his hopes in 2012.
Photo By: Ross Kinnaird/Getty Images
Birdie: The Rory-Tiger Rivalry
It's on, people, regardless of how wide the gap was between them on Sunday. Given the progress he's made under Sean Foley, good enough to be in contention at some point in the season's last three majors, Woods has reason to believe he can smooth out some of this year's rough edges in time for the 2013 major season. And after winning two majors in record-setting fashion, McIlroy has already proven he's up for the challenge. If fact, why wait for next year to get these two battling it out again? The Ryder Cup is a little more than a month away ...
Photo By: David Cannon/R&A/R&A via Getty Images
Bogey: Vijay Singh
The 49-year-old three-time major champ had played his way into the final group after two rounds, and even ventured deep into red numbers in Saturday's brief action. Then came Sunday, and Singh was unable to maintain the same level. Singh played the remainder of his third round holes in four over Sunday moning, and continued that trend in the final round, shooting a dismal 77 to finish T-36.
Photo By: John Raoux/AP Photo
Birdie: Rules intrigue
Carl Pettersson (grounding club in hazard), Zach Johnson (ball moving after address) Joost Luitten (double-hitting a putt) Michael Hoey (incorrect scorecard) probably feel differently, but it's mistakes like the ones all four made this week that help bring to light rules most golfers probably don't even consider. The irony is that with all bunkers deemed "sandy areas" in which players can ground their club, the thinking was we would avoid the type of mishaps that marred the 2010 PGA Championship. Instead, this PGA goes down as another major in which officials with walkie-talkies were a big part of the story.
Photo By: Evan Vucci/AP Photo
Bogey: Ryder Cup jockeying
It's long been an intriguing subplot of the PGA during Ryder Cup years, watching players move in and out of position for a spot on the U.S. team. No such luck this year, when for what is believed to be the first time in the event's history, the PGA Championship produced no change in the qualifying list. In other words, the players who began the week in the top eight in the standings ended the week there as well. And that includes Phil Mickelson, whose wild week ended with a 74 and the eighth and final automatic spot on Captain Davis Love III's team.
Photo By: David Cannon/Getty Images
Birdie: The Ocean Course
Say what? OK, so players didn't love it, the logistics were a disaster, and if common sense prevails, the PGA won't come back here until we're all using hovercrafts to get to the golf course. But if the real measure of a major championship venue is the leader board it produces on Sunday, then how can we complain about a site that gives us Rory, Tiger and a number of other A-list players battling for the Wanamaker Trophy?
Photo By: Evan Vucci/AP Photo
Birdie: Ian Poulter
The colorful Englishman was already a likely pick for European captain Jose Maria Olazabal for this fall's Ryder Cup matches, especially given his 3-1 record at Celtic Manor in 2010. Consider the display Poulter put on Sunday positive reinforcement. Through five holes, Pouler hit five greens and made five putts for five birdies. He added two more birdies on the back nine before fading late. But it was still an example of how Poulter has plenty of substance under his stylish veneer.
Photo By: Andrew Redington/Getty Images
Birdie: Carl Pettersson
As in back-to-back birdies following being informed that he had incurred a two-stroke penalty on the first hole. Pettersson wasn't happy about having to change his scorecard, but he didn't let it bother him, getting back those two strokes right away. Pettersson wasn't able to recover from his costly mistake enough to capture a first major, but he picked up his highest finish at one of golf's biggest events (T-3), and the way he handled the incident should win him some fans.
Photo By: David Cannon/Getty Images
Birdie: Quiet, Strong Seasons
Bo Van Pelt and Peter Hanson (shown here) didn't win at the Ocean Course. In fact, they haven't won on the PGA Tour this year. But both have been solid throughout and their play this week earned them some well-deserved TV time. Hanson contended at two early-season World Golf Championship events, as well as at the Masters, while Van Pelt just missed out on adding to his tour-leading total of eight top-10 finishes in 2012, including a runner-up to Tiger Woods at the AT&T National.
Photo By: Jonathan Ferrey/Getty Images
Birdie: Brits Not Named Luke or Lee
Donald and Westwood are England's biggest stars, but once again were non-factors in one of golf's biggest events. But the Olympics host country still had plenty to be proud of. Ian Poulter and Justin Rose combined for 16 birdies on Sunday to contend on the back nine and finish T-3. Oh yeah, and then there was David Lynn * (shown here)*. The 38-year-old playing in his first major since 2003 came out of nowhere to finish runner-up after firing a pair of 68s over the weekend.
Photo By: Sam Greenwood/Getty Images