PGA Championship
Sunday's Birdies and Bogeys
Who were the winners and losers on Day 4 at Oak Hill? It's time to take a closer look with another edition of birdies and bogeys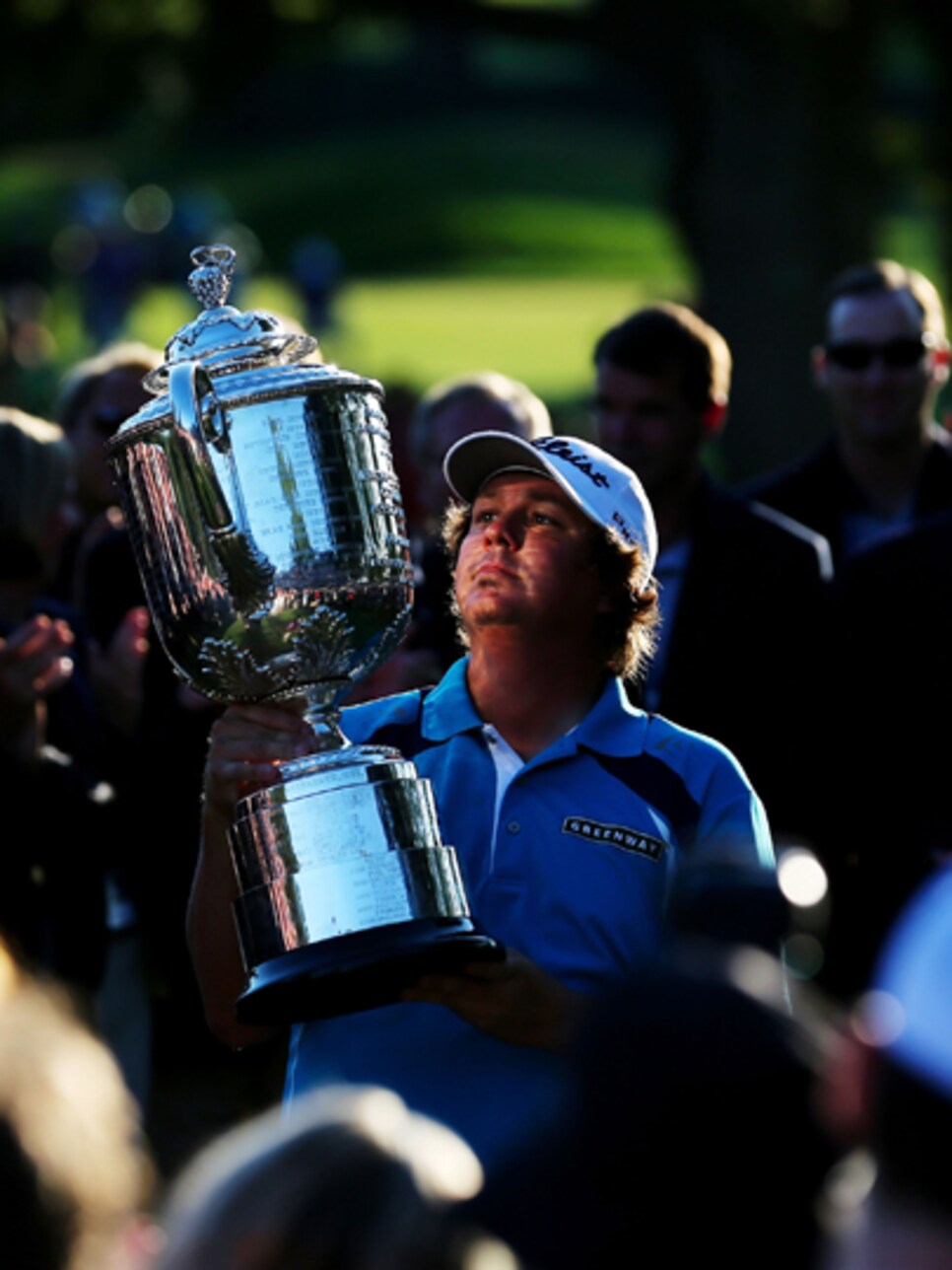 Birdie: Jason DufnerFor all of Dufner's idiosyncracies -- the waggle, the dip in his lower lip, the expression that looks like he just got out of bed -- this PGA confirms the guy is no joke. His performance at Oak Hill was ball-striking at its purest -- worthy, even, of comparisons to his hero Ben Hogan. As with Hogan, Dufner's putting can come and go, and like Hogan, he doesn't burst with personality (or at least not outwardly). But there's still a lot to like about a player who recovered from his late collapse in this tournament two years ago, with the only hiccups in his closing 68 coming when the title was in hand. When he frittered away the 2011 PGA, blowing a four-shot lead with four holes to play, Dufner said, "I've got a feeling that I'm going to have some chances to win some majors." There wasn't much reason to believe him then. Now it's amazing we ever doubted him.
Photo By: Getty Images
Bogey: Jim FurykIn his post-round interview, Furyk said, "I don't feel like I did anything wrong." Perhaps, but that doesn't mean he couldn't have done more right. Sunday's lead story will be that Furyk was outplayed by Jason Dufner, but the 43-year-old made only two birdies in the final round and failed to par either of the last two holes when Dufner finally blinked with a pair of bogeys. Not helping matters was the normally-accurate Furyk only hitting four fairways on Sunday. The positive for Furyk is that he proved he can still contend in a major. At this point in his career, though, coming up short after having another 54-hole lead again will sting for awhile.
Photo By: Getty Images
Birdie: The WaggleTo the unitiated it may seem like just a nervous tic, but Dufner's
pre-shot waggle
is part of the reason he hits the ball so squarely, ranking third in greens in regulation at Oak Hill. Could it inspire a new generation of wagglers? Time will tell, but as Tom Watson wrote in Golf Digest a few years back, plenty of amateurs would benefit from a move like Dufner's. "I see too many amateurs start the backswing from a static position," Watson wrote. "I think having a waggle before you start is important to avoid tension and establish good rhythm." If it can produce anything like the shots Dufner hit into Oak Hill's greens this week, sign us up.
Photo By: J.D. Cuban
Bogey: Adam ScottThe Aussie's maiden major victory at the Masters ensured that 2013 would go down as a great year -- but it could have been so much better. Scott saw a chance to win the British Open slip away on the back nine for a second year in a row and he entered this weekend as the favorite. His long putter let him down the final two rounds, though, leaving him T-5 at Oak Hill following last month's T-3 at Muirfield. On the bright side for Scott, the fact that we're labeling top-five finishes in majors as disappointments shows how much we've come to expect from him.
Photo By: Getty Images
Birdie: Keegan BradleyIt was Bradley, of course, who stormed from behind at Atlanta Athletic Club in 2011 to snag the PGA from Dufner. At Oak Hill, Bradley came back again. Literally. Headed to the airport after his final round 66, Bradley turned around so he could congratulate his friend and rival Dufner in person. He even said he ran a red light, all for a guy he likes to jab often on Twitter but who has actually emerged as one of his closest friends.
Photo By: Getty Images
Bogey: Moronic fansWe're not talking about ALL of the fans at Oak Hill. In fact, we're probably only referring to a small percentage. But it only takes a few knuckleheads yelling inane things purely for sport to sour the atmosphere for everyone else. It was enough of a disturbance to Jim Furyk that he looked back crossly at the crowd after his tee shot on the 16th hole. Though clearly rattled, Furyk's tee shot still found the fairway. It's bad enough that these clowns are making themselves heard. It'd be much worse if they were playing a part in the outcome.
Photo By: Getty Images
Birdie: Jason DayAnother major, another spotting of the young Australian on a leader board on Sunday. Day put a charge into the galleries at Oak Hill, getting to within three of the lead with seven birdies in a 10-hole span. Day's confidence level got high enough that on No. 16 he had his caddie pull the flagstick before he hit a bunker shot. He nearly holed it, but when he didn't, it led to three straight bogeys to close out his week and a T-8 finish. Only one question remains: When are we going to see the September cover boy of Golf Digest seriously contend again in a regular PGA Tour event?
Photo By: Getty Images
Bogey: Lee WestwoodHe fought his way back into the PGA Championship with a Saturday 68, and then, just like that, he was gone. Paired with Ryder Cup teammate and rival Rory McIlroy, Westwood played his first three holes in three over on Sunday, and added three more bogeys on the front nine to go out in 41. Fresh off a dispiriting loss in the Open Championship at Muirfield, Westwood wasn't a serious contender to claim his first major title this time around. But it was still another disappointing week for a player who hasn't yet solved the biggest riddles in the game.
Photo By: Getty Images
Birdie: Tim ClarkWhat's more remarkable -- that Clark aced the 220-yard par-3 11th hole on Sunday, or that he still shot 75? On an otherwise forgettable day for the South African, Clark somehow found the hole with his 3-hybrid on No. 11, with his tee shot catching the front of the green, and tracking straight to the cup. It was the only ace of the tournament, but it didn't help turn Clark's fortunes around. He closed with two more bogeys to finish the PGA 10 over.
Photo By: Getty Images
Bogey: Tiger WoodsThere was nothing about Woods' Sunday 70 that was any more worrisome than the first three days. If anything, his three birdies on the back nine when he was clearly out of the tournament -- and contending with a stiff back -- was a testament to Woods' resolve. But in a season in which he's won five times, including just seven days before, Woods isn't in the business of moral victories. His T-40 finish in the PGA now marks five consecutive seasons that he will walk away without a major title, making for a painfully long wait until the Masters in April.
Photo By: Getty Images
Birdie: Hideki MatsuyamaWhen they tally up the scores for the golfers who made the cut in all for major championships (Adam Scott and Jason Day led the 14 players who accomplished the feat), you won't see this rising Japanese star's name. That's just because the 21-year-old didn't qualify for the Masters. Don't count on that happening again anytime soon. Matsuyama finished T-10 at the U.S. Open, T-6 at Muirfield and a final-round 66 at Oak Hill put him T-19 at the PGA Championship. It was Matsuyama's first crack at all three of the golf season's final three majors -- a scary thought for his competitors in the coming years.
Photo By: Getty Images
Birdie: Scott PiercyPiercy became the latest player to flirt with the all-time low score in a major championship this week at Oak Hill. But after his 20-footer for birdie on No. 17 narrowly missed and he bogeyed No. 18, he had to settle for a Sunday 65. Piercy also missed a four-footer for birdie on the drivable par-4 14th, but it's tough to be critical of anyone making eight birdies in a single round at Oak Hill. Piercy's final-round charge earned him a T-5, the first time he's finished in the top 25 in a major.
Photo By: Getty Images