British Open
Sunday's Birdies and Bogeys
Who were the winners and losers on Day 4 at Muirfield? It's time to take a closer look with another edition of birdies and bogeys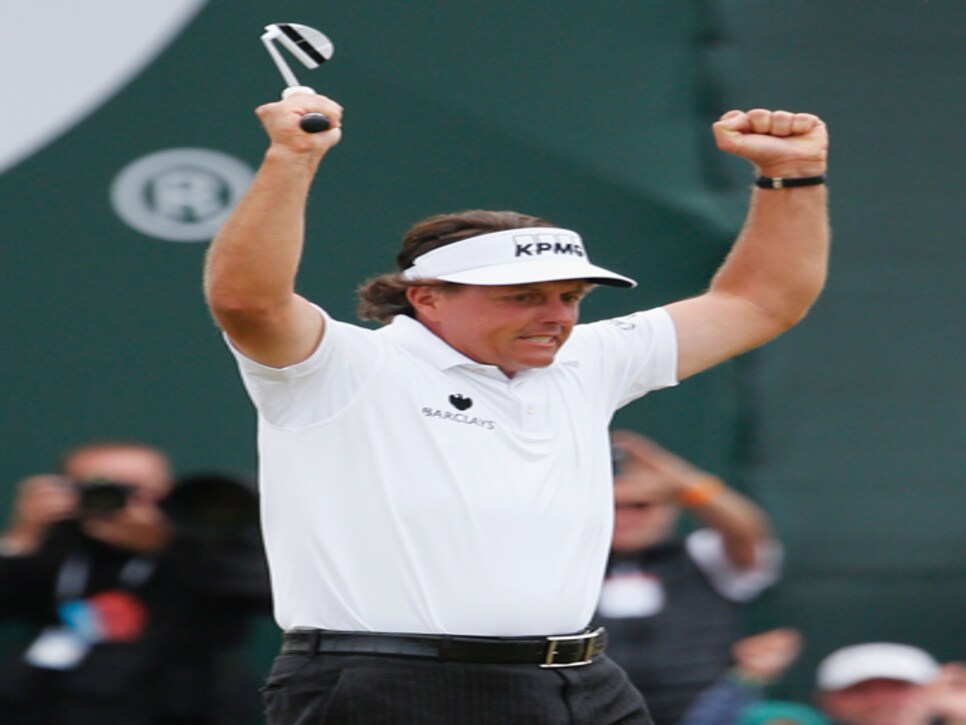 Birdie: Phil MickelsonOnce upon a time, the safe bet was that Mickelson would never win the Open Championship -- not as long as he resisted the idiosyncrasies that accompany links golf. But Mickelson's Sunday 66 at Muirfield confirms him as one of golf's true savants, one who needed only time to adapt his boundless talent to a different style. After his win the previous week in the Scottish Open, Mickelson began Sunday five strokes back, but closed with four birdies in his final six holes. None were more impressive than his 302-yard approach into the wind on the par-5 17th, which skipped onto the green to set up an easy 4. The fifth major of Mickelson's career puts him three-fourths of the way to the career Grand Slam. Either way, it cements his status as one of the game's all-time greats.
Bogey: Lee WestwoodAgain, the Englishman didn't do anything too disastrous. But again, he came up short when he had a chance to win a major. With shaky ball-striking from the start -- he didn't hit a fairway on the front nine -- Westwood went out in 38, but was still tied for the lead through 12 holes. Bogeys on 13 and 16, which led to a final round 75, ended any chances of earning him that first major championship. The next time Westwood grabs the 54-hole lead at a major, he's going to have to hope Phil Mickelson isn't lurking anywhere near him: Muirfield was the second time Lefty shot five under in the final round to leapfrog Westwood and win.
Birdie: MuirfieldContrast the events of Sunday with the U.S. Open at Merion, when players spent most of the day moving only in one direction. Muirfield, meanwhile, produced a push-and-pull dynamic that was riveting. A roster of some of the best players in the game fell off the leader board with mistakes, then reemerged when given an opportunity to make birdies and eagles. It was golf at its best -- unpredictable, punishing, but undeniably fair. No wonder Muirfield has a habit of bringing the best to the fore, as it did again with Mickelson.
Bogey: Tiger WoodsAt some point, Woods' weekend struggles at majors will cease to be a surprise. Perhaps that point has already been reached. With another shot to claim his 15th major title, Woods stalled on Sunday at Muirfield, with his final-round 74 leaving him five distant shots behind winner Phil Mickelson. A three-putt on the first hole started him on a streak of three bogeys in his first five holes, and Woods' defeated body language suggested he wasn't going to recover. Not only did he walk away from Muirfield empty handed, he faced the added indignity of being outplayed by playing partner Adam Scott and his former caddie Steve Williams.
Birdie: The Pinehurst U.S. OpenAs if the unique dynamic of hosting men's and women's U.S. Opens in back-to-back weeks wasn't enough, the 2014 U.S. Open at Pinehurst will also have the added intrigue of Phil Mickelson going for the career Grand Slam there next June. It would be a fitting venue for such an achievement. It was at Pinehurst in 1999 where Mickelson had the first of his record six runner-up finishes in the U.S. Open. If he was able to get over the hump of links golf, there's no reason to think he can't also prevail in the national championship.
Bogey: Adam ScottAnother sentimental favorite given his collapse in the British Open a year ago at Royal Lytham, Scott entered Sunday three shots back but climbed into the lead after four birdies in six holes. But the combination of Muirfield's increased stinginess and Mickelson's stellar putting eventually had him playing catch-up. When Scott bogeyed four straight holes on the back nine, the claret jug was lost, and the Masters champ had to settle for a T-3 finish and another respectable showing in one of the game's biggest events.
Birdie: Ian PoulterThe Ryder Cup hero's putting had become troublesome enough that he made a plea on Twitter for new options. He eventually settled on an Odyssey Damascus White model, and it served him well on Sunday. Poulter's long putt for eagle on No. 9 started him on a run of four holes that he played in five under. An ensuing bogey would halt his momentum, but his 67 put him at one over, giving the leaders behind him plenty to think about.
Bogey: Hunter MahanMahan seemed poised to make a run at his first major after a 68 on Saturday earned him a spot in the final pairing for a second straight major. But Mahan didn't put that experience to good use, stumbling early with bogeys on three of his first six holes. There will certainly be more opportunities for the 31-year-old, but as we've seen with Lee Westwood, the more close calls a player racks up, the tougher it sometimes gets for a player to finally break through.
Birdie: Henrik StensonSure, he was tied for the lead on the back nine at one point before back-to-back bogeys on 12 and 13, but overall, it was a good day and even better week for the Swede. Stenson shot a one-under 70 on Sunday to finish runner-up, his best-ever performance at a major. After a few down years following a win at the 2009 Players, Stenson looks to be back in the form that once made him a top-five player in the world.
Birdie: Butch HarmonFor all the adulation showered upon Sean Foley and his high-profile (and expanding) roster of students, it was Harmon -- the No. 1 teacher in Golf Digest's 2011 ranking of America's Best Teachers -- who saw his pupil prevail at Muirfield. The Open win for Mickelson was his second major since taking up with Harmon in 2007, and it comes at a time when he says he's playing the best golf of his career. Sure, it was Mickelson's putting that he cited most on Sunday, but it was the combination of powerful and precise ball-striking that put him in a position to score.