Instruction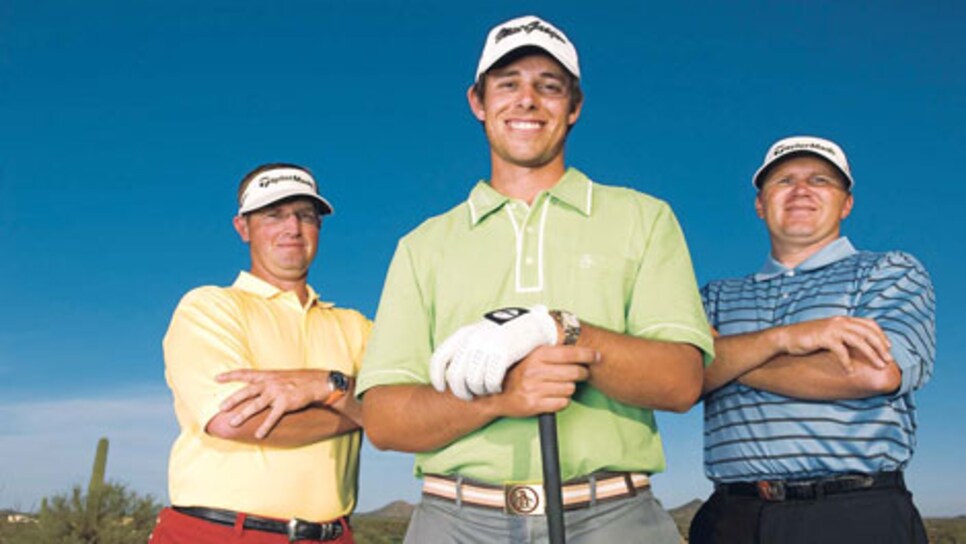 Mike Bennett (left) and Andy Plummer flank Aaron Baddeley, who has won twice on tour since switching to their radical swing.
Last Sept. 24, after rookie Eric Axley won the Valero Texas Open, Andy Plummer allowed himself a little reflection. He called his teaching partner, Mike Bennett, and they talked about what to do when more players came calling. You see, Axley was the third player in six weeks to win his first event, and Plummer and Bennett were teaching all three of them.
Known on tour as the Swing Whisperers for their almost mystical ability to help players win (Dean Wilson at the International and Will MacKenzie at Reno-Tahoe were the other two first-time winners above), Plummer and Bennett now work with 15 to 20 pros, including 2003 Masters champion Mike Weir and eight-time tour winner Brad Faxon. They were unknown when they coached Aaron Baddeley to his first win, in 2006, but when Badds won again in February, Plummer and Bennett were the hottest teachers in golf.
Their secret is a geometry-based swing model that contradicts almost everything being taught in the game today. They each carry a three-ring binder stuffed with images of great players who validate pieces of their swing model and tattered drawings that illustrate their points. In short, their swing has the player tilting dramatically to his left on the backswing, and then springing up through impact. Players who get beyond its radical look marvel at the pure strikes it produces.
A native Kentuckian whose soft-spoken manner belies a sharp intensity, Andy Plummer, 40, is an ardent student of golf's most complicated text, The Golfing Machine by Homer Kelley. Plummer and Bennett, 39, whose easygoing nature complements Plummer, spent years by the side of swing guru Mac O'Grady, and also credit Tom Tomasello and Craig Harmon, respectively. Both tried to play professionally, each advancing through the first stage of Q school in the mid-1990s, but wound up on the Hooters Tour, traveling, practicing and rooming together—all the while refining the swing they teach today. But the Plummer-Bennett model isn't only about tour wins. Their plan is to change the way all golfers swing the club, a quest they rather immodestly call The Revolution. To back up their teaching, they've helped establish a high-tech research-and-development facility outside Philadelphia. So while the Plummer-Bennett model is bagging tour wins, a team of researchers is starting to test, measure and catalog what makes the swing they teach the best one a golfer can make.
Golf Digest has the basics of that swing, in publication for the first time.