U.S. Open 2010
Photography by Stephen Szurlej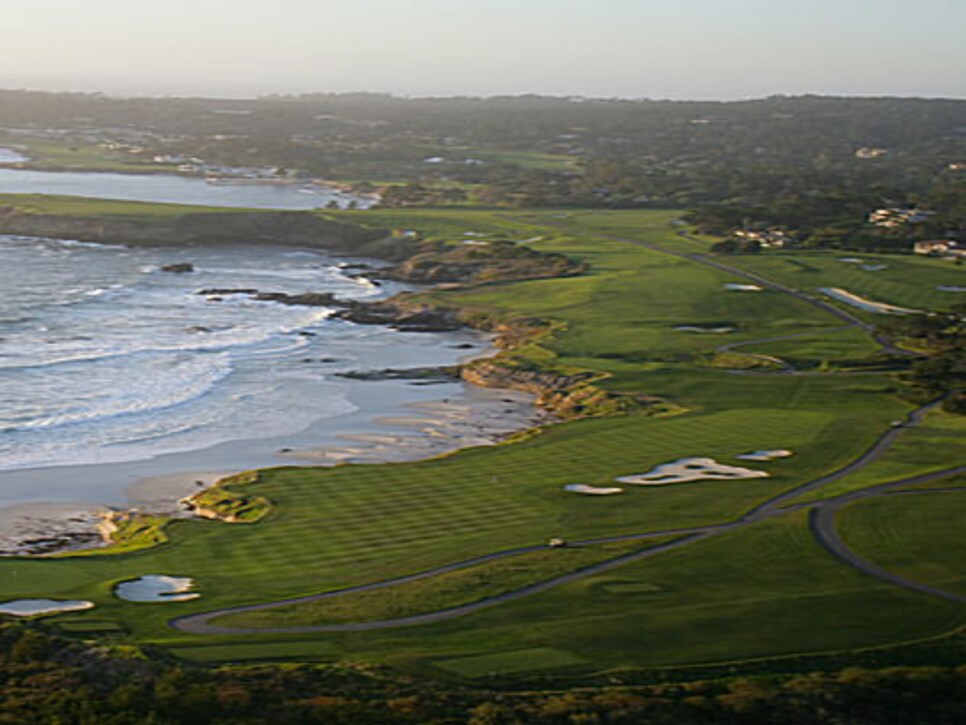 Photography by Stephen Szurlej
On conditions:"I have never seen the golf course in better condition," said Mike Davis. "It's exactly where it needs to be, in terms of the health of it, the greens and fairways. Everything is just outstanding. At this juncture, what we're trying to do is just get it to a point where when I come back on June 4 for good. The only adjustments that are done are just incredibly minor. You're just tweaking here and there, and maybe taking a quarter inch off the rough here or adding a half-inch there. I couldn't be happier. I can't think of an Open where we were in better shape coming into it."
On widening some fairways :"One of the things we've done in the last six months is really widen out all the approaches to the greens," Davis said. "If you've noticed over the years, the rough has crept in. We've taken that out and really made it closely mowed so you can bounce balls into the greens. At least it gives these guys a chance to bump shots in. Let them show their shotmaking."
On choosing hole locations:(Davis used previous pin placements from the 1992 and 2000 U.S. Opens at Pebble Beach as a reference, but essentially started from scratch.)On choosing hole locations:"I go back and look at what was used in the past," he said. "On No. 17 (par-3), we've always done four on the left; we're gonna do one on the right. You don't have to go for it."
On playing the 8th hole:"It's very much a lay-up shot, but we've given guys 40 yards of width," Davis said of the par-4, 428-yard 8th hole. "For a U.S. Open, that's huge, considering it's a 3-iron or rescue. You will have to hit a second shot from a hanging lie, which is going to make that shot harder and at least one club longer."
On the 13th tee:"I love the tee shot at 6 and 18, but 13, if you get a two-club wind, that is one of the most strategic tee shots now at Pebble Beach," Davis said. "I love looking down there. Now, it's basically telling the guy, 'Listen, you don't have to try to carry that cross-bunker -- we've given you plenty of room out to the right.' But you want to try and carry the cross-bunker because not only does it give you some extra distance, but it's so much easier coming into that green. If the wind catches it and you land in that cross-bunker, that's bogey. "Before, that hole was a driver-wedge. There was no strategy to it. If it's howling one day, and I hope it does, 75 percent of the field has to play it to the right. It's not as if you can't get home or bounce it on the green. I'm very excited about that hole."
On the course's difficulty:"One of the awesome things about Pebble Beach is that you look at the scorecard and it's not even challenging," Davis said. "It's these small greens and it just doesn't rain in June. So we're going to end up really dictating what the firmness is and then you throw in wind. The other thing is you've got these new grooves. So far, I think it's fair to say when conditions are wet, you're not seeing quite as big a difference. But they're going to see a difference here. The whole thing I've been saying in the back of my mind, if we fail here, it's because we've gotten the rough too high. With these tiny little firm greens, all we want to do is get a little grass between the club head and the ball."
On the variety of tee selection:"We're much more willing now to be very flexible based on weather conditions," Davis said. "We used to set tee markers a year in advance. Now you can really show off the architecture much better. Some holes, you want to play it different ways. The other thing is it's fun sometimes when the players just don't know what's coming. If they're under the gun and it's a pressure time, your mind doesn't think the same way. That's part of the test is being able to think on your feet in a given moment."
On the 480-yard par-5 14th hole:"It would not surprise me in the U.S. Open if we see some 9s and it really doesn't have anything to do with the golf course set up. It has to do with the architecture. The way that green sits up in the air -- it's literally 1,600 or 1,700-square feet -- it's the smallest effective green in all of championship golf. There's just nothing that small. You're hitting a shot up in the air that's blind. When it's windy and it's firm, that is a tremendously exacting shot. If a guy misses the green, you could see him miss it to the right and it rolls back down, he hits it up, rolls back down, then he hits it too hard and it goes over. The point is, it's the way that hole is designed. You could start to see the guys playing Ping-Pong.