The Basics: Health & Fitness
Raise Your Game __Our guide for getting your swing in shape__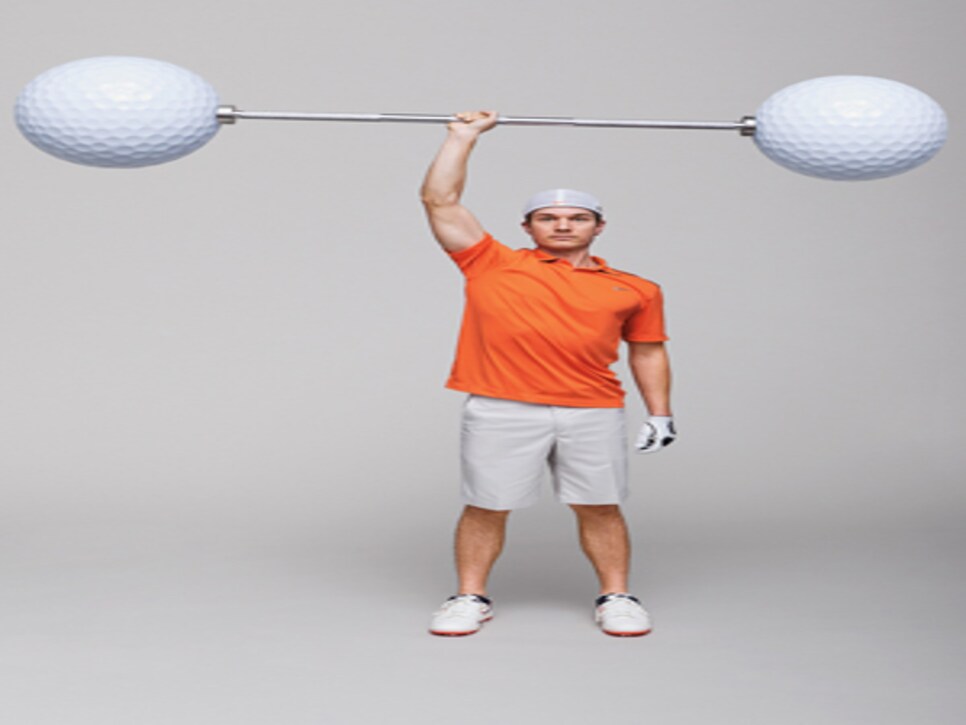 6 Exercises Every Golfer Needs OVERHEAD SPLIT-SQUAT
Start in a kneeling split stance holding a club or weighted bar overhead. Lift and lower yourself, keeping the club extended. Trains: lower-body strength and stability, mid-back extension.
LOWER-BODY ROTATIONS
Stand at address holding a stability ball. Keeping your upper body still, rotate your lower body both ways. Trains: independent movement of the torso; lower-body action on the downswing.
LATERAL SQUAT & TRUNK ROTATION
Stand wide, and hold a club across your shoulders. Shift to one side so your glutes feel stacked behind the bent leg. The opposite leg straightens, foot down. Rotate over the bent leg. Repeat the other way. Trains: rotation and lateral motion in the downswing.
ROTATIONAL CHEST PRESS
Take a lunge stance, and grab the handles of a cable machine or elastic tubing. Using a piston-like motion, alternate pressing each arm out while rotating. Trains: the pectoral muscles and mid-back.
HEEL DROPS
Lie on your back near a wall, and flex your knees and hips 90 degrees. Press your hands on the wall, and keeping your back flat, alternate tapping each heel to the ground. Breathe as you complete each tap. Trains: the core muscles.
INVERTED ROWS
Set a bar in a fixed position a few feet off the ground, and suspend your body under it. Keeping your body taut, pull yourself toward the bar, then return to the start position. Trains: the muscles on the back side of the body that control posture during the swing.