Golf Equipment
New Looks: The New Groove, 2.0
Your old wedges were better—but not anymore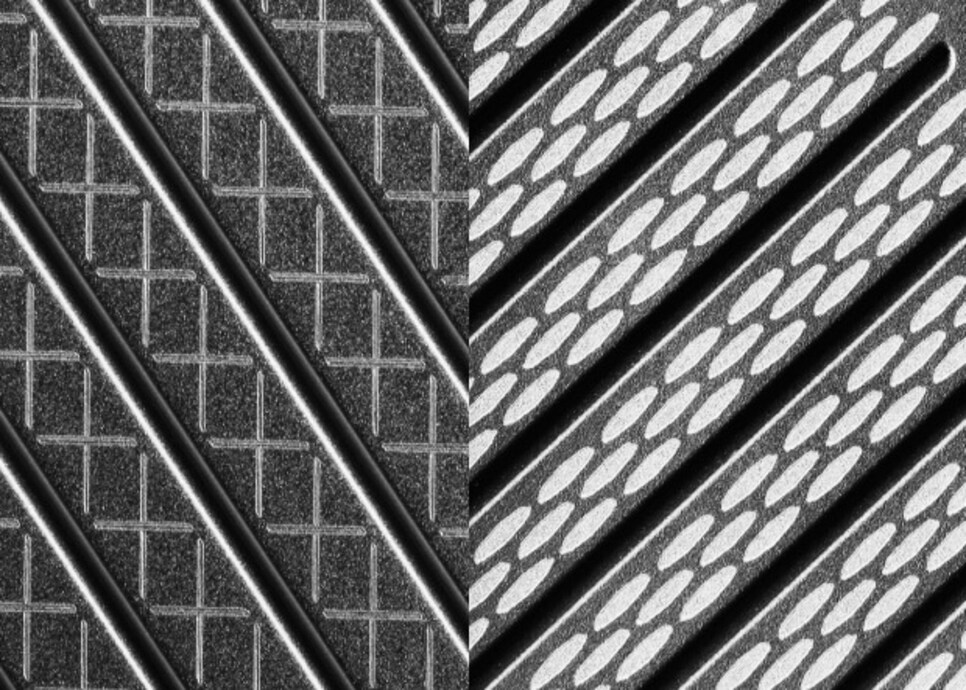 Your old wedges were better—but not anymore
NIKE
VR Forged$130The 18 grooves on this clubface are placed close together to help maximize control and consistency. A laser-etched crosshatch pattern between the grooves adds surface texture for more friction (48 to 60 degrees).
CLEVELAND
588 RTX$150The grooves are 16 percent larger than the 588 Forged, and laser-milled surface roughness between them adds friction. A variety of personal options are available through Cleveland's MyCustomWedge 2.0 program (46 to 64 degrees).
TITLEIST
Vokey TVDStarting at $160The edge radius of the grooves reaches the USGA's conforming limit, and an inspection process ensures it doesn't exceed it. The custom-order wedge comes in two grinds (M and K) to suit all conditions (54 to 60 degrees).
HOPKINS
CJ-1Starting at $100Built on the idea of giving customers total control of their wedge choices, the company offers seven custom grinds, loft, lie and length options and personalization like engraving and stamping (50 to 60 degrees).
CALLAWAY
Mack Daddy 2$119High-lofted wedges (56 degrees and up) have more aggressive grooves for greater versatility and control around the green. Grooves in lower-lofted wedges have a larger angled draft for ideal spin on longer shots (52 to 64 degrees).
RENEGAR
RX12$140This updated design, which still has a channel in the sole to help the leading edge stay low to the ground, features more heel relief to improve lob and bunker shots. Also, a bead-blast finish is designed to enhance friction (48 to 60 degrees).
OLD WEDGES, NEW WOES
If you play a wedge that's three or more years old, you should consider an upgrade. In our test, using a GC2 launch monitor, we hit 50-yard shots from the fairway and rough with a new 2013 wedge and with several worn, pre-2010 wedges. The old wedges generated 12 percent less spin from the fairway and 33 percent less spin from the rough.