News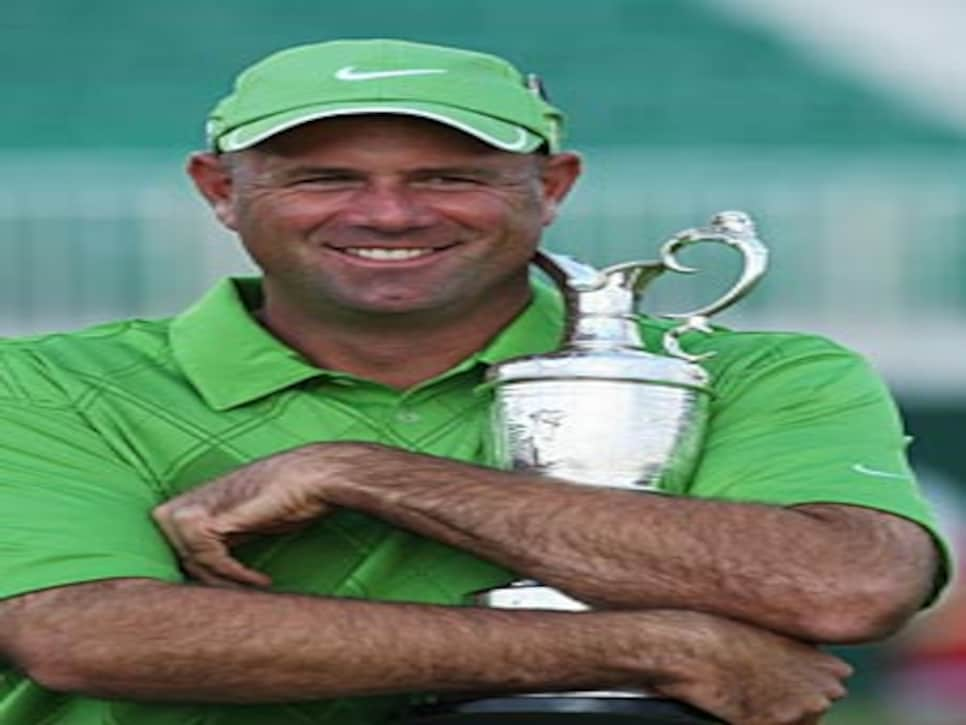 Stewart Cink claimed the Claret Jug and his first career major championship by defeating Tom Watson in a playoff.
TURNBERRY, Scotland -- Shortly after Stewart Cink sank the winning putt at the 138th Open Championship, he gave his wife, Lisa, a kiss, then clasped her hand in a way partners often do.
It was a fitting scene. That's because Cink's path to his first major championship didn't start with his Thursday tee time. If anything, the road to Cink's win at Turnberry started 17 months ago at his kitchen table.
That's when Cink, aggravated by a shocking loss at the PODS Championship after going four-over par on the final four holes, sat down with Lisa and shared his frustration at being one-for-nine when leading after 54 holes. He also confided that he had a knack for growing tentative in those moments.
Lisa Cink does not share that knack. Not one to pull punches (in 2002 Lisa told Stewart his putting problems stemmed from the yips -- an assessment that did not go over well with her hubby at first), she gave Stewart a single line that brought with it an important message: You have to be willing to run naked across the green.
For Cink that meant stepping out of his comfort zone -- to be aggressive when his tendency was to be tentative in the big spot. To not think about the consequences of failure. To just go for it.
Sunday at the British Open Cink went for it -- and got it.
Four birdies over the final eight holes more than offset a pair of bogeys. More important, however, was that a man whose career had been defined by a missed 18-inch putt that would have put him in a playoff for the 2001 U.S. Open title made two of the biggest putts of his life within an hour's time. The first was a 12-footer at 18 that he simply had to have to even have a shot. The second was a sweet-looking eight-footer that saved par on the first playoff hole and provided a one-stroke advantage he would only build on as Watson continued to let strokes slip away.
"That was the most crucial putt I have ever struck in my life," said Cink of the putt on 18 that gave him a final-round 69. "Up to this point nothing even comes close. It was such a sweet moment."
Perhaps a redemptive one, too. After the 2001 U.S. Open loss, Cink was adamant he would not let it derail his career. "I can handle this," he said at the time. "This is golf. This is a game. I can handle it." Still, there have been times since then when Cink would shrink in the big spot. Not so this week. Cink currently works with sport psychologist Mo Pickens, who essentially reinforces the groundwork laid by Lisa.
"It's the same thought of what I'm working with Mo about," said Cink earlier this year at the Travelers Championship. "You can't be worried about the results. You can't be worried about what somebody might write about you or what you might look like on TV. You've just got to worry about your own routine, right here on this shot. And see what happens."
Lisa Cink has noticed the difference. "He's really tried hard to let go and not worry about results," she said Sunday at Turnberry. "He's really worked hard on that with his new coach. This was such a culmination of so much. We didn't come into this week thinking, 'OK, let's go!' We were just nice and relaxed and maybe that's what it took. Just to let it be how it is."
How it was Sunday night was that Cink found himself holding the claret jug.
"I stand here a little intimidated by the hardware in my hands," he said during the awards presentation.
Thanks to a talk he had with his wife 17 months ago, that seems to be the only thing he is intimidated by now.