Golf World
Techs who run the equipment vans on the PGA Tour might be asked to do, well, just about anything to a player's club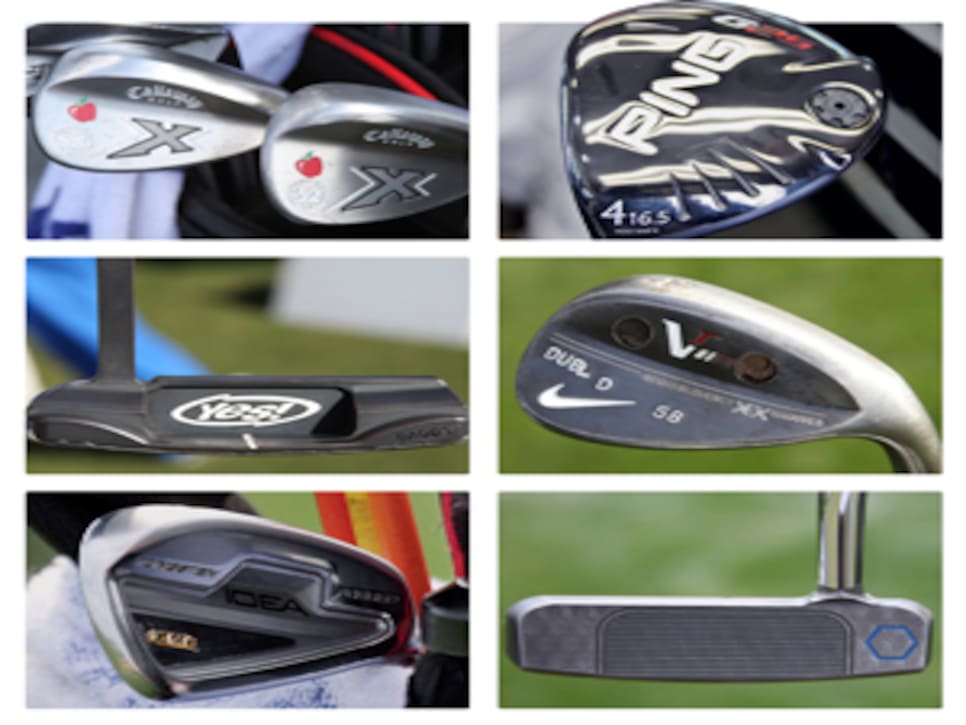 Techs who run the equipment vans on the PGA Tour might be asked to do, well, just about anything to a player's club
Stuart Appleby has always liked to personalize his equipment. In the past he has had boxing kangaroos on his shoes (he is, after all, from Australia). Here it's red apples (Apples is his nickname on tour) that adorn his Callaway wedges.
Bubba Watson switched earlier this year to Ping's new G25 4-wood but didn't end up with the 16.5 degrees of loft stamped on the head. Instead, Watson had Ping bend the club to 15 degrees, slightly opening the face angle -- a benefit to Watson, who prefers to fade the ball.
Aaron Baddeley has ranked in the top 15 in strokes gained/putting eight of the last nine years (he ranks fifth this season). Badds' putter is an example of the role personal preference plays with players and their flat sticks. His well-worn Yes! putter has lead tape attached to the sole to increase the head weight and provide him the feel he prefers.
The "DUBL D" engraving may let you know this 56-degree Nike VR Pro wedge belongs to David Duval, but it's the holes in the bottom back portion of the club that provoke questions. In addition to lowering the overall head weight, the holes removed weight from a specific area to deliver a more penetrating ball flight on full shots. Duval might want to dig that extra dirt out, however.
The techs who man the vans willingly perform any equipment task that might make their guys play better or simply make them feel better about their sticks. The latter was the case with Lee Williams' Adams CMB irons. The irons normally come with a silver badge in the rear cavity, but Williams preferred the darker, black badge of the clubs' prototype.
It's interesting that during much of the anchoring-ban talk Matt Kuchar won the WGC-Accenture Match Play using a belly-length putter that he holds in a manner deemed legal under the USGA/R&A proposal. The Bettinardi Kuchar 1 prototype has a soft carbon- steel face and is 44.75 inches in length with a 71-degree lie angle. That was done at Bettinardi's Tinley Park, Ill., studio. Kuchar had the loft adjusted to 7 degrees (standard is 3 or 4 degrees) to accommodate his significant forward press.
Although Jesper Parnevik only recently signed with Cobra Golf, he wasted no time in having his equipment adapted to his preferences. The company's Trusty Rusty wedge is designed to have a rust-like finish, but Parnevik had a Tour Trusty prototype built that is non-rust with 55 degrees loft.
Doug LaBelle II normally uses a pair of Titleist Vokey Spin Milled C-C wedges (54, 58 degrees). This 54-degree, however, felt significantly too light to LaBelle who then had so much lead tape applied to get the weight where he wanted that it completely covered the name of the club.
Chad Campbell's Scotty Cameron by Titleist Newport putter features a slant neck as opposed to the traditional plumber's neck normally found on this model. This design still has a 1/4 toe hang, but the slant neck allows for better visibility of the ball and a cleaner look at address.
There's no mistaking that this Titleist Vokey 60-degree SM4 wedge belongs to Kevin Na. It also might have you humming the song written by Paul Leka and performed by Steam that has become a staple in sports stadiums and arenas over the last decade.
Added weight on the lower part of an iron raises trajectory of iron shots. Jonas Blixt added lead tape to the 3- through 8-irons on his Cobra AMP Cell Pro irons to achieve the trajectory and feel he wanted. Blixt, however, didn't need to do so with his 9-iron and pitching wedge -- clubs most tour pros prefer to hit with more of a penetrating trajectory that doesn't balloon.
Thorbjorn Olesen's Nike VR Pro muscle-back blade irons seem fairly straightforward, however a look at the rear portion of the sole (his 3-iron is shown here) reveals a grind that reduces the amount of material on the trailing edge. This creates a sole that exits the turf more easily.
Bending clubs is one of a tour tech's most frequent tasks. As such, it's often hard to trust the number on the sole of a wedge. Marc Leishman solved that issue by having the 62° symbol engraved on his Titleist Vokey SM4 wedge after having it bent 2 degrees weaker than the standard 60 degrees.
Although everyday players are perfectly happy to live in a world where lofts come in half-degree increments, tour pros are seeking a much more specific ball flight. They often will take their driver loft to the tenth of a degree, such as Gary Woodland did with a Callaway X Hot Pro driver he tested that was exactly 8.6 degrees.
Club builds are a frequent activity in tour vans, particularly since players are constantly seeking to mix and match the 14 best for any given week or course. Look closely at Justin Rose's bag and you'll see 13 TaylorMade irons (one is partially visible under the towel). Rose has been experimenting with the company's RocketBladez Tour model in the long irons to go with the Tour Preferred MB irons he has been using.
Lee Westwood recently had Ping techs build him a Tour Gorge 60-degree TS (thin sole) wedge to replace the WS (wide sole) model he had been using. The thin sole model has less bounce, which, according to Westwood, makes it easier to hit flop shots.