1 / 2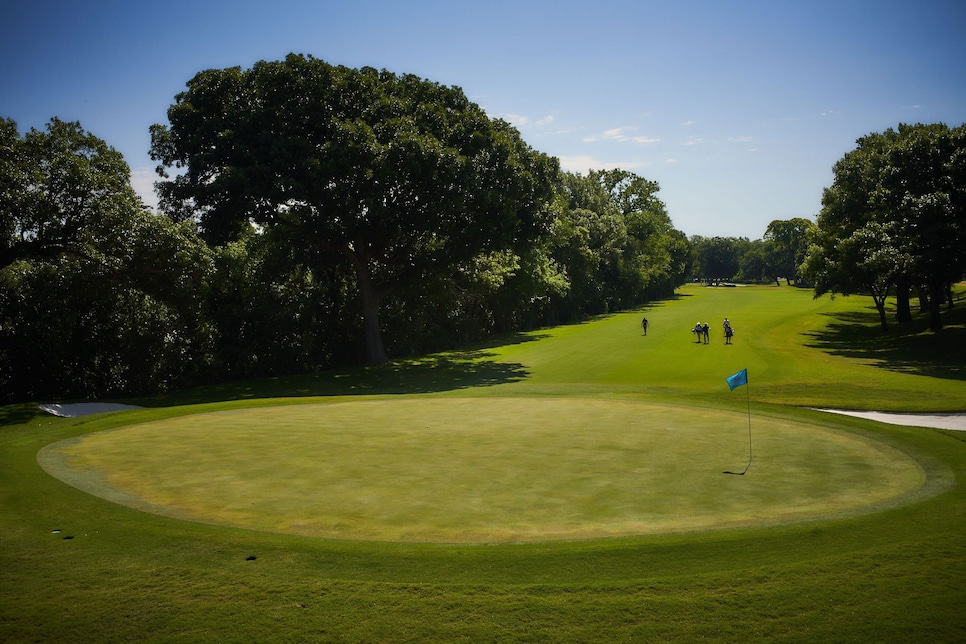 Darren Carroll for Golf Digest
2 / 2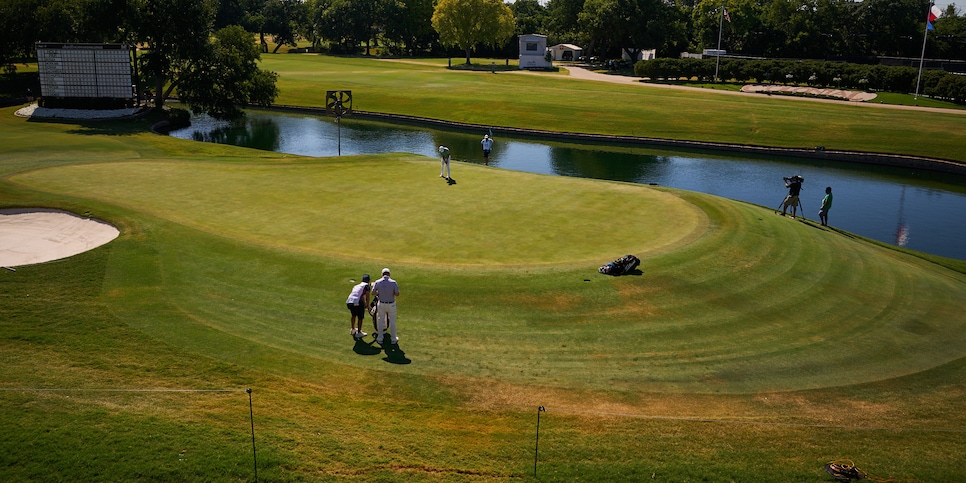 Darren Carroll for Golf Digest
Overview
We give credit to Texas golf historian Frances G. Trimble for establishing the fact that Perry Maxwell, not John Bredemus, originally designed Colonial Country Club for Fort Worth businessman Marvin Leonard. Both architects submitted routings. Maxwell's was used, while Bredemus supervised construction. Colonial sported the first bent-grass greens in Texas when it opened in 1936. In 1939, the USGA awarded Colonial its 1941 U.S. Open, the first ever in Texas, so Leonard brought Maxwell back to toughen the course. He added 56 bunkers and created the present par-3 fourth and par-4 fifth (two of the famed Horrible Horseshoe trio of holes) and a par-3 13th (since replaced following a 1968 rechanneling of the Trinity River). Keith Foster's 2008 restoration wasn't to everyone's satisfaction. In 2023, Gil Hanse and his team will perform a complete restoration of the Maxwell design, giving it a similar treatment to the one they gave Maxwell's Southern Hills in 2018.
About
Designer
Perry Maxwell/(R) Keith Foster/(R) Gil Hanse
Awards
Second 100 Greatest:
2023-'24 ranking: 184th.

Best in State: Top 5 in state since 1977, ranked 1st in state 1985-2003, ranked 4th in state 2013-'22.
Panelists
Ratings from our panel of 1,900 course-ranking panelists
100 GREATEST/BEST IN STATE SCORES
Reviews
1 / 4
Review
"Overrated course with a boring layout."
Read More
2018
2 / 4
Review
"Great club with tons of history and a fantastic design. The upcoming Gil Hanse restoration will only make it better."
Read More
2018
3 / 4
Review
"The club has a lot of history and has been a fixture on the PGA tour for decades. Nice setting with lots of tree lined holes and good design variety. The clubhouse and course make this a really fun experience."
Read More
2018
4 / 4
Review
"Budget a little extra time for a clubhouse tour - they have some great memorabilia. Solid course that requires shotmaking to score well. Very enjoyable day of golf."
Read More
2018
Readers
Collection of reviews from our readers
There are no reader ratings yet
Reviews
There are no readers reviews yet. Be the first to write a review.