Ridgewood Country Club: East/West/Center
Paramus, NJ • Private
1 / 9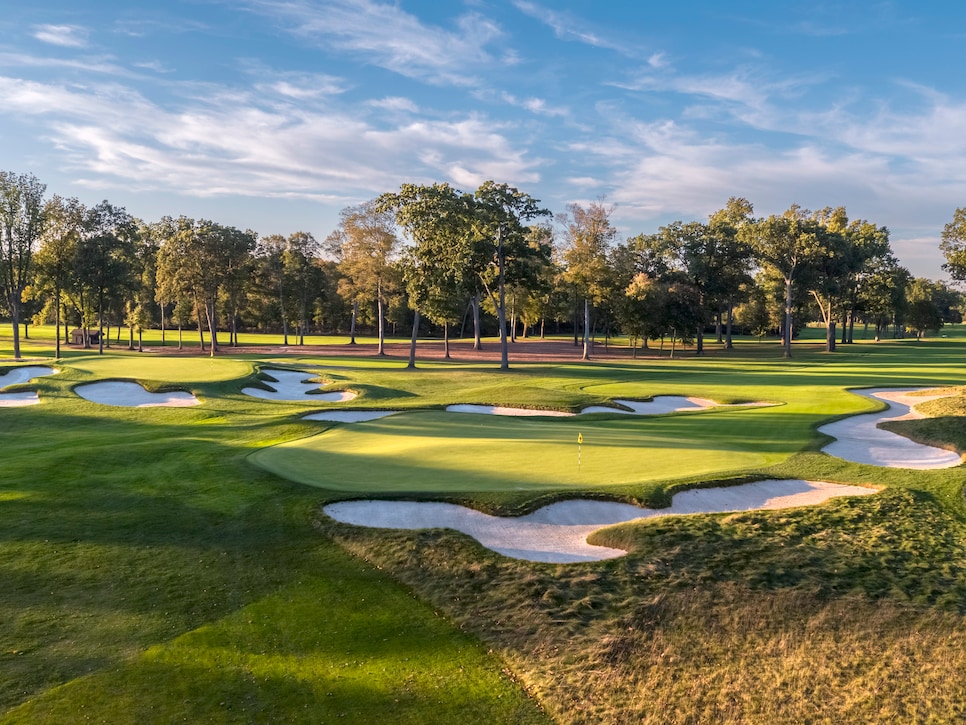 Courtesy of Evan Schiller
2 / 9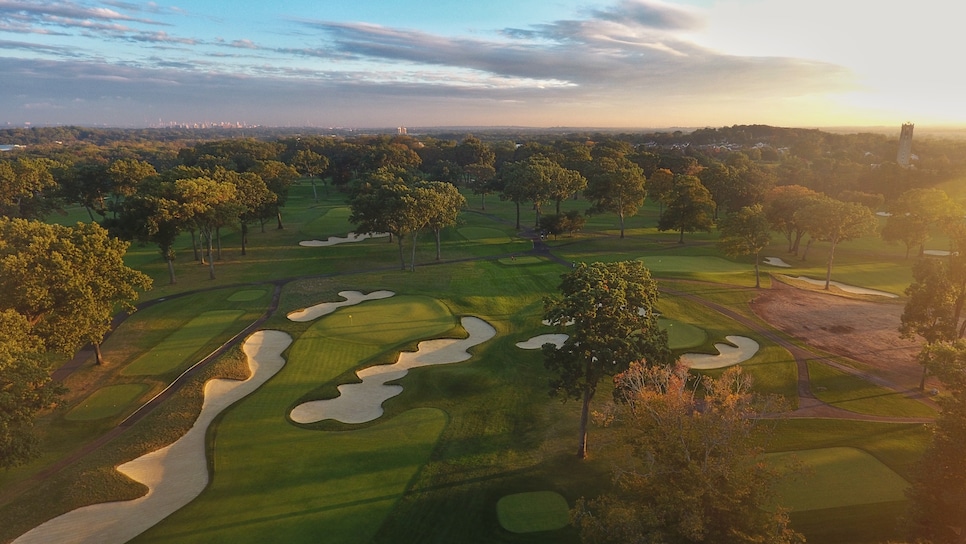 3 / 9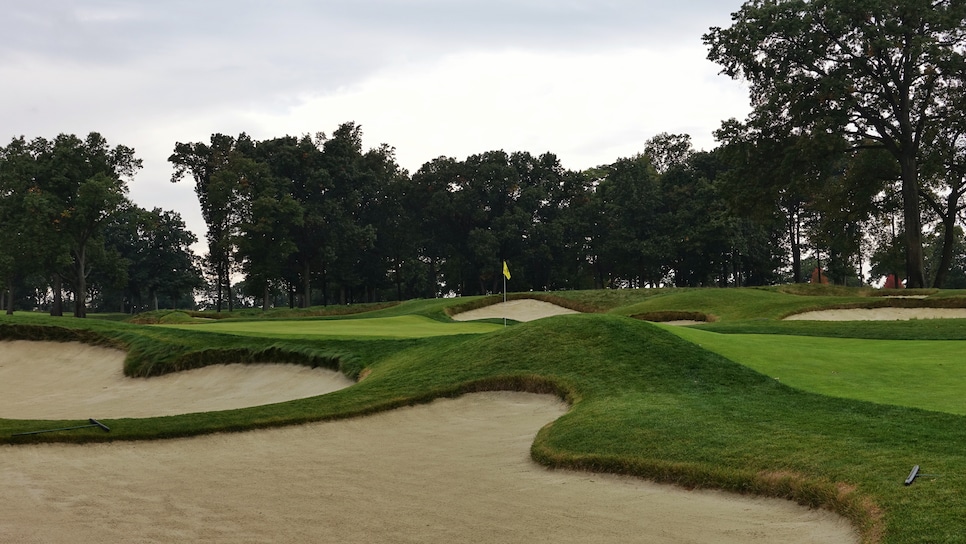 4 / 9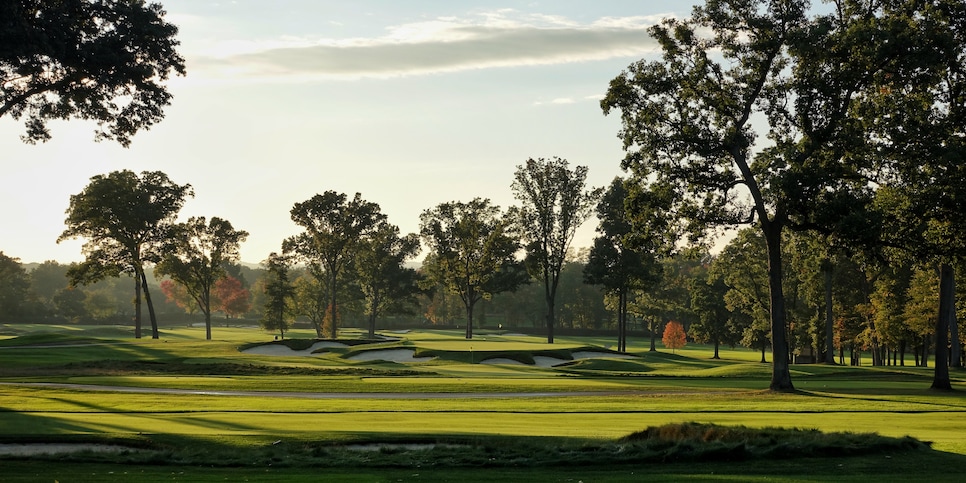 5 / 9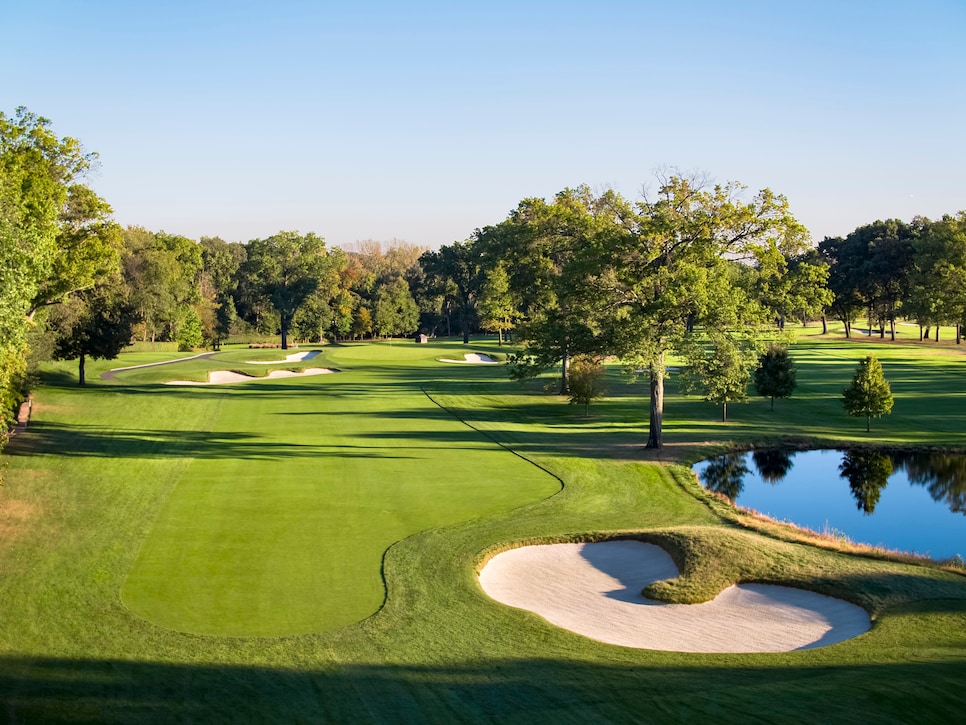 Courtesy of Evan Schiller
6 / 9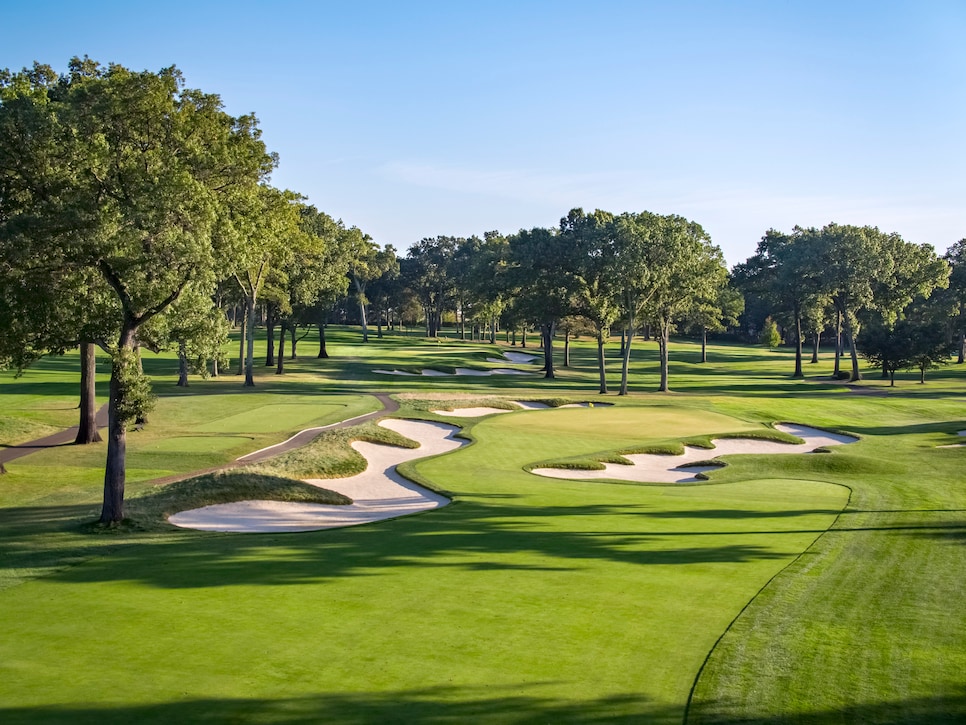 Courtesy of Evan Schiller
7 / 9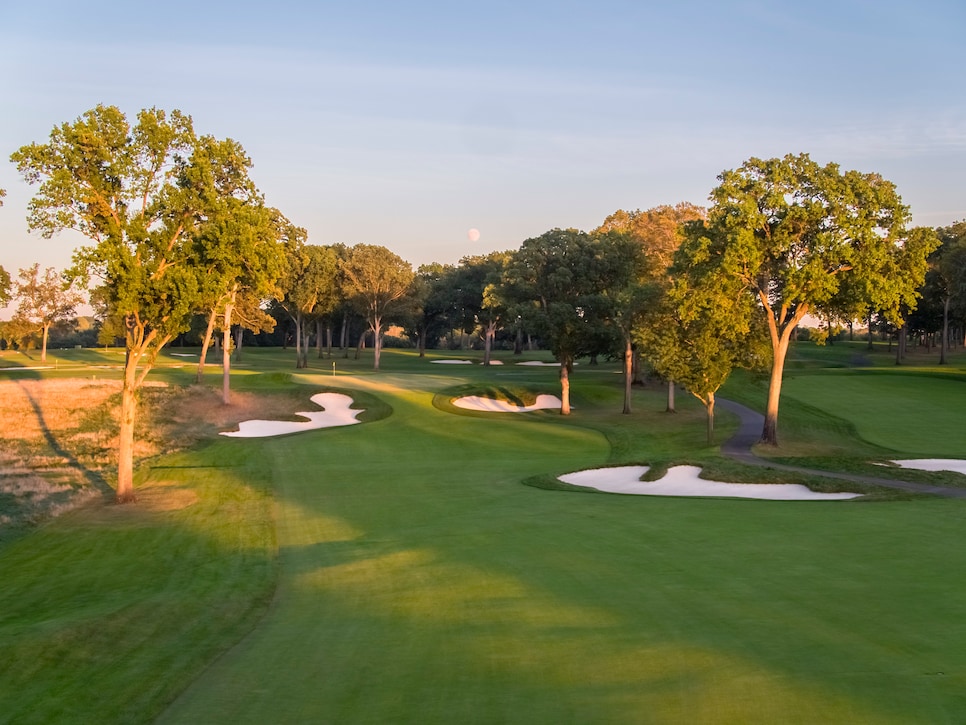 Courtesy of Evan Schiller
8 / 9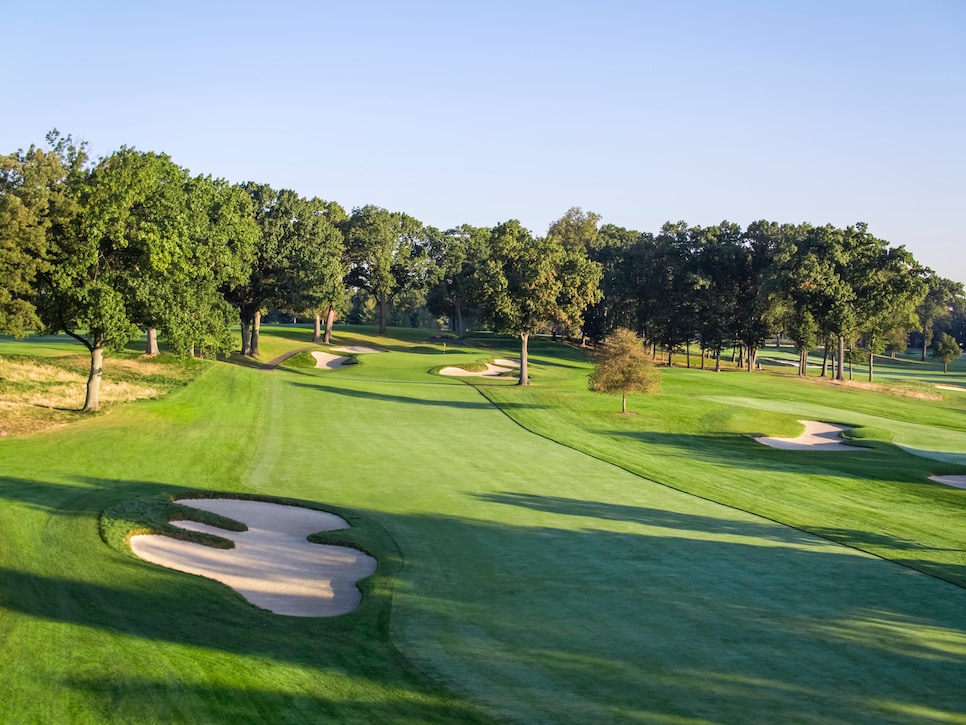 Courtesy of Evan Schiller
9 / 9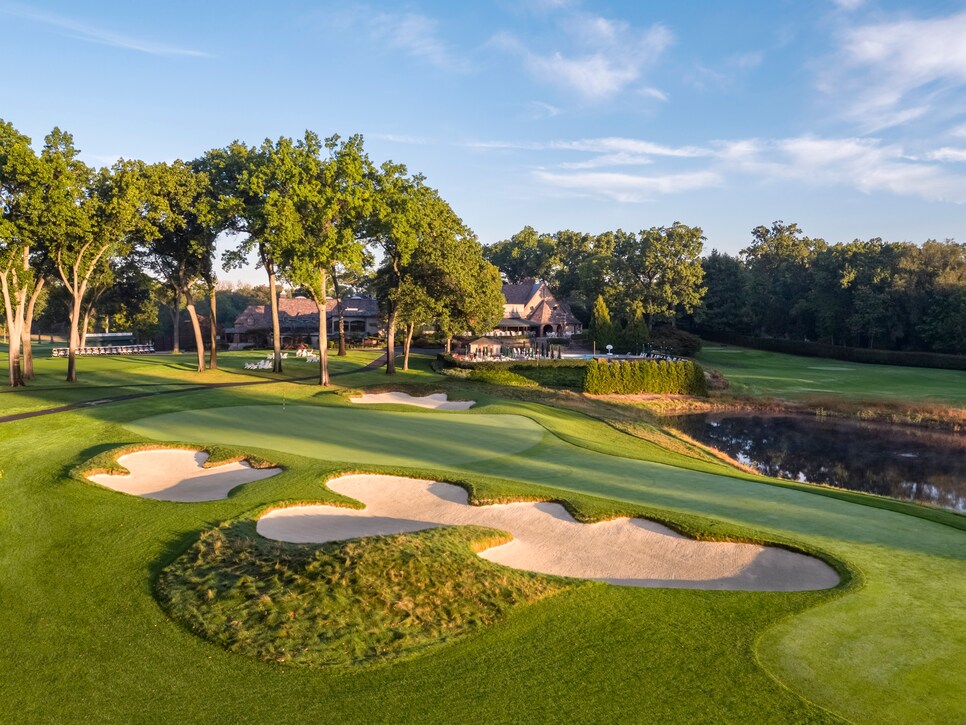 Courtesy of Evan Schiller
Overview
Ridgewood was always one of A.W. Tillinghast's favorites. He lived nearby, was a club member and a close friend with the club's longtime pro, George Jacobus, who served as president of the PGA of America for seven years. (It was Jacobus who brought the 1935 Ryder Cup to Ridgewood.) The 27 holes that Tillinghast created were some of his most demanding. Not surprisingly, the course has long been a tournament venue, particularly in recent years, following extensive tree removal and bunker renovation by Gil Hanse. Ridgewood's tournament 18 consists of holes from all three nines, but our survey ranks the East and West 9s, because the composite 18 isn't routinely available for panelists. That means the club's drivable par-4 sixth on its Center nine, the famed "Five and Dime" hole, isn't evaluated by Golf Digest. Yet Ridgewood continues to be one of the top-ranked clubs in the nation. That tells you just how strong all the holes are at Ridgewood.
About
Designer
A.W. Tillinghast/(R) Gil Hanse
Awards
Second 100 Greatest: Ranked 2015-2016 & since 2019.
2023-'24 ranking: 152nd.
Previous ranking: 134th.
100 Greatest: Ranked from 1989-1996.
Highest Ranking: 76th, 1989-1990.
Best in State: Ranked in Top 5 in New Jersey in 2001; Top 10 from 1977-1999 & since 2005; Top 15 in 2003.
Current Ranking: 6th.
Previous ranking: 7th.
Panelists
Ratings from our panel of 1,900 course-ranking panelists
100 GREATEST/BEST IN STATE SCORES
Reviews
1 / 6
Review
"The history of a course is so much fun to learn while playing. Stories of Tillinghast drawing sketches for his routing at Baltusrol while under the tulip tree on Ridgewood's 17th was amazing to hear about. That tulip tree not only makes the hole but it burnt into my memory of the West Course. Without that tree the finishing par 5 is not the same."
Read More
2021
2 / 6
Review
"Having played here quite a few times over the years, the course is in the best shape I've seen. The greens are so pure and the fairways are incredibly firm and fast, helping amplify the stellar architecture at Ridgewood. The tree removal program has no doubt helped make conditioning a stand-out at RCC."
Read More
2021
3 / 6
Review
"Excellent Tillinghast design set in 314 pristine acres of Bergen County. East/West course flows naturally through rolling hills and corridors of older, mature trees (they have removed quite a few). Hole 17 is a tremendous double dog leg par 5 that requires thoughtful ball placement to position yourself to score. Hole 7 is a long par 4 with a gentle rise to a well guarded green, heavily, contoured green complex. Hole 10 is a strategic short par 4 and Hole 14 is a great par 4 which requires a very precise approach to an elevated green with serious movement. The stately clubhouse lends to the ambiance of this old club and the conditions were both firm and very fast mid November. A real test for the experienced golfer but an enjoyable walk among NJ woodlands for the higher handicapper."
Read More
2021
4 / 6
Review
"The tree removal project at Ridgewood should be the paradigm for how to properly improve a golf course. It was a course that you seemed to notice every tree on the property whereas now you are viewing bunkers, topography, and interesting greens."
Read More
2021
5 / 6
Review
"Majestic Clifford Wendehack clubhouse, which oozes classic style with the slate roof and the castle-like stature. The interplay with the clubhouse heightens the ambiance throughout the round."
Read More
2020
6 / 6
Review
"The best holes utilize the ridge that cuts through the center of the property creating interesting and strategic holes. Each hole has a distinct character requiring precise shotmaking."
Read More
2021
Readers
Collection of reviews from our readers
There are no reader ratings yet
Reviews
There are no readers reviews yet. Be the first to write a review.