The Loop Black Course at Forest Dunes
Roscommon, MI • Public
1 / 9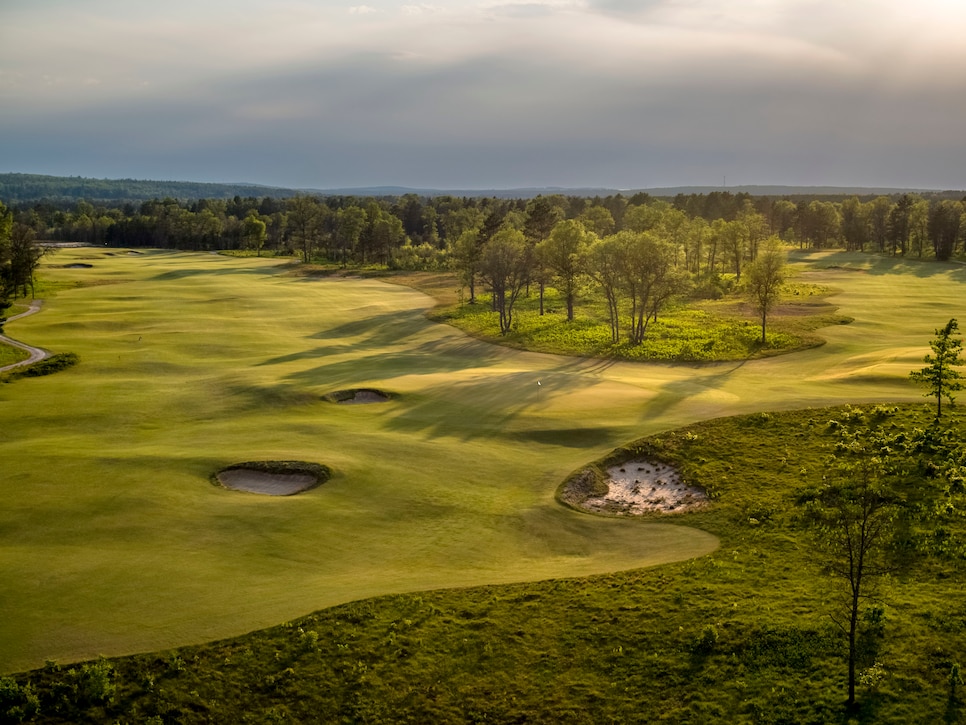 2 / 9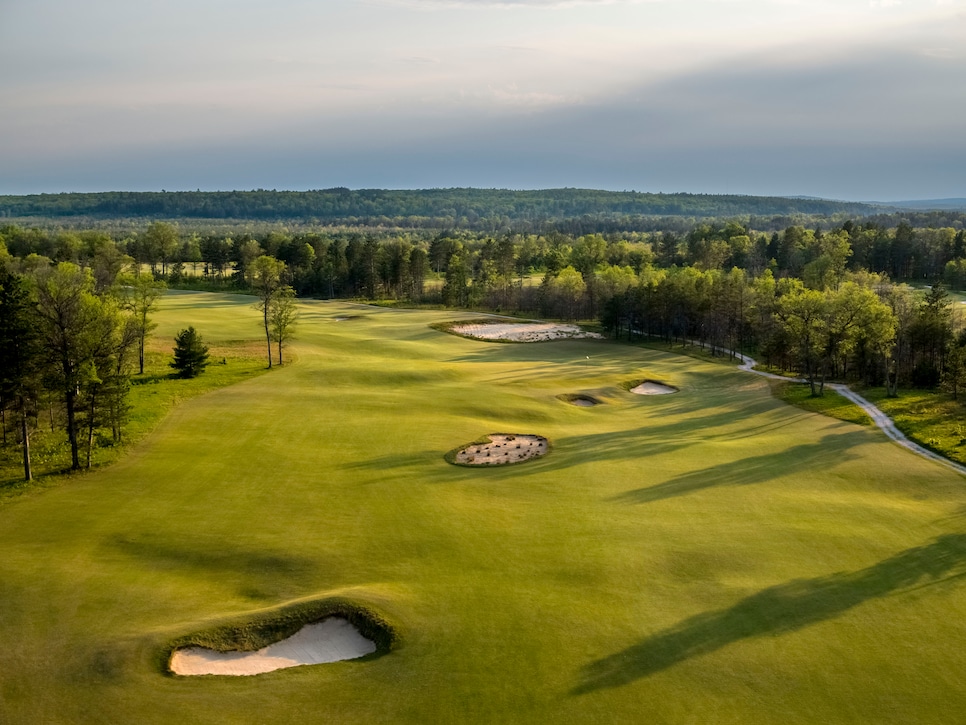 3 / 9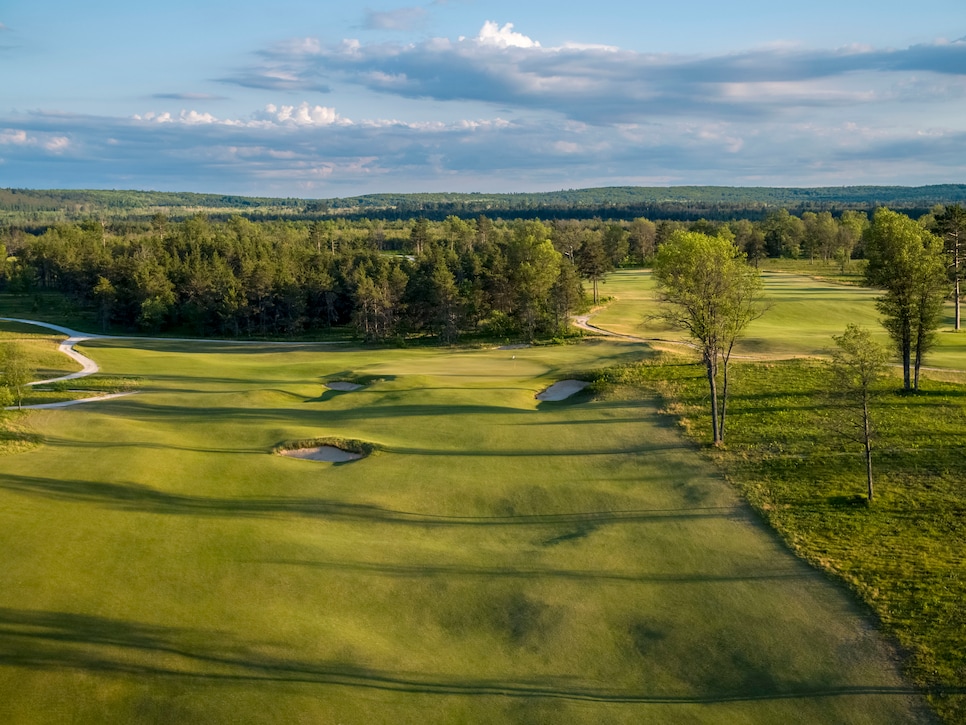 4 / 9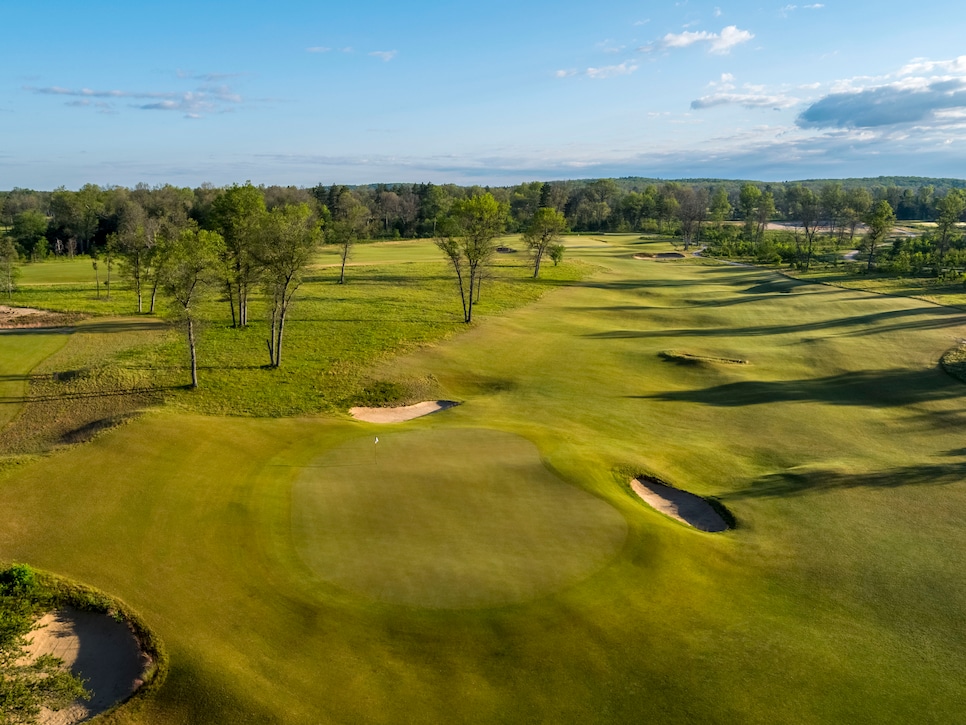 5 / 9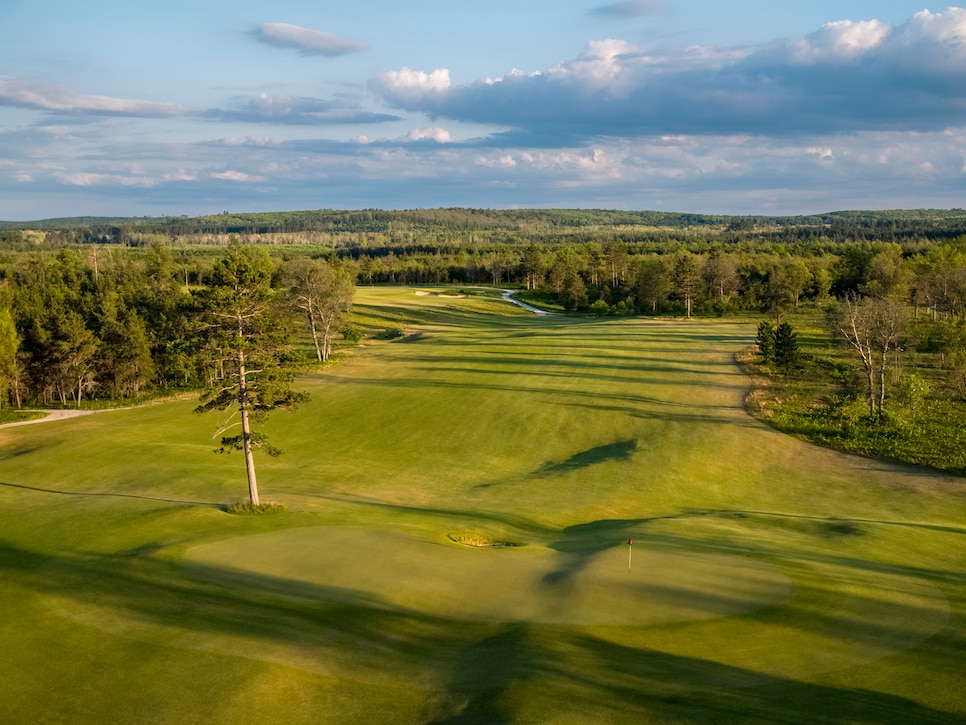 6 / 9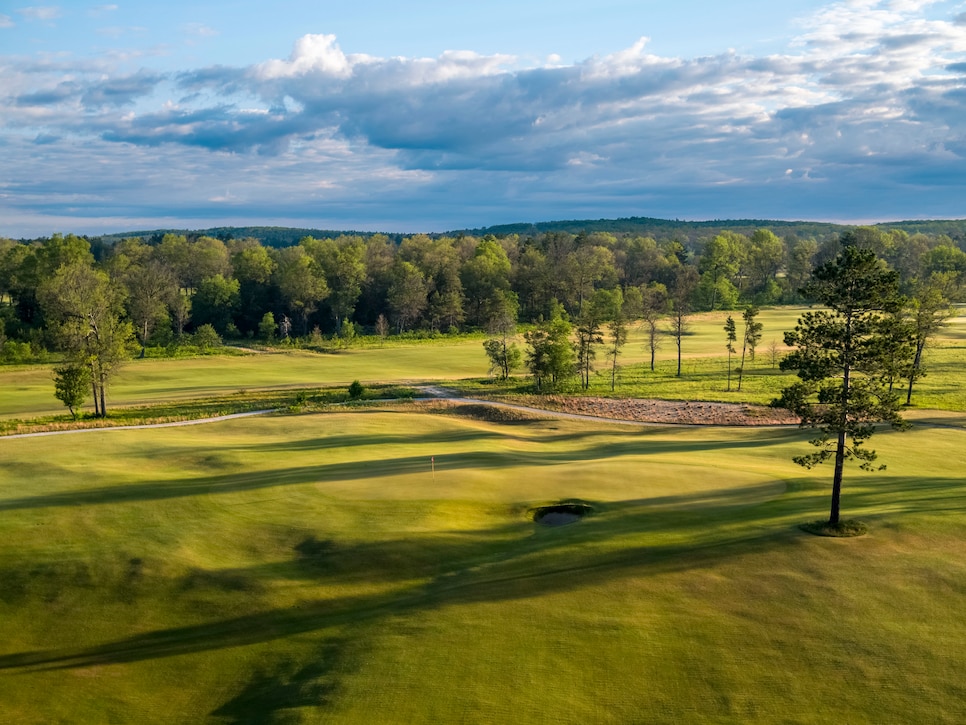 7 / 9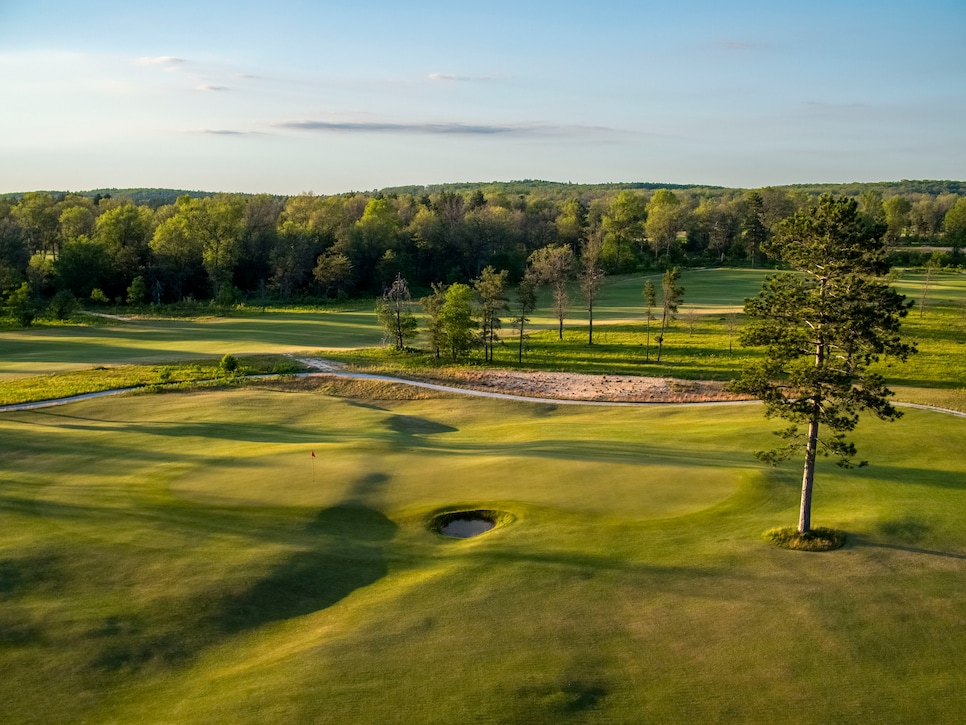 8 / 9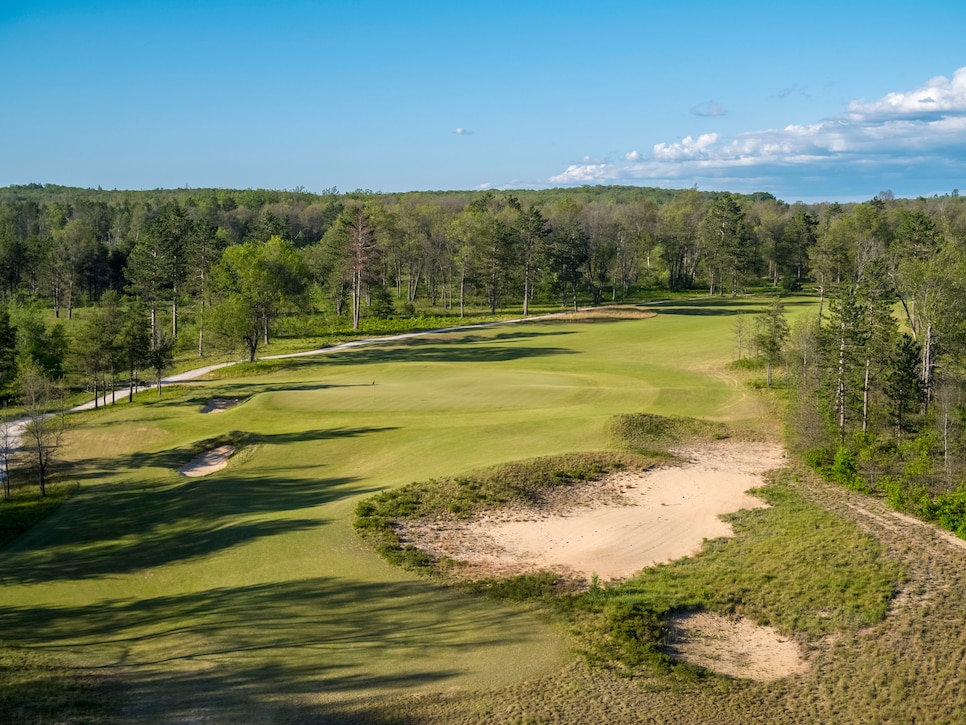 9 / 9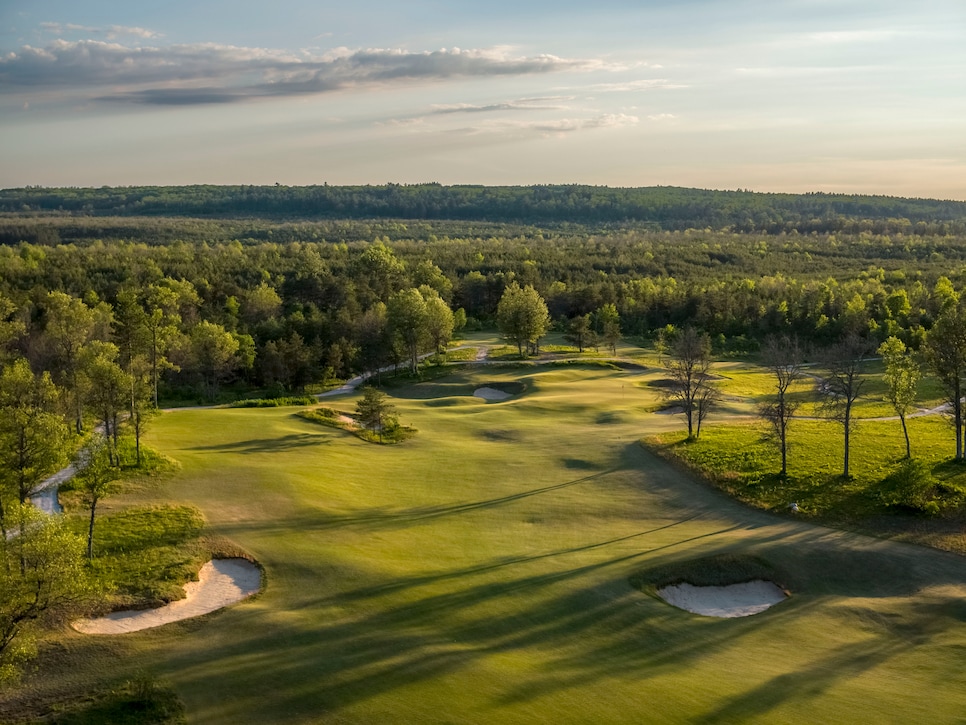 Overview
The idea of a reversible golf course is as old at the Old Course at St. Andrews, and golf architect Joel Goldstrand built a series of nine-hole reversible courses for small clubs in Minnesota, Iowa and North Dakota back in the 1980s. But give Tom Doak credit for convincing a client to take a chance on an 18-hole reversible layout. "The goal is to have two very different courses over the same piece of ground, so people will want to stay over to play it both ways and compare and contrast the two." says Doak. For our 2016 Best New competition, Doak wanted the entire 36 holes considered as one entry. We allowed that, and it won. For subsequent rankings, we've separated the two into conventional 18-hole candidates. The Black Course is the clockwise routing, slightly shorter and ranked slightly higher than its reverse image Red Course.
Awards
100 Greatest Public: Ranked since 2019-'20.
Highest ranking: 45th, 2019-'20.
Previous ranking: 59th.
2023-'24 ranking: No. 58.
Best in State: Ranked eighth, 2017-'20. Ranked 10th, 2021-'22.
Current ranking: Ninth.
Panelists
Ratings from our panel of 1,900 course-ranking panelists
100 GREATEST/BEST IN STATE SCORES
Reviews
1 / 14
Review
"One of the most fascinating courses I've ever played. The design is incredible from both directions is amazing, the variety of holes, and how the greens work from each direction is just incredible. I found the holes to be full of strategy, but also quite subtle. The strength of the course is the lack of weakness. My only difficulty/downfall is that I found it slightly difficult to separate the two courses rather than one individual course with 36 holes. I did find the Black slightly more enjoyable than the Red, but that could have been because of the flow of the course."
Read More
2021
2 / 14
Review
"The reversible track by Tom Doak is a better layout with more options and better holes than the Red layout. The green complexes were the same with some great undulation and some extreme and borderline unplayable depending upon where the pin position is. The holes had more character with this layout and it was slightly more challenging."
Read More
2021
3 / 14
Review
"The fairways are wide and firm and the ball runs forever but even if hit down the middle may end up in trouble. The greens are very large and difficult to read and get close to the flag as there are many drop-off areas and contours. The fescue in the fairways is not filled in but the greens are nice. It is a true links course and requires special skills to score well."
Read More
2021
4 / 14
Review
"Links golf not on the sea. Extremely firm and fast conditions that mimic UK links golf. Bunkers are very natural in appearance and looks like the course is just part of the natural surroundings."
Read More
2021
5 / 14
Review
"The Loop Black is one of the most interesting golf experiences I have had in the states. The width and playing corridors are huge. The green complexes are full of character and that requires a lot of thought on how to approach them. I really need to play this course a few more times."
Read More
2021
6 / 14
Review
"As firm of a course as you will play. Plays shorter than the yardage because of the conditions. A great examination of your short game."
Read More
2020
7 / 14
Review
"A bit more challenging tee to green vs. the Red routing, also with more layout design variety and use of terrain. Primary challenge is on and around the greens, which are often times at challenging angles to approach. Few greenside bunkers encourages run up shots and ground game. The stretch of holes from 11 - 13 are excellent in shot options and also aesthetics, taking advantage of natural features and long views. Firm and fast conditioning as intended."
Read More
2020
8 / 14
Review
"Very cool design concept with the reversible features, not difficult at all to follow. Limited shot options off the tee, pound driver, few bunkers off the tee. The course begins on the greens with the slopes that normally repel shots, but some help. Fun to play and scoreable with multiple drivable holes and reachable par 5's. Course played somewhat firm in fairways but firm and receptive on the greens, ball marks tough to find."
Read More
2020
9 / 14
Review
"A design concept that must be seen to believed: a reversible 18 hole routing (just like the Old Course used to be). You play it one day clockwise, and the next day counterclockwise, to the same greens (which you might not recognize). Absolutely a must-play in Michigan. Come for the uniqueness, enjoy if for its firm and fast condition and solid architectural concepts. It is highly playable as well, because it allows (in fact, encourages, extensive use of the ground game)."
Read More
2022
10 / 14
Review
"The Loop is an architectural marvel with the ability to reverse the course from one day to the next—and to have it mostly be unrecognizable from the opposite direction. The course plays FAST as the greens and fairways are very dry and it's often hard to hold the greens with even a wedge in hand. That said, the flipside is long drives and easy to roll up to some greens. Lower handicaps could get frustrated with their good shots landing on, and then rolling off countless greens."
Read More
2022
11 / 14
Review
"I recommend getting out to play this course! It is so unique and one of a kind. Well done Loop!"
Read More
2019
12 / 14
Review
"Gives you a real feel for what golf was like in the early 20th century. Wide fairways, pot bunkers, pushed-up small to medium size severely undulating greens. Great piece of architecting genius to design a remarkable, reverse playing golfing experience."
Read More
2018
13 / 14
Review
"Regardless of which course you play, Red or Black, this is one fun course. Be prepared for fast and firm conditions and green complexes that role and bump and greens that have a lot of slope and undulation. It isn't difficult but it sure is fun."
Read More
2018
14 / 14
Review
"Have to play both directions to appreciate the design. Caddies are great and helpful. Food is great and accommodations are nice."
Read More
2018
Readers
Collection of reviews from our readers
There are no reader ratings yet
Reviews
There are no readers reviews yet. Be the first to write a review.