Bowling Green, FL • Public
1 / 8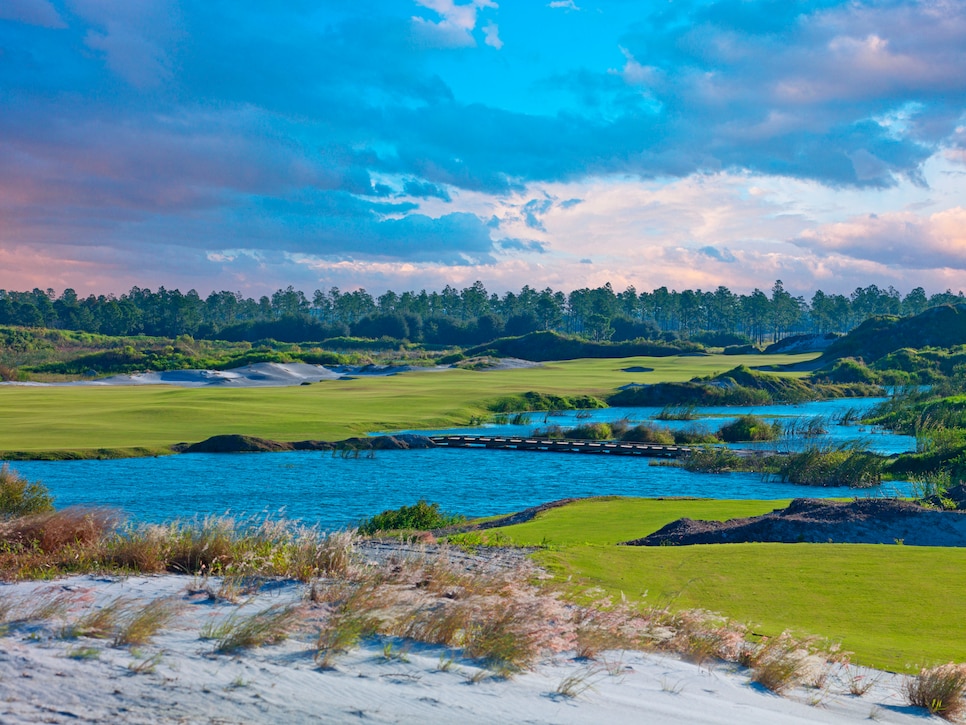 2 / 8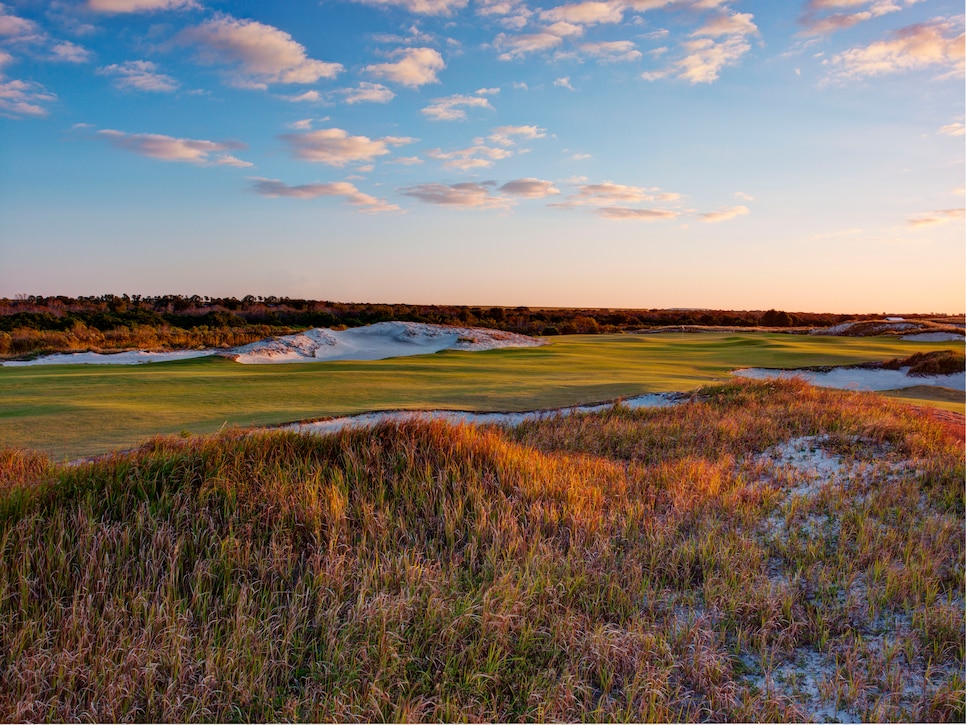 3 / 8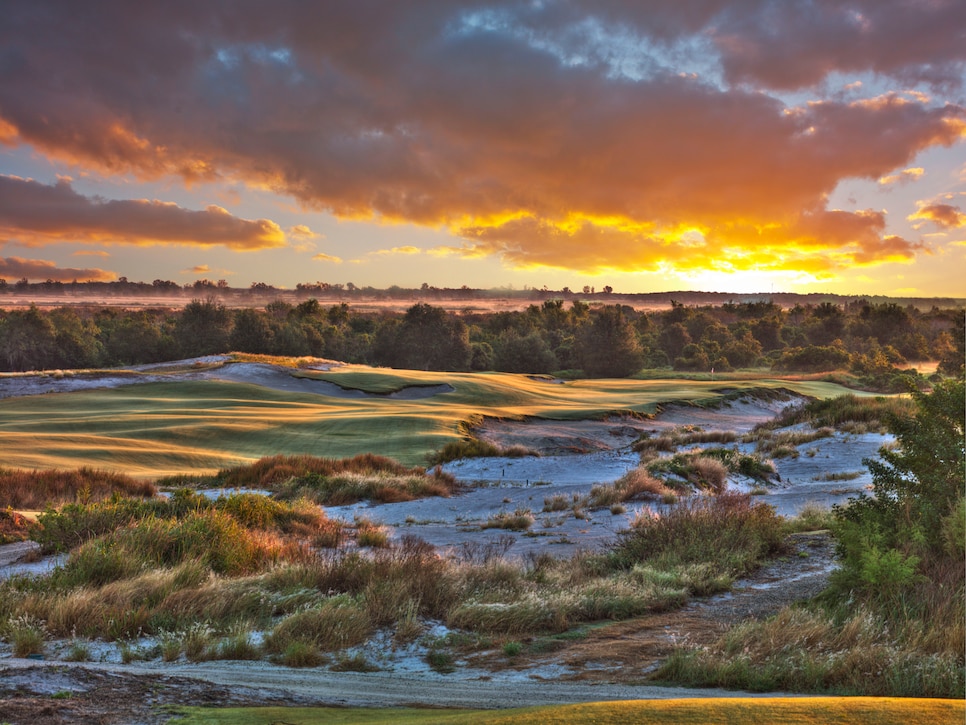 4 / 8
5 / 8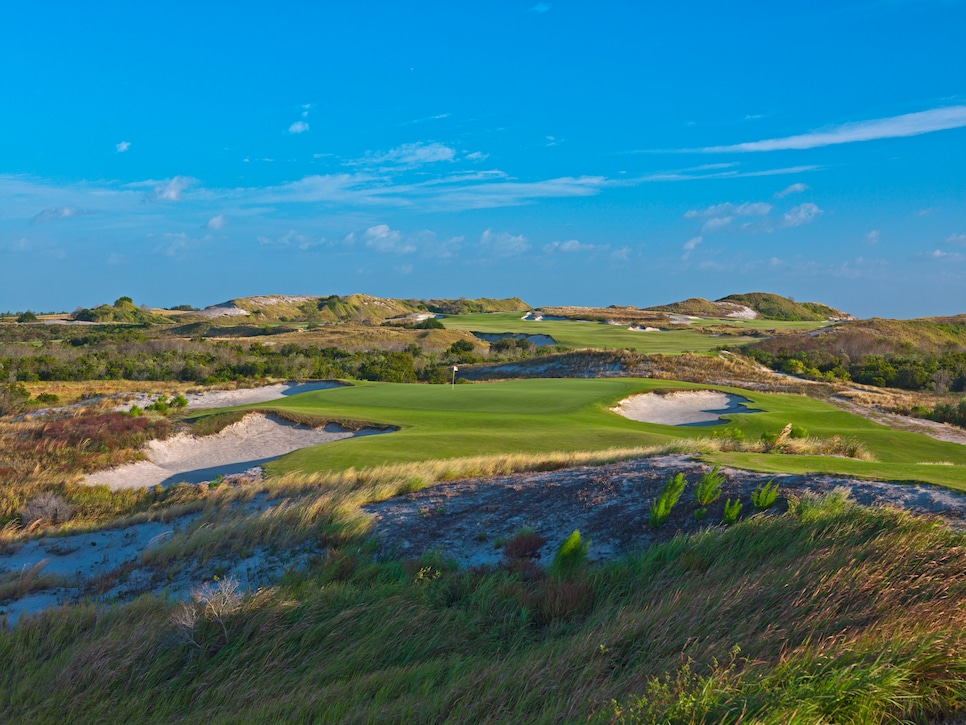 6 / 8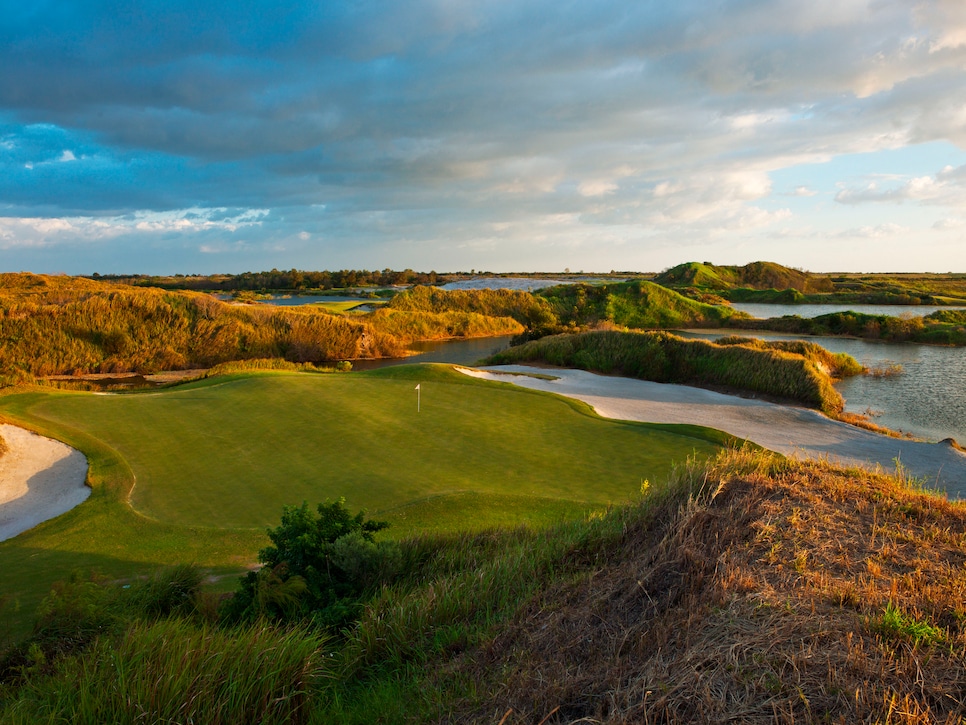 7 / 8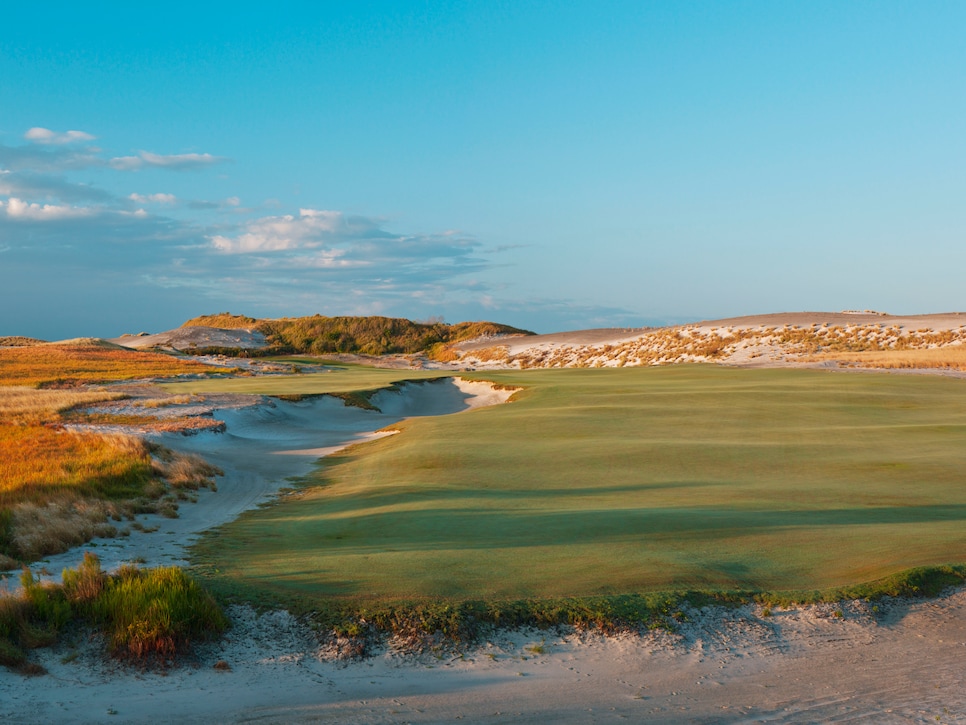 8 / 8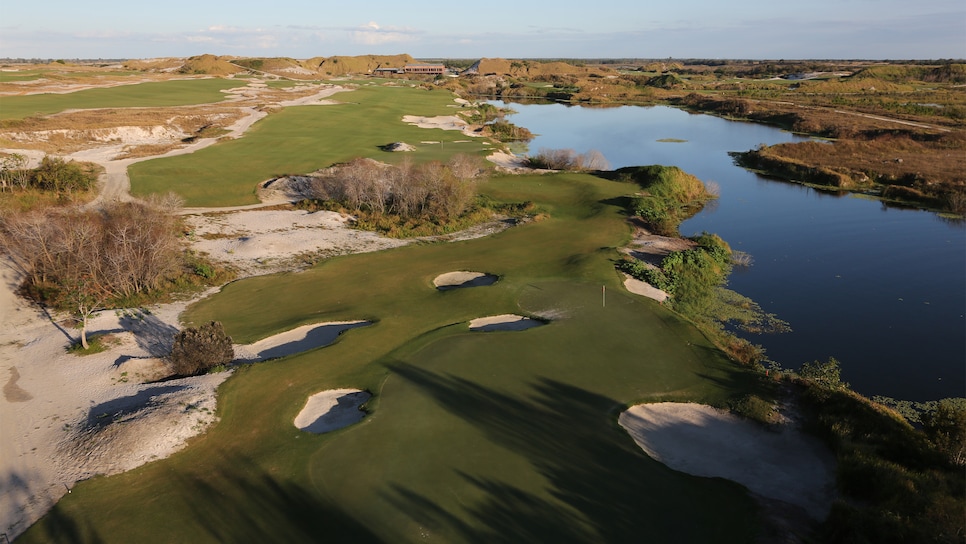 Overview
Coore and Crenshaw's Red Course is part of a resort triple-header that gives golfers a rare opportunity to compare and contrast the differences in styles and philosophies of arguably the three of top design firms in America, including Streamsong Blue, a Tom Doak design, and Streamsong Black, from Gil Hanse and Jim Wagner. The Red, like the Blue, was built from sand spoils created by a massive phosphate strip mine, with some piles forming dunes reaching 75 feet into the air. But there was only room for 31 holes, so Coore and Crenshaw had to take a section of less desirable, stripped-down land and create five holes that looked like the rest of the site, Red's holes one through five. The course has a wonderful mix of bump-and-run links holes and target-like water holes. Some greens are perched like those at Pinehurst, others are massive with multi-levels like those at St. Andrews. The turf is firm and bouncy, and while the routing is sprawling, it's easily walkable. The Red has consistently comes out on top in this survey, but the Blue and Black are within just about a point.
About
Designer
Bill Coore, ASGCA/Ben Crenshaw
Awards
Second 100 Greatest: Ranked since 2017.
2023-'24 ranking: 127th.
Previous ranking: 118th.
100 Greatest: No. 100, 2015-'16 (highest rank).
100 Greatest Public: Ranked since 2015.
2023-'24 ranking: 21st.
Previous ranking: 20th.
Highest ranking: No. 17, 2017-'18.
Best in State: Ranked fourth, 2015-'20. Ranked fifth, 2021 to current.
2023-'24 ranking (and previously): 5th.
Panelists
Ratings from our panel of 1,900 course-ranking panelists
100 GREATEST/BEST IN STATE SCORES
Reviews
1 / 17
Review
"Such a unique visual experience compared to typical Florida golf. Great conditions and uniqueness on every hole. Streamsong has tons of "destination" features that make is a trip worth taking."
Read More
2022
2 / 17
Review
"Beautiful Coore/Crenshaw Design. Notably the most scenic of all three of the Streamsong courses. A good test of golf, but fair and fun. Very good course conditions. The resort is very nice, good food. The also have bass fishing, sporting clay shooting and archery."
Read More
2022
3 / 17
Review
"My favorite of the three courses at Streamsong, the Red Course is both challenging and extraordinarily fun, featuring terrain that is wildly unique and doesn't feel like Florida. The variety here is terrific with numerous memorable holes, amongst them the par 3 16th - a riveting Biarritz. I highly recommend Streamsong Resort and would chose the Red Course if you had time for one round."
Read More
2022
4 / 17
Review
"The perfect juxtaposition to Tom Doak's Blue and Gil Hanse's Black, the Red course provides the public an opportunity to play a great Coore/Crenshaw course. It's a playable yet unique and stimulating design with a memorable routing. There are short, easier holes mixed with longer, tougher ones. The greens are interesting yet not too bold. Red epitomizes Coore and Crenshaw's design principles: Creating a fun yet strategic design that makes you want to get back to play ASAP."
Read More
2021
5 / 17
Review
"A wacky experience with two nines that feel and play distinctly. Not Coore and Crenshaw's best work, but a worthy addition to their portfolio and an enjoyable experience."
Read More
2021
6 / 17
Review
"Streamsong is a fantastic golf destination. The Red is a great strategic course that is surrounded by two other courses and a first class resort with great accommodations and dining. A highly recommended destination."
Read More
2021
7 / 17
Review
"Very impressive Conditioning based upon the firmness/speed of greens and fairways. The sound drainage system along with the sand foundation beneath a mere 2-3" of soil Burmuda/MiniVerde turf creates a uniquely pure surface."
Read More
2020
8 / 17
Review
"Bucket List course in middle of FL. Pure golf, great service. Toss up between Red and Blue but greens on Blue are larger and more difficult."
Read More
2020
9 / 17
Review
"One of three courses at the Streamsong Resort. Everyone should make this resort a destination trip and play all three. Amazing design, with many unique features (that you would not expect to see in Florida. Great firm and fast conditions."
Read More
2019
10 / 17
Review
"Coore and Crenshaw povide a great test of golf that makes you think your way around the track."
Read More
2018
11 / 17
Review
"Overall, the Red Course is the best course at Streamsong. If you can play only one course at Streamsong, play the Coore-Crenshaw Red Course."
Read More
2018
12 / 17
Review
"Since it is everyone's first question, the Red isn't as good as the Blue - yet it's still world class. Some wonderful design variety and holes. The 16th is one of the best Biaritz holes in the world. There are a few more "bad" holes here than on most Coore/Crenshaw courses, but the "good" holes are really, really good. A must play."
Read More
2018
13 / 17
Review
"Nice elevation changes and views. A good test."
Read More
2018
14 / 17
Review
"It is not often that a resort has three strong courses. Streamsong does. The three architects ply their trade as well as any. Tom Doak and Bill Coore walked the land together and decided on their respective routings. The Red course is designed by Coore/Crenshaw. It is generally ranked a little higher than the Blue but I find it difficult to choose between them. The Red might be a little more user-friendly. It is a joy to play. The wide open fairways can lull a player into complacency, but you need to be on the correct siude of the fairway to get the best angle into the green. Take a caddie. It will help."
Read More
2018
15 / 17
Review
"Such a great lesson in design. And, with on-property accommodation, it is a remarkable destination for the golf traveler. And exciting journey through the intricate dunescape. Coore-Crenshaw got the most out of the property."
Read More
2018
16 / 17
Review
"Great front nine, back nine is a slight letdown"
Read More
2018
17 / 17
Review
"Quality Coore/Crenshaw design. The Streamsong restaurant overlooks the practice putting green and is a great place to grab something to eat and drink after the round."
Read More
2018
Readers
Collection of reviews from our readers
There are no reader ratings yet
Reviews
There are no readers reviews yet. Be the first to write a review.