Bowling Green, FL • Public
1 / 6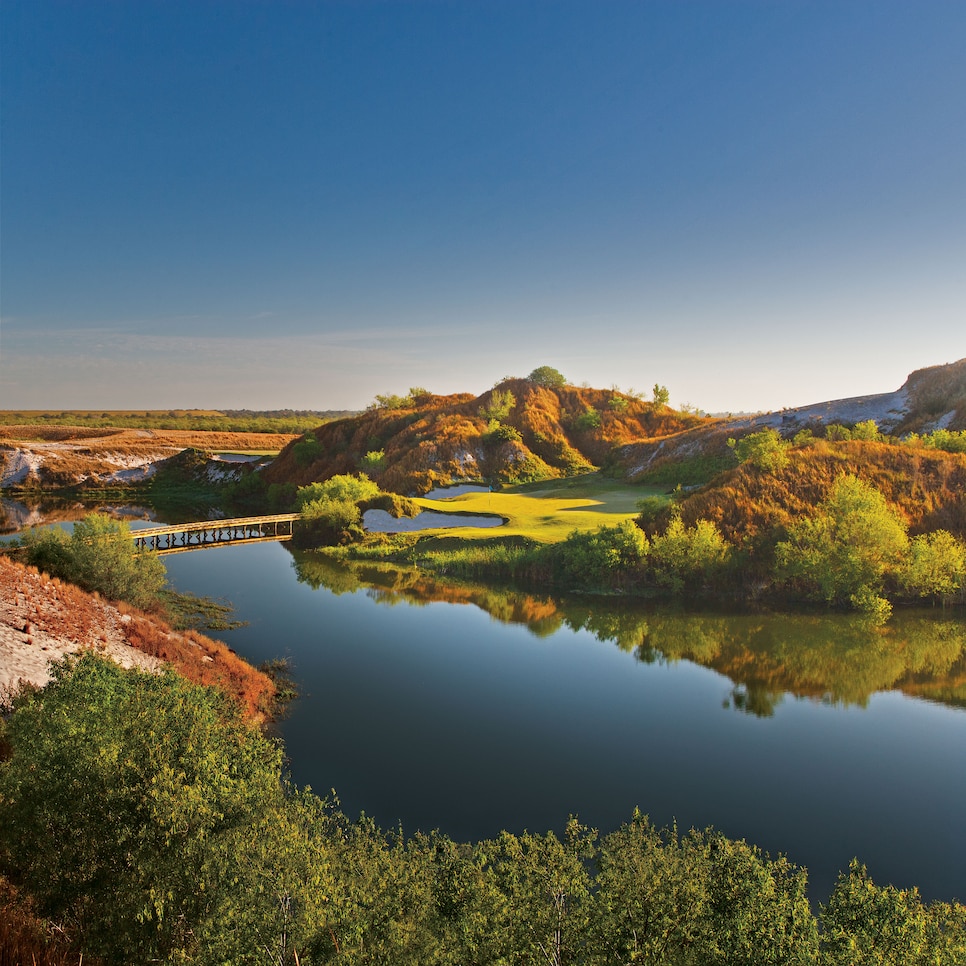 2 / 6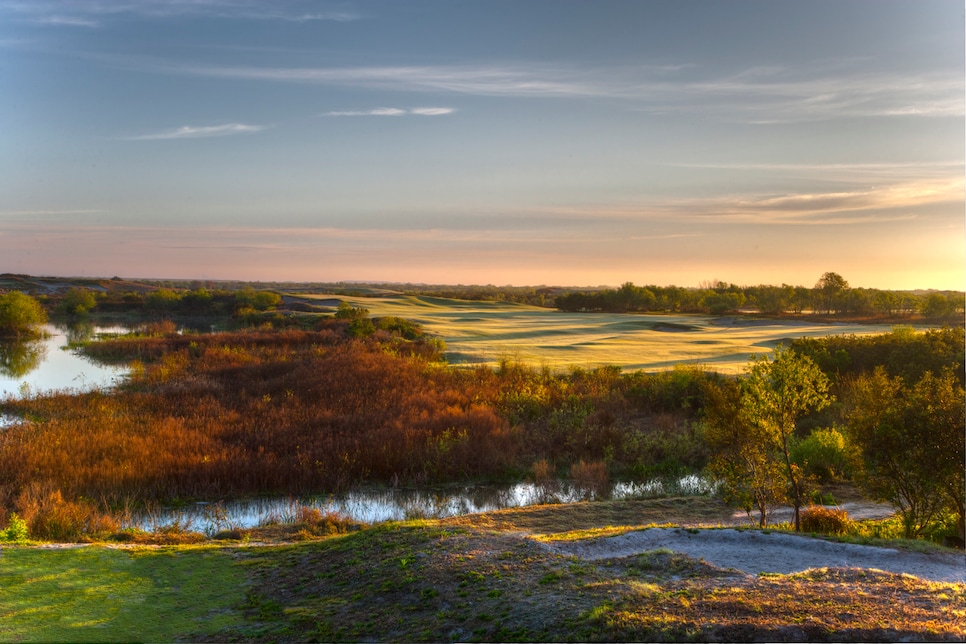 Courtesy of Laurence Lambrecht
3 / 6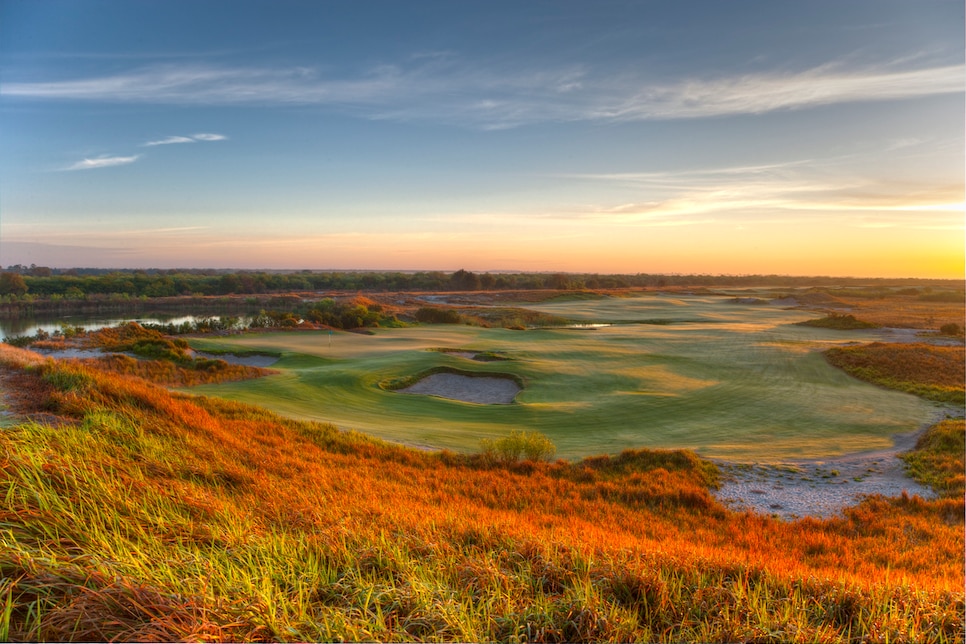 Courtesy of Laurence Lambrecht
4 / 6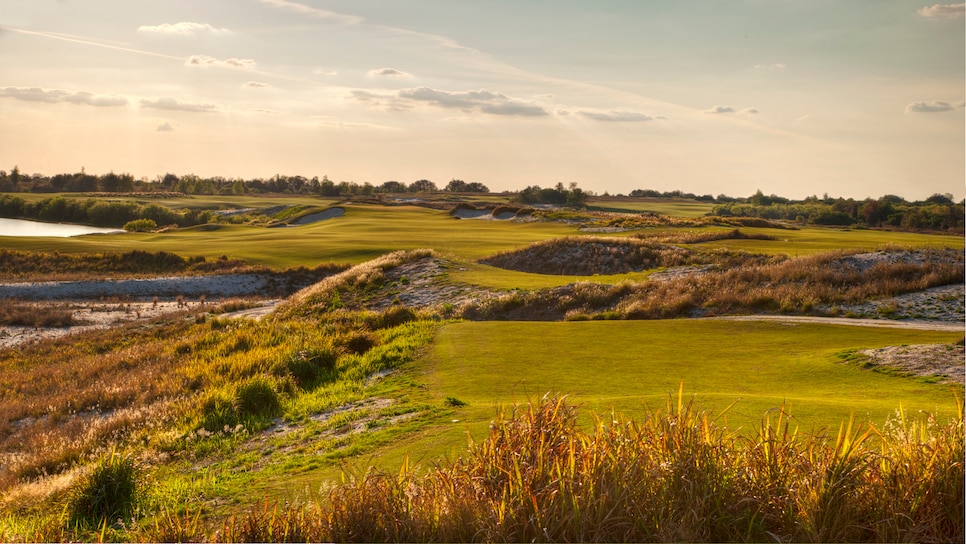 Courtesy of Laurence Lambrecht
5 / 6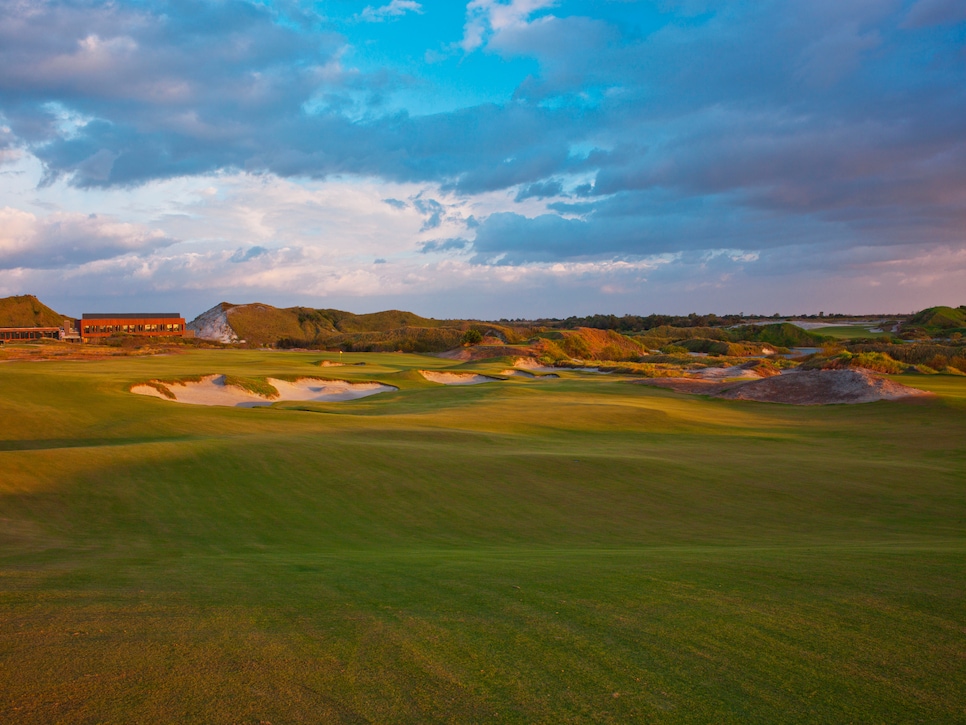 Courtesy of Laurence Lambrecht
6 / 6

Courtesy of Laurence Lambrecht
Overview
Although congenial rivals, Tom Doak and Bill Coore actually collaborated on Streamsong's original 36-hole routing, walking the site and mentally weaving holes around stunning mounds, lagoons, sand spits, savannahs and swamp, all elements left after a strip-mining operation. Coore then gave Doak first choice on which 18 he wanted to build, so Doak's Blue Course includes a few holes routed by Coore. (Coore and Crenshaw's Red, ranked No. 127, contains some holes originally envisioned by Doak.) The Blue starts a bit more dramatically, with the back tee on hole one atop a 75-foot sand dune. It has more water carries off the tee, and it's also a bit more compact, since it sits in the center with the Red Course looping around its outside edges. The Blue definitely has the bolder set of greens, some with massive shelves and dips. The new addition of No. 178 Streamsong (Black) by Gil Hanse only adds to the spirited competition among designers. The theme song at Streamsong seems to be: "Anything You Can Do, I Can Do Better."
Awards
Second 100 Greatest: Ranked since 2015.
2023-'24 ranking: 151st.
Previous ranking: 148th.
Highest ranking: 120th, 2015-'16.
100 Greatest Public: Ranked since 2015.
2023-'24 ranking: 24th.
Previous ranking: 26th.
Highest ranking: 22nd, 2017-'18.

Best in State: Ranked fifth, 2017-'18. Ranked sixth, 2015-'16. Ranked seventh, 2019-'22.
2023-'24 ranking: 8th.
Previous ranking: 7th.
Panelists
Ratings from our panel of 1,900 course-ranking panelists
100 GREATEST/BEST IN STATE SCORES
Reviews
1 / 17
Review
"Beautiful Tom Doak course. Generous fairways, large greens. Definitely worth making the trip out there and play all 3 courses."
Read More
2022
2 / 17
Review
"Streamsong Blue is Tom Doak's course at the Resort and another fine course well-deserving of its top 100 public status. The easiest of the 3 course at Streamsong, the Blue is my second favorite behind the Red but features some terrific holes such as the picturesque 7th, par 4 4th, and epic closing stretch. I highly recommend Streamsong and its Blue Course."
Read More
2022
3 / 17
Review
"The most fun and the most mature of the courses at Streamsong resort."
Read More
2021
4 / 17
Review
"Great piece of ground of golf, especially in Florida."
Read More
2021
5 / 17
Review
"Streamsong Blue is an outstanding layout with many unique holes that blend together as one for a great strategic design. It is a fun course to play and is combined with 2 other courses, outstanding dining and lodging, and fantastic service. It is a highly recommended destination."
Read More
2021
6 / 17
Review
"A great golf course which requires well-placed tee shots and approach shots into the greens. The greens are firm, fast and undulating."
Read More
2021
7 / 17
Review
"Must play course that is totally unique for Florida. Tough course to play and walk if not in shape. Pure golf with great service."
Read More
2020
8 / 17
Review
"This course just edges out the Red for me. Many great angles, and some tough approach shots, with solid fairways and greens presenting a great challenge. The par threes are excellent."
Read More
2019
9 / 17
Review
"Tom Doak course with character that presents a fair but challenging round or golf. If you're on the bubble on whether to spend the money for a caddie and walk, don't think twice about it, walking is definately the way to experince the course."
Read More
2018
10 / 17
Review
"Excellent course and amenities are one of the best. A must visit for the bucket list. Course will challenge the ball striking ability and caddies are professional and will provide you the ability to score well for the first round. Suttle design issues can eat strokes that caddy advise will avoid. Club house and lodging on facility is one of the best."
Read More
2018
11 / 17
Review
"Due to the severely, undulating Tom Doak greens, the Blue Course is the most difficult of the three courses at Streamsong."
Read More
2018
12 / 17
Review
"The best course at Streamsong. Wonderful mix of holes and great architectural design. #5 is world class. A truly fun and challenging course."
Read More
2018
13 / 17
Review
"A great destination resort in Florida. Blue has nice hole framing by the dunes and elevation changes. Large greens."
Read More
2018
14 / 17
Review
"It is not often that a resort has three strong courses. Streamsong does. The three architects ply their trade as well as any. Tom Doak and Bill Coore walked the land together and decided on their respective routings. Doak's Blue course is inventive and has some of the most undulating greens at the resort. The fairways are wide but you need to be on the correct side to get the best angle into the green. The course looks easy but plays difficult."
Read More
2018
15 / 17
Review
"Such a great lesson in design. And, with on-property accomodation, it is a remarkable destination for the golf traveller. Doak got a bit short-changed on the land compared to Coore-Crenshaw - but it is a tough neighbourhood of high quality golf!"
Read More
2018
16 / 17
Review
"One of the best public courses in the country. Amazing set of greens. Has one of the best set of short par 4's in the country."
Read More
2018
17 / 17
Review
"An enjoyable Tom Doak design. The Streamsong restaurant overlooks the practice putting green and is a great place to grab something to eat and drink after the round."
Read More
2018
Readers
Collection of reviews from our readers
There are no reader ratings yet
Reviews
There are no readers reviews yet. Be the first to write a review.