AVONDALE, La. — "Fore right!" isn't something you hear often on a par 3 on the PGA Tour. During Thursday's opening round of the Zurich Classic, it was shouted twice in the span of four holes at TPC Louisiana. This is the nightmare of Hunter Mahan and Bill Haas.
Worse yet, neither appears to know how to wake up from it.
To understand just how far the two men have fallen, you have to first understand how high they climbed. At the height of their games, Mahan and Haas were near the apex of the sport. Haas won six times between 2010 and 2015, including a FedEx Cup title in 2011, and at one point climbed to No. 12 in the World Ranking. While he never threatened in a major championship, his buttery swing and elite ball-striking helped land him on three U.S. Presidents Cup teams and led to a career of bankable consistency. From 2008 through 2017, in addition to the half-dozen trophies, Haas had five runners-up and five third-place finishes, 35 other top-10s and earned no less than $2 million a season in all but one during that span.
Mahan saw his career reach even greater heights. From 2007 through 2015, he also won six times on tour, got to as high as No. 4 in the world and played in four Presidents Cups and three Ryder Cups. Along the way he also tallied up five runner-up finishes, finished third twice and had 42 other top-10s, with eight of those coming in major championships.
Both 38 years old and teaming this week at TPC Louisiana—a nod perhaps to some reverse psychology as a way to stop the bleeding (they posted a two-under 70 on Day 1)—each is trying to recover from the fall they've taken. How they got there is just as significant as a desire to get back up.
In February 2018, Haas was involved in a car accident in Pacific Palisades, a few miles down the road from Riviera Country Club. The Ferrari that he was a passenger in was destroyed and the driver, Mark Gibello—a family friend who was hosting Haas at his house for the Genesis Open—was killed. Save for relatively minor leg injuries, Haas escaped the wreckage mostly unscathed and soon returned to playing again. But the emotional scars for which Haas sought professional help to recover from have taken much longer to heal, and the lingering effects are harder to quantify.
"I don't know [for how long it affected me] because it happened, so I can't compare it to not happening," Haas says. "I still think about it, like anybody would. Do I hit a bad shot now because of it? No."
Yet his results since that horrific night are indisputable.
In 66 starts post-accident, Haas has missed the cut 30 times and has just three top-10s scattered across what have been three long years. Unsurprisingly, his world ranking and FedEx Cup standing have plummeted as a result. In 2018, Haas ended the year ranked outside the top 200 in the world for the first time in a decade. The next year, he'd dropped outside the top 450 and lost his PGA Tour card. By the end of 2020, he'd fallen to 604th. Likewise, after having finished 35th or better in the FedEx Cup in seven of eight seasons from 2011 to 2017, he has finished 152nd, 140th and 209th the last three years. He's only slightly better this year at 197th.
During the slide, nearly every facet of Haas' game has betrayed him—he currently ranks outside the top 100 in every major statistical category on tour except for strokes gained/around-the-green. Thursday, the struggles were evident, from his tee shot into the water left on the par-3 ninth, to his "Fore right!" on the par-3 14th, where his ball off a once-trusty long iron landed in a far away hospitality area.
"The difficult part is signing your name on a scorecard to a 72 every day, versus a 68," Haas said. "The good stuff is in there, it's just the matter of saving it when you hit poor ones and taking advantage of birdies. I felt the pressure of being even through eight holes and you think you've hit it great and should be three under. Then I hit it in the water [on 9] and start thinking here we go. Maybe when I was younger that stuff didn't bother me."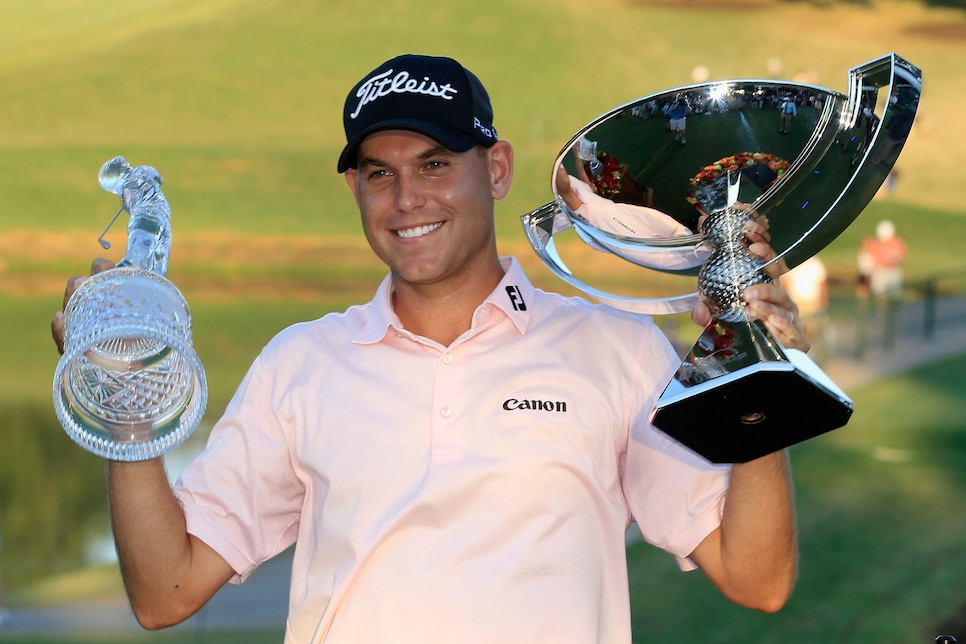 Haas' victory at the Tour Championshpi in 2011 helped him claim the FedEx Cup title.
Sam Greenwood
In addition to whatever psychological damage has been done—from the accident or his poor play—there are physical ailments Haas is struggling with for the first time, too. Among them are an index finger that remains numb after a disc in his back touched a nerve during last year's RBC Heritage and feet so sore that when he wakes up in the morning he says it's a struggle to get out of bed. Haas also hasn't played well since having to adopt a pair of spectacles to help offset a stigmatism in one of his eyes that hinders his ability to see things in the distance clearly. "I've tried contacts, but they don't sit right on my eyes," Haas says. "Lasik surgery is probably in the cards."
No matter what he tries, nothing appears to be working.
Never a ball-beater early on in his career, Haas last year took to practicing constantly, a labor that turned out to be equally fruitless. He also picked the brains of his father Jay, a 27-time winner between the PGA Tour and PGA Tour Champions, as well as coaches Billy Harmon and Tony Ruggiero. The advice of staying in the moment and trusting the process was simple. The outcome, not so much.
"I have all these thoughts in my head and sometimes they're clicking," Haas said. "This week, my warm-ups were nice, and in the pro-am my game felt good and I think I got it. Then today, I hit some bad shots. I guess I have to allow myself to hit those bad shots and not let them bug me, but when you're losing your card and you're struggling it bugs you.
"It has all affected me, bad play, things in life. I remember feeling nervous over certain shots when I was at the top of my game, but I executed better. But something in there is causing me not to now. I do think the answer is in the dirt, but it's also in the mind."
Which perhaps explains the even greater plummet that Mahan's career has taken.
At one time, the former U.S. Amateur runner-up was arguably the best driver in the game. But Mahan, whose last victory came at the 2014 Barclays, has seen his career tumble over the last six years. Since the beginning of 2015, he has made 147 starts and incredibly missed the cut 79 times, including in all 10 tournaments he's played this year. Like Haas, Mahan's world ranking and FedEx Cup standing have gone into an abyss. Ranked 22nd at the end of 2014, he dipped to 68th the following year then fell in subsequent years to 419th, 641st, up to 368th thanks in part to a runner-up finish in a Korn Ferry Tour event in 2018, dropped to 656th and fell to 1,514th last year.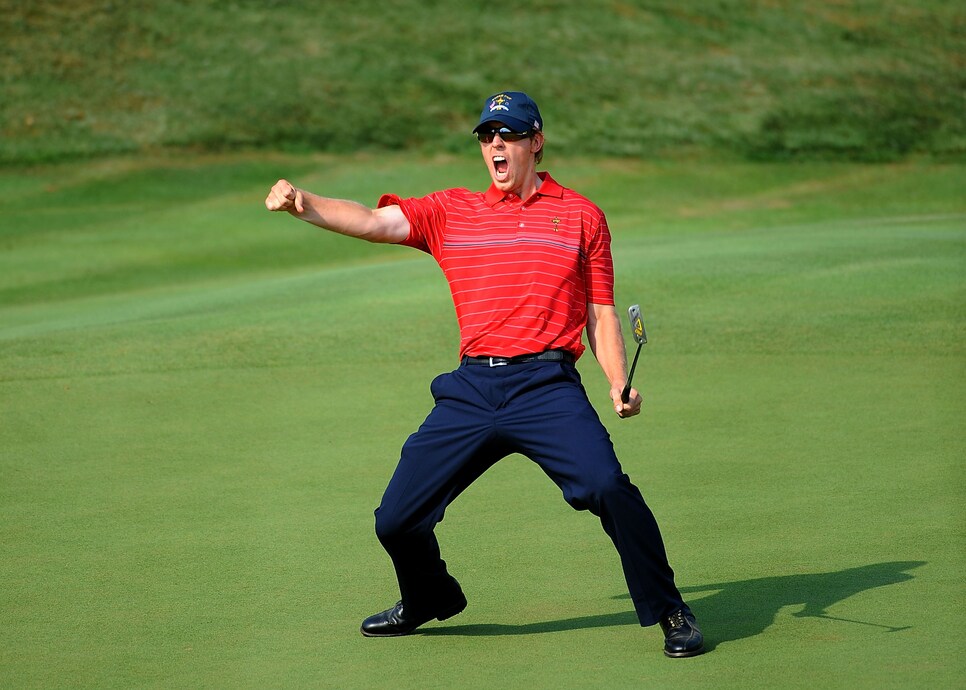 At the 2008 Ryder Cup, Hunter Mahan celebrates making a birdie on the 17th hole to win his singles match and help the U.S. claim the cup.
Sam Greenwood
How did he get there? Those wounds have been more self-inflicted.
In 2015, Mahan, having already reached elite status despite a shaky short game, inexplicably went on a search. He split from longtime coach Sean Foley and soon found himself burning through one swing guru after another, at one point adopting a single-plane swing that ended up failing miserably. Like a lost hiker who continues to wander the woods, Mahan's problems only grew exponentially from there.
"I tried a few teachers and I don't think those worked," he said. "I ended up putting in some bad habits. Technically, my swing has not been very good. That's been the hard part, is to figure out who you are with your swing. I have a mental block in a lot of areas. My swing doesn't feel the same."
Which is why he went back to Foley last fall.
Since then, Mahan has started to see some changes but the overall progress has been slow. To wit, on Thursday, he hit his tee shot so far right on the par-3 17th, that his ball landed closer to the 13th green than it did the 17th.
Other factors have played a role, too. Early in his career, Mahan's focus was all about, well, himself. Now, he's a father of four (Haas also three children) and no longer is his life all golf all the time. Once a notorious range rat, Mahan's practice habits in more recent years have waned. It has been as much a case of one's life and golf incongruously intersecting as much as anything.
"There's a reason why in every other sport you're retired at this age, because you can't do it anymore," Mahan said. "I don't think golf is that much different. There are fewer 40-year-olds playing well now than there were back in my prime. Kenny Perry and Jay Haas, they were bad asses in their 40s. Those might be outliers, but your ability to do it gets lesser and lesser.
"Trying to figure out who I am and to do that while you're playing, man it's frustrating and [it] gets really complicated in your head."
Still, there's hope, as evidenced by 47-year-old Stewart Cink winning last week in Hilton Head.
"I think we're both looking to find lightning in a bottle," Haas said, explaining their partnership. "I don't care any less now than I did earlier in my career. That's why I want to keep doing it.
"Seeing these young guys hit it, you think you can still play with them. It's motivating. If I just sit at home and watch, it'll just frustrate me, because I feel like I could be one of those guys again."

In the meantime, the search goes on.