Zurich Classic of New Orleans
For Finau-Champ team, no strategy was the best strategy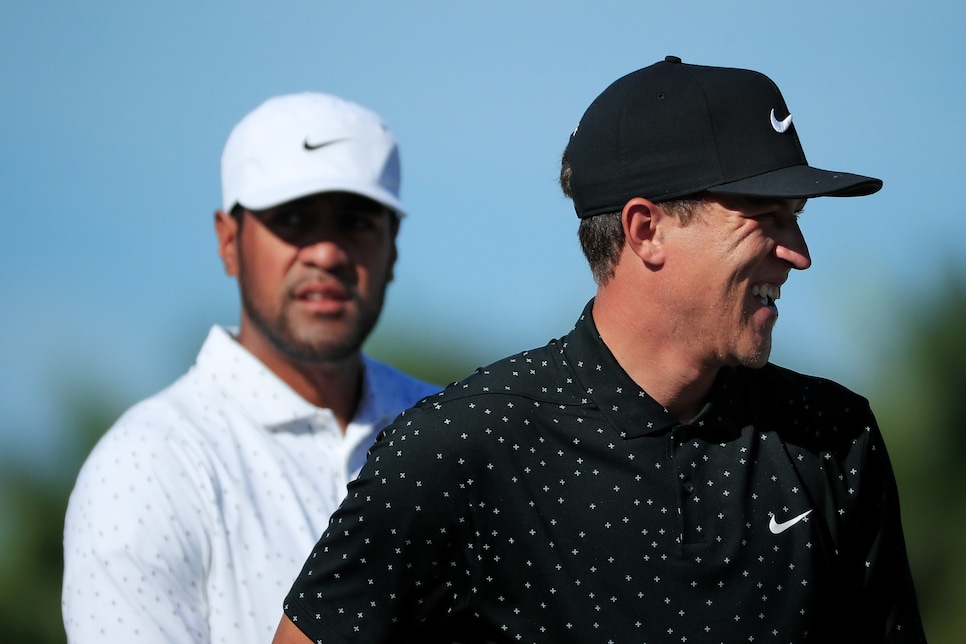 AVONDALE, La.—When it came to plotting strategy at this week's Zurich Classic, different teams discussed various tactics prior to Thursday's opening round. Then there were Tony Finau and Cameron Champ, who had none at all, apparently.
It worked out just fine anyway.
Finau and Champ, who arrived on the first tee at TPC Louisiana unsure which one of the two would tee off first in four-balls play before deciding to just flip a coin, combined for nine birdies en route to a 63. That leaves them just a stroke off the lead of Viktor Hovland and Kris Ventura.
"I picked tails and it ended up being heads, and well, what does that mean, and we still didn't know," Finau said of the coin toss. "He just agreed that I would go, and then he jumped the gun on the first hole and he went first, so then I got to number two, I'm like, well, I guess you want to go, he's like no, you just go, so I just went on two, so I just ended up going first all day."
When it came to making birdies, though, each man contributed his share, and they ham-and-egged it beautifully.
Finau opened with a 20-footer for birdie on the first before Champ added one from 18 feet on the second. Then it was Finau's turn again with birdies on seven, eight, 11 and 13 before Champ finished the day off with three birdies over the final four holes.
While some teams feature partners who fill the void of the other's game—Sam Burns' length and putting to Billy Horschel's iron game being one example—the hallmarks of Finau's and Champ's games might in contrast seem remarkably similar. In some ways they are, with both men two of the longest hitters in the game. But that's about where the similarity ends.
Finau has proven one of the tour's most consistent players with his irons and around the greens. Conversely, Champ ranks 193rd in strokes gained/approach and is even worse in putting, ranking 212th.
But playing alongside Finau in the four-ball format helps cover up those weaknesses.
"This format, it kind of frees me up in a sense," Champ said. "We have a good energy and it's easy to feed off each other, and whenever another guy is playing well, like on No. 9 or certain par-3s like 17, whenever [they're] in a good position, it definitely frees you up."
So does the camaraderie between the two, who share an agent and have something of a mentor-mentee relationship.
"It's big, just having formed a friendship I think is a good idea going into this event and having a partner that you know," said Finau, who at 31 is six years Champ's senior. "Emotions are a big part of team golf. If you can get past the barrier of what the other guy might be thinking or saying about your shots or whatever the case, we know each other well enough to know that we're doing our best."
That will be even more important on Friday, when the event switches to foursomes play. Finau, who is still looking for his first win since his maiden victory in Puerto Rico in 2016, has experience playing both formats from his appearance in a Ryder Cup and a Presidents Cup. Champ, who has played in neither, less so.
So what will the strategy be then?
"None of us really have a preference," Champ said. "It's just stress-free. Whatever holes he wants to hit on, he can do that. If he wants odds or evens, vice versa. We're just trying to keep it even keel, low key and just enjoy our time out there."
So far, they're off to a good start.