Just Send It
Tony Finau and Cameron Champ arguing over who hits it longer is an elite tour pro problem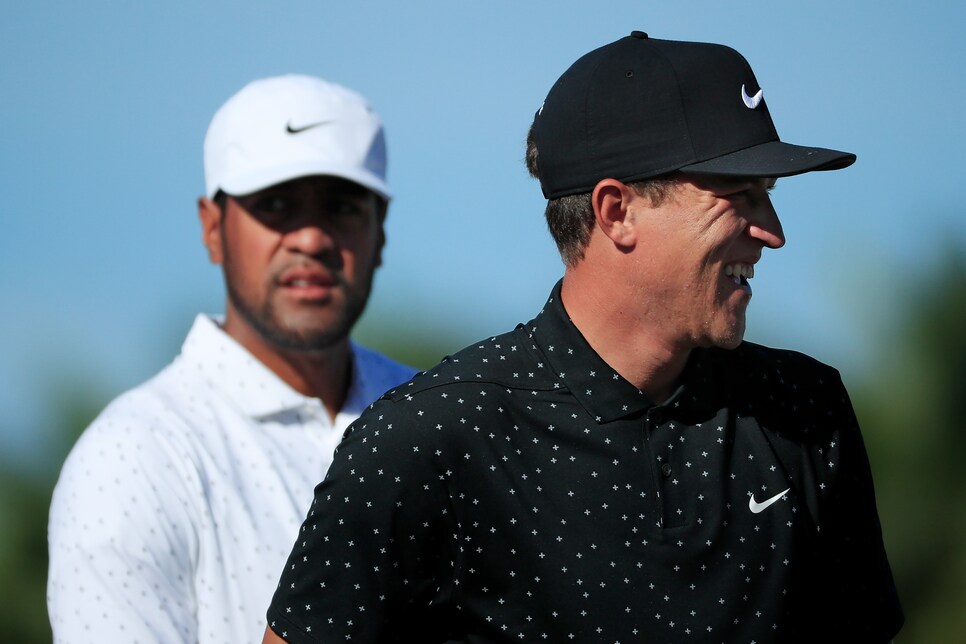 If you polled golf fans on who hits it the longest on the PGA Tour, the overwhelming majority would pick Bryson DeChambeau. If you asked tour pros, however, two other bombers would be very popular answers: Tony Finau and Cameron Champ.
This week, Finau and Champ are teaming up together at the Zurich Classic, making them by far the longest-hitting duo in the field. Fittingly, they are calling themselves "Team Send It."
According to the tour's driving distance metric, both Finau and Champ are lagging behind DeChambeau, but what most players will tell you is that both Finau and Champ are not hitting it as long as they actually could. Finau, of course, has a very short swing, which helps him control it off the tee. Champ, meanwhile, has effortless power. But if they were both to dial it up like it was a long-drive competition, Bryson would have serious competition.
During their Tuesday press conference ahead of this week's event at TPC Louisiana, Team Send It virtually met with the media and they were asked which guy hits it longer. Immediately, they both pointed at each other, making for a hilarious screenshot: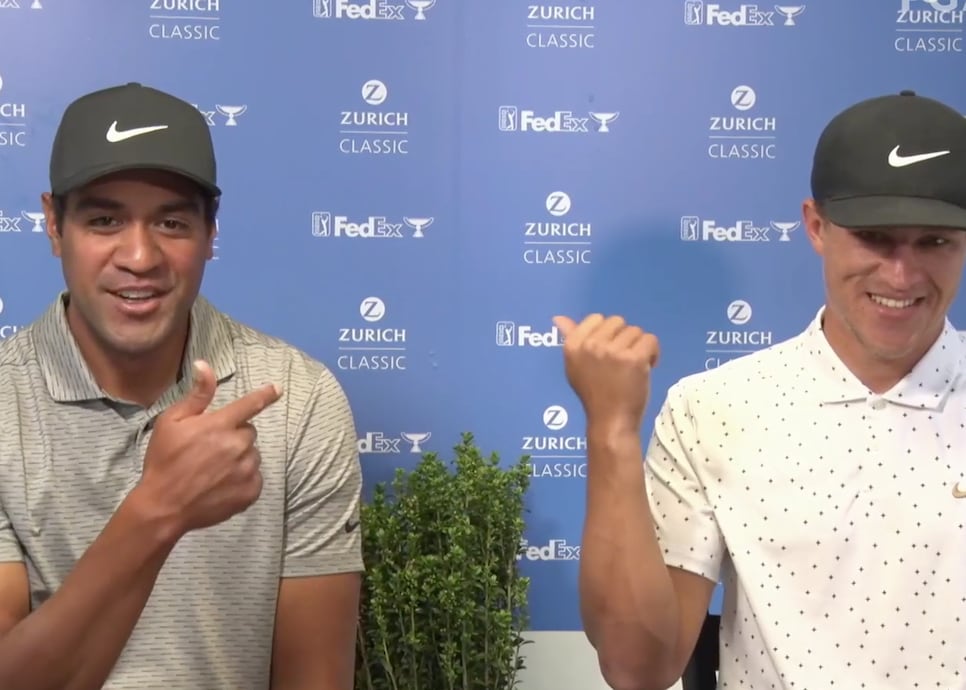 "He's pointing at the wrong guy," Finau said.
"No, no," said Champ, before confirming what many people who have seen Finau actually launch it already knew.
"As people notice, he [Tony] takes it back a little shorter than normal, but when he takes it all the way back, he is the longest on tour."
"Yeah," Finau says, smiling. "I will say, though, at the high speeds, Cameron knows where it's going a lot more often than I do. I might have, maybe a little bit more on the take. I still don't know. He can get it up in the 200s as well, but he probably has a better idea where it's going at that speed. I have a lot of speed but not quite sure where it's going."
Arguing over who hits it longer—tour pros, they're just like us! The key difference: We're arguing over who got a little extra roll out and reached 270, while they're arguing over which guy can crack 370 if they actually went after it. Must be nice.
For the record, Champ is currently third to DeChambeau on tour in driving distance, averaging 318.3 yards. Finau is a distant 30th, averaging a paltry (checks notes) 305.1 yards. Even Stewart Cink hits it farther than that. Maybe Finau needs to hit the gym.