News
With Jon Rahm, Justin Thomas in final group, there should be fireworks galore on Zozo Sunday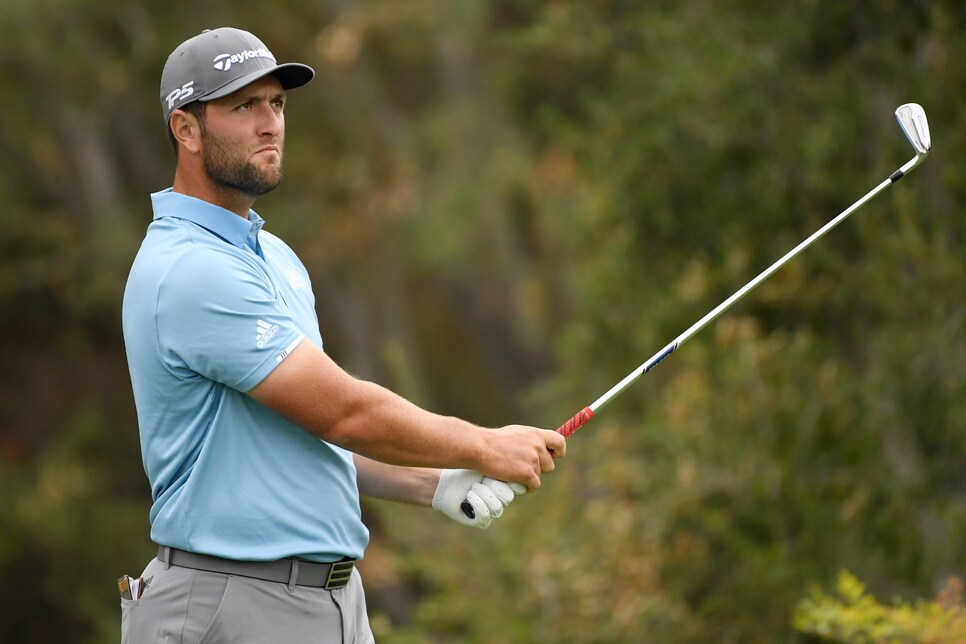 Jon Rahm plays his shot from the ninth tee during the third round of the Zozo Championship.
Harry how
THOUSAND OAKS, Calif. — There will be birdies. Probably an eagle, or two, or three, as well. When you have two of the world's top three players battling to win a tournament, that tends to be the case. Add in one of the easier PGA Tour setups you'll ever see, well, pars will feel like bogeys on Sunday.
Yes, the final round of the Zozo Championship at Sherwood promises to be a shootout—a race to 24 under, and even that might not be enough. At the top of the constantly moving leader board is World No. 3 Justin Thomas, who fought his swing and hit a full-swing layup off a cart path before birdieing two of his final three holes to shoot 67.
"You literally can birdie every single hole out here," Thomas said. "There's a couple holes that are challenging, holes like 8 or 15. … That's not saying that you can't make pars and bogeys on easy holes as well, but if you're playing well, you can really get after it."
Thomas is at 19 under after three rounds, and the guy chasing him is the only player ranked higher than him in the field.
World No. 2 Jon Rahm is one back after a nine-under 63 that, for a good while, looked like it would be lower. The Spaniard was five under through 5 and six under through 7 before playing his final 11 in "only" three under. Rahm was upbeat after his round thanks to an up-and-down par on 18, and while he was the solo leader at the time, he suspected he'd be at least one back heading into Sunday. Correct.
"To not make bogey and finish it with a strong par, it's just more about the mood I'm going to be afterwards in the day," Rahm said. "Had I made bogey, I probably would have been a little upset for an hour or so and been OK. This way I'm just happy with getting the job done and finishing it."
The only guy missing from the final threesome on Sunday is World No. 1 Dustin Johnson, a Sherwood member, who opted to rest this week after testing positive for COVID-19 last week. In his spot is No. 59 Lanto Griffin, who briefly reached 19 under before stumbling home with two late bogeys. The 32-year-old from Northern California is alone in third at 17 under, and he was in a similar position after three rounds at last week's CJ Cup, but an even-par 72 saw him slip to a tie seventh.
Griffin does have some positive Sunday mojo to look back on—he won the 2019 Houston Open, a feel-good victory after spending the first seven years of his career toiling on the mini tours.
"Playing against Jon Rahm and Justin Thomas is different," Griffin said. "It's a different field [than Houston], there's no way around it, so I'm going to have to play really well tomorrow, I'm aware of that. But it's fun. This is what I dreamed about, position I dreamed about being in my whole life. From being on mini tours, the Korn Ferry Tour, now to be here playing with the best players in the world in the final group, it's a lot of fun."
Another even-par Sunday could see Griffin drop close to 20 spots. Simply put: Sherwood has proven no match for the best players in the world. It's a daunting golf course to the weekend hacker, as there's trouble on both sides at most holes, plenty of forced carries and penalty shots lying around every corner. But the fairways are wide, and all five par 5s are reachable, and the greens are rolling pure.
It's the perfect recipe for a Sunday charge from one of the guys a bit further back. Ryan Palmer, Sebastian Munoz and Patrick Cantlay are all three back at 16 under, and Webb Simpson, Bubba Watson, Matthew Fitzpatrick and Scottie Scheffler are among the group at 15 under, well within striking distance on this course.
And the fireworks won't be limited to the top of the leader board. Toward the bottom are Phil Mickelson and Tiger Woods, both at three under for the tournament and playing together at off the 10th at 11:28 a.m. local time.