Takeaways
Zalatoris' seven straight birdies, ZJ's experience advantage and Bramlett overcomes a cracked driver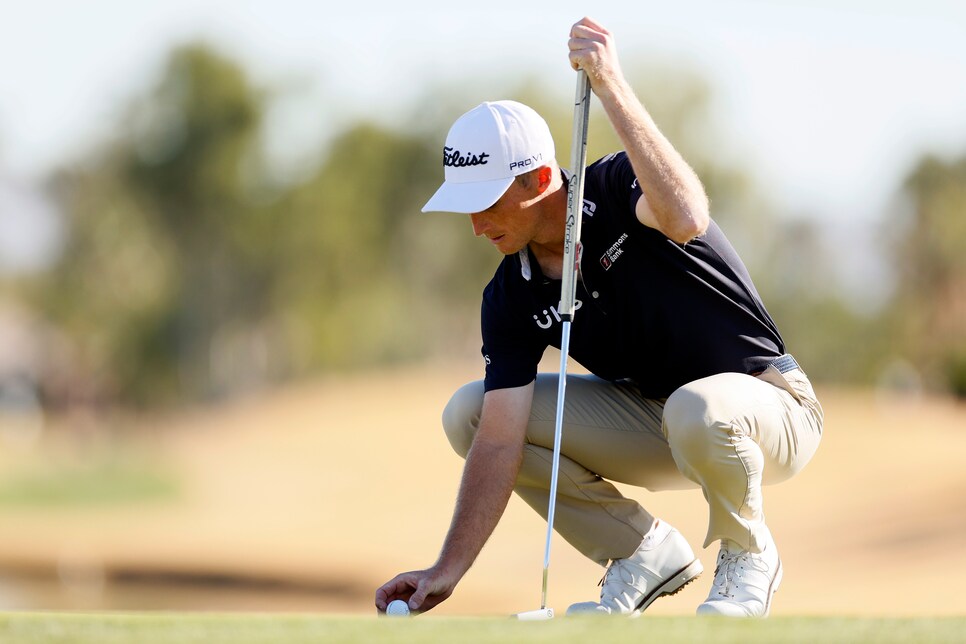 Will Zalatoris birdied his final seven holes to shoot an 11-under 61 Friday at The American Express, tying his career low he had set in October at the Sanderson Farms Championship and feeling buoyed by the work he had put in over the last few weeks. And that wasn't even the worst news for the rest of the field in Palm Desert, Calif.
Nope. The winds, which began to stir late on Friday, are supposed to pick up for Saturday's third round. Zalatoris was licking his chops over the prospects of a stiffer challenge.
"I love wind, too," he said after taking advantage of the calm conditions following a frustrating opening-round 71. "I know tomorrow it's supposed to pick up; I live in Texas, so I'm used to it. Really, playing golf the last few days without a lot of wind has been a little strange for me, so I'm looking forward to the challenge tomorrow."
Zalatoris, 12 under and two behind leader Patrick Cantlay, will play the third round on the Dye Stadium Course after 61 at the Nicklaus Tournament Course at PGA West. On Thursday, he wasted opportunities on the easiest of the three layouts, La Quinta Country Club, by trying to force things as opposed to letting the round develop organically.
The reigning PGA Tour Rookie of the Year recognized that the struggles he encountered in the first round were reminiscent of some late-season struggles last summer.
"The attitude that I had Thursday was a little bit of the attitude I carried over the last three months of the season where I was really forcing things and trying to do things when in reality the first six months of last year I was just playing golf and it added up to some great golf," said the 25-year-old Dallas resident. "So, I had a great call with [psychologist] Dr. [Michael] Lardon, had a great call with [swing coach] Josh [Gregory], and we really just said, 'Hey, your job today's to go hit golf shots and see what it adds up to and trust your process that we've been working on for a few months.'
"I think just trying to shoot numbers every single day, trying to force birdies in there when in reality I didn't have to," he added. "The other part, too, is that I've been wanting to win so bad that, if anything, I was making mistakes on Thursday, Friday of trying not to make mistakes and then making mistakes because I was doing that."
There's no mistaking that he's learning.
Here are three other takeaways from Round 2: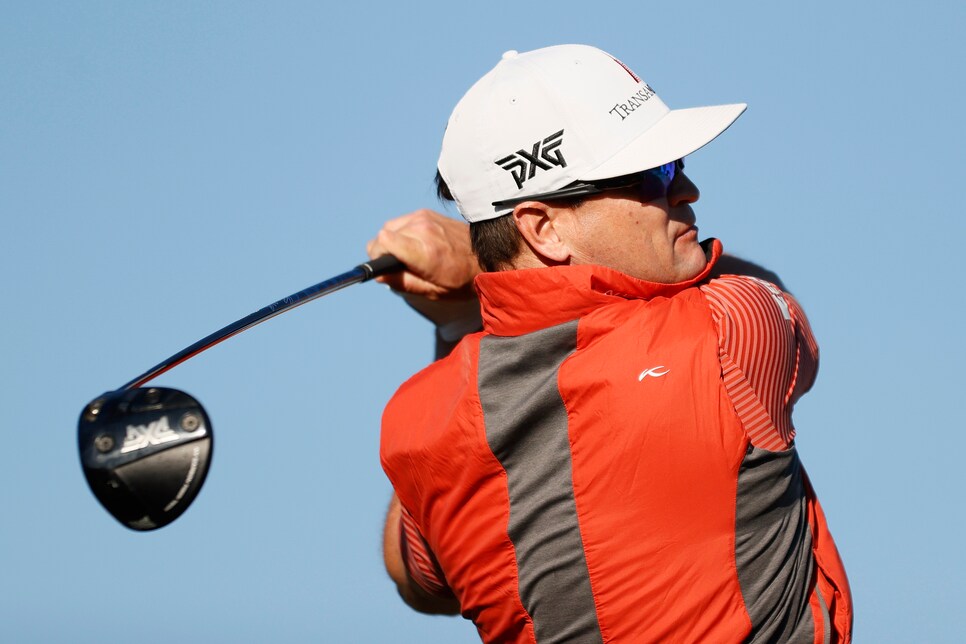 It's not easy to keep up with the young guys and their aggressive scoring mindset, but occasionally a veteran manages to insert himself into the narrative.
Zach Johnson is 45, has fallen to 186th in the world and hasn't won since his playoff victory in the 2015 Open Championship at St. Andrews. But he still knows how to make some birdies if he gets into the right mindset, which is what he has been doing so far at The American Express. The 12-time PGA Tour winner shot a six-under 66 at the Nicklaus Tournament Course on Friday to post 11-under 133, just three shots off the pace.
"I feel like this is … these golf courses are ones where before you tee it up it's almost like you can have the mind frame of, 'Oh my gosh, I have got to go low.' But you got a lot of company," said Johnson, who has made 13 birdies against two bogeys in 36 holes. "So if you get off to a slow start which I kind of did both days, you just got to remain patient because every hole is an opportunity to make a birdie."
Experience certainly helps. Johnson said he can draw on the amount of golf he has played in the desert going back to PGA Tour Qualifying School 20 years earlier. Of course, with experience comes … age. And Johnson admits that while motivation isn't an issue for him, the physical challenge grows.
"Yeah, motivation's not difficult," he said. "I really never struggled in that realm. I've had days or stretches where the body hurts and that's all the time, but it really hurts and I don't want to go practice and things of that nature. But when it comes to working, grinding, trying to get better at my craft, I don't struggle, never really have in that department, fortunately. The problem is that's probably the barometer. If and when that does happen, I might have to consider what I'm doing or the approach in which I'm doing it."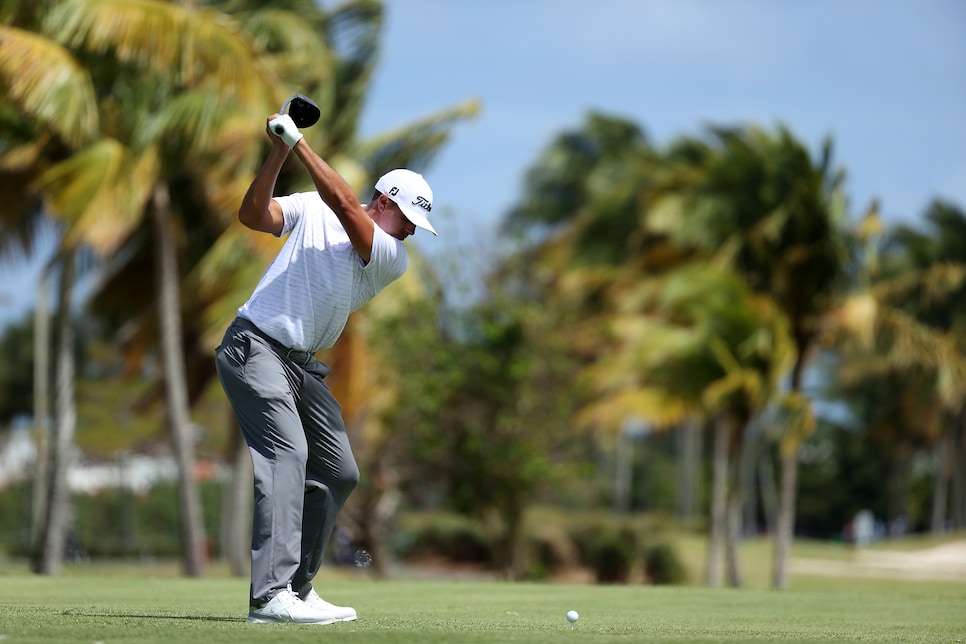 After missing five straight cuts to end the fall portion of the 2021-22 season, Joseph Bramlett has found a bit of a groove. A final-round 64 last week lifted him to a tie for 20th at the Sony Open in Hawaii, and after 36 holes of The American Express he is just two strokes off the lead after a second-round five-under 67 at LaQuinta.
Bramlett, 33, actually had a share of the lead with Patrick Cantlay but bogeyed his final two holes as the winds picked up. He was far from disappointed. "I played great. I mean, the score on the last two holes wasn't great, but I hit good shots," he said. "It just got very blustery and this is a tricky little golf course. So not upset, actually quite proud of the way I played."
The Stanford product has faced his share of adversity since he turned pro in 2010, including a back injury that sidelined him sporadically over four years. This week, he had to deal with a cracked driver that occurred on the eve of the tournament. He's been playing well despite having to put a backup in play.
"It's the second time that I cracked one on a Wednesday afternoon right after the Tour [equipment] trucks left," he said. "The timing just sucks, it happens. Thankfully, I did have a backup, but I needed to test it. … It ended up working out great. But it was a stressful couple hours."
Celebrated 6-foot-10 South African basher James Hart du Preez has made just six birdies the first two days and is 154th in the 156-man field at six-over 150. Golf might be a power game, but it is not exclusively one.