News
You can now bet on the proposed Tiger Woods vs. Phil Mickelson match, because Vegas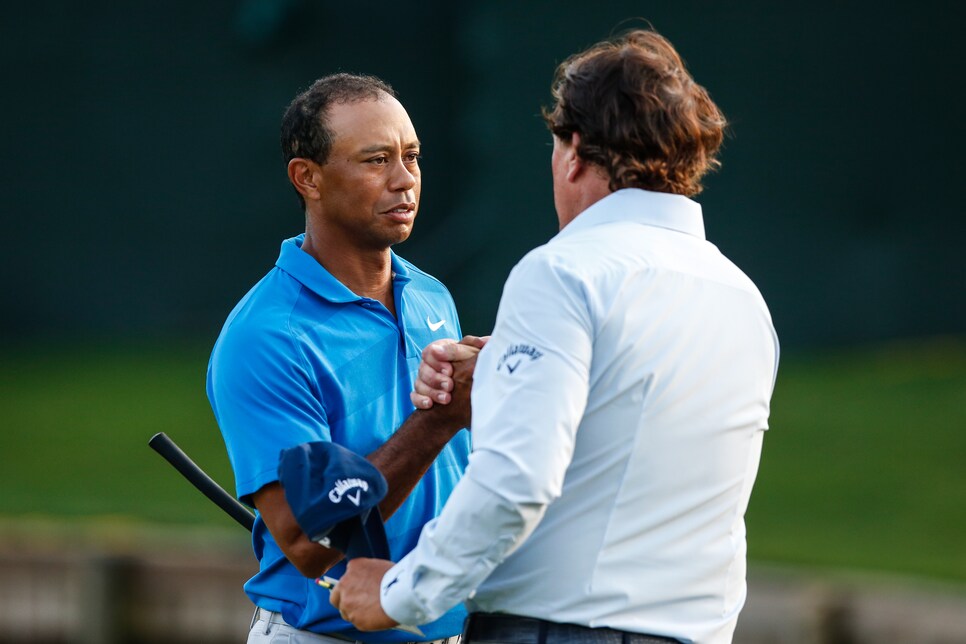 Last week news leaked that the much-discussed Tiger Woods versus Phil Mickelson matchup was close to coming to fruition. So close that you can now bet on it.
SportsBettingDime.com has posted odds and props on the proposed $10 million battle. The early favorite is Woods, with the 14-time major winner opening at 2/3, with Mickelson coming in at 3/2. The spread is listed in Woods' corner at -1.5 holes.
But the fun doesn't stop there. The litany of items one can wager on reflects the fervor generated by this duel (or, perhaps, validating bettors have an itch that needs to be scratched). Other props include:
—When the match will occur: August 12/1, September 8/1, October 5/2, November 7/3, December 5/1, 2019 16/1. Our recommendation is to hit November hard.
—Red 3/1, White 3/1, Black 4/1, Field 7/3. If you need this defined, you're at the wrong website.
—Odds of a Hole in One by either player: 399/1. Phil is definitely dropping a sawbuck on this.
—Odds a penalty stroke is assessed to either player: 25/1. Well, Phil is involved, so...
—Odds on Broadcast Network. YouTube at 199/1 is very, very interesting.
—Odds Where They Play: Nevada 5/3, California 5/1, Hawaii 8/1, New York 10/1, Arizona 12/1, FIELD 4/1. Alan Shipnuck's report stated Shadow Creek was the original site, but don't be surprised if a more fan-friendly venue in California is picked.
—Odds of the largest bet placed on either player in Vegas: $49,999. Does this count competitors wagering on themselves?
It should be noted the Woods-Mickelson match remains in an embryonic state, and there's a, ahem, good chance one of the parties leaked out the proposed details after the other backed out. Which is why, yes, you can even bet if the clash will even happen (1/2 that it will).