Approach Shots
You can curve it out of trouble like Justin Thomas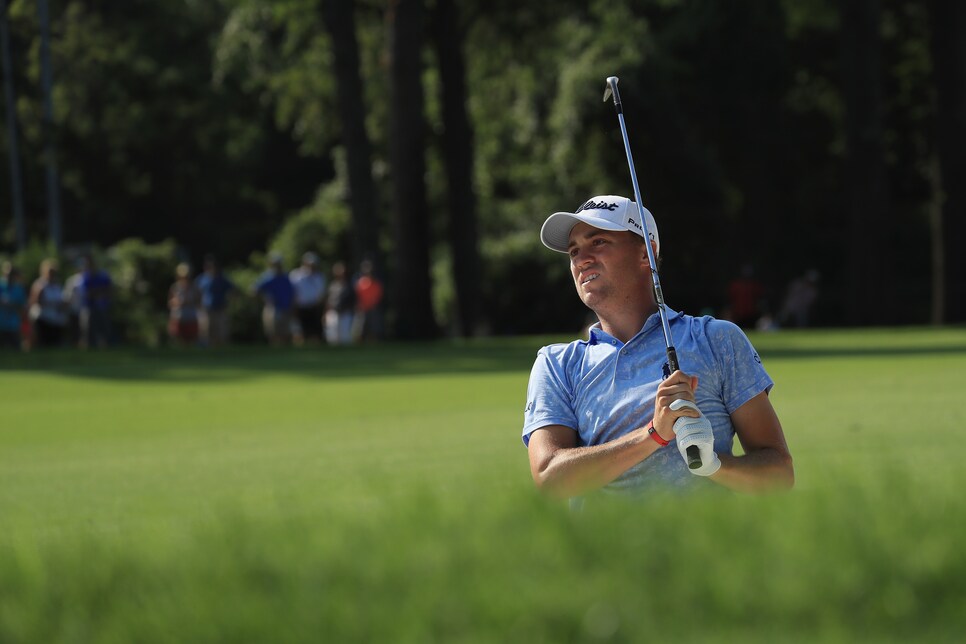 It might have seemed like every player on the top half of the leaderboard at the PGA Championship was perpetually hitting wedge from the middle of the fairway to set up birdie, but there were some times when a trouble shot was necessary.
Justin Thomas found himself in that spot on the left side of the 10th hole after hooking his tee shot onto a bare patch of near-grass next to some grandstands and behind a tree. Setting up for about 30 yards of hook, he caught his approach shot perfectly and hit it low and around the tree, over a creek in front of the green and pin high. The ball even checked up obediently. Thomas would make par and go on to shoot 68, which left the defending champion in sixth place, four behind leader Brooks Koepka.
According to top international teacher Tom Stickney, Thomas' amazing recovery was just as much a matter of keeping cool as it was making the right mechanical adjustments for the shot. "One of the most amazing things professionals do when they get out of position is avoid panic," says Stickney, who is the director of instruction at Punta Mita, outside Puerto Vallarta, Mexico. "In fact, they do the exact opposite of what you probably do. They slow down and think logically. They examine all the options and risks and factor in how they're hitting the ball that day before they make a decision about what shot to hit."
In Thomas' situation, missing short and right of the green or in the right bunker were the most attractive options if he didn't pull off the shot he wanted to hit—while hitting the tree or over-hooking it and leaving himself short-sided were the options to avoid at all costs. "So what did he do? He picked a club that wouldn't jump into the tree limbs because it had too much loft," says Stickney, a former Golf Digest Best Young Teacher. "Then he moved the ball back in his stance to decrease the dynamic loft at impact and shift his swing path more to the right through the ball. These two changes, mixed with an aggressive release through impact, caused his ball to start right of the tree and curve to the fat side of the green."
That might sound like a lot to process, but it's simpler than you think, says Stickney. "Remember when you were a kid hitting the biggest slices and hooks you could on the range with your buddies? It's the same thing—but with the risk is more calculated because you're thinking ahead about where to miss it," he says. "Go into the trees and actually practice these shots, favoring the side where you have the most room to miss. I bet you'll surprise yourself."