Takeaways
Xander Schauffele-Patrick Cantlay's record-breaking round, the Fitzpatrick brothers cool off, and a couple childhood friends lead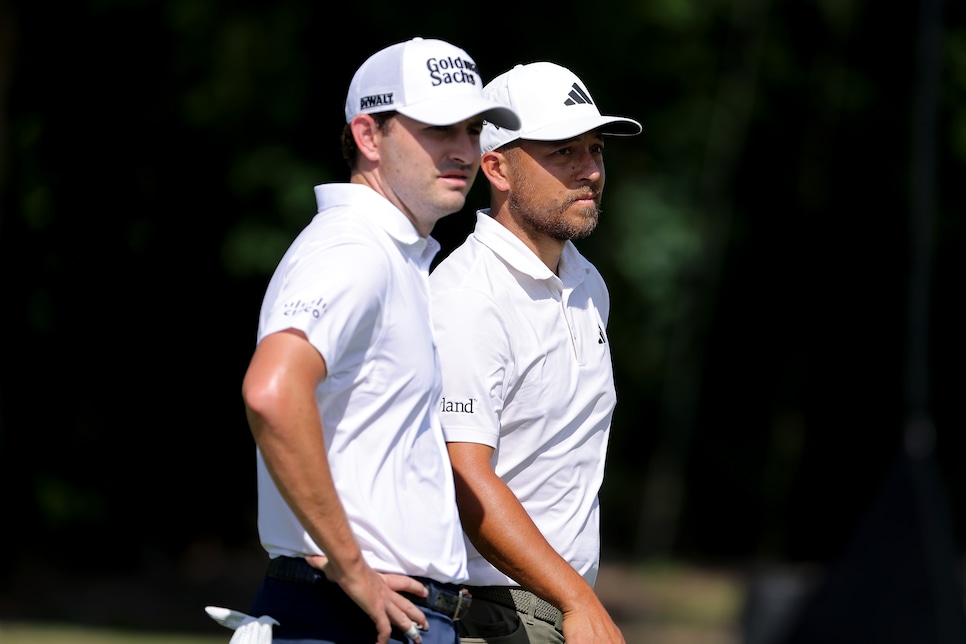 Congrats to everyone playing in this week's Zurich Classic for finishing the first two rounds in time! Even with Mother Nature rearing her ugly head and delaying play for two-and-a-half hours! OK, so it helped a LOT that the guys were playing in the speedier foursomes format, AKA alternate shot, but it's the weekend and we're feeling positive. Anyway, here are our five takeaways from Friday.
The defending champs are going to be tough to beat
Following an opening four-ball score of 67, Xander Schauffele and Patrick Cantlay needed a low score in foursomes just to make the cut. They did that and then some, firing a nine-under-par 63 to break the tournament record.
"We needed to be aggressive here in alternate shot, which is a little dangerous, especially if it gets windy," Schauffele said. "So fortunately this morning we took advantage of really calm conditions and then played some of our better golf when the wind picked up a little bit. It was just necessary."
Even the weather delay couldn't deter the California pals, who entered this week as the betting favorites—and remain that way heading into the weekend.
"I think it's just Xander is really good, and I can play well, too," Cantlay said. "So when we get two guys together that are really good, and I think it helps that we're friends, but when you get two world-class players playing together and we both have a day where we're on like today, we can post a low one."
In addition to the record score in alternate shot, their front-nine 30 also established a new tournament best. This after setting records for best four-ball score (59) and four-day total (29 under) during last year's win.
"We'd like to get that 59 again in best ball," Cantlay said. "We're going to try."
If they pull that off, everyone else will be trying for second place.
A pair of childhood friends take the lead
That being said, Schauffele and Cantlay don't hold the 36-hole lead. in fact, they trail three teams, including the duo of Wyndham Clark and Beau Hossler, whose bogey-free 67 put them at 16 under, one shot in front of the tandems of Sungjae Im-Keith Mitchell and Sam Ryder-Doc Redman.
While Schauffele and Cantlay have gotten close in recent years playing in Ryder and Presidents Cups, Clark and Hossler go father back.
"We've known each other since we were 10," Clark said. "We've been friends for a long time, so that was not an issue. It was more we both didn't have partners going into the LA Open at Riviera, and we were paired together the first two days, and we kind of were talking it through, and by the end of the first two days, we were like, all right, let's play together."
So far, that's proved to be a smart decision. Although, that answer was followed by this funny exchange:
Q. How did you meet at that young age?
BEAU HOSSLER: Just junior tournaments. Obviously Wyndham grew up in Denver, I grew up in California, and obviously at that age it would be more of like a regional tournament, and then as we got older it grew into national tournaments, and then us being close to the same age, we played in college together and got on TOUR probably within a year of each other. It feels like we've never not really been playing golf together.
WYNDHAM CLARK: Unfortunately.
Funny stuff, Wyndham, but if you guys team up to win your maiden PGA Tour titles, you're going to be best friends forever.
The Fitzpatrick brothers cool down
OK, so no pair of teammates are tighter than these two—and they were the talk of the tournament after an opening 62. But a second-round 71 will put the Fitzpatricks five off the Clark and Hossler's lead heading into the weekend.
The English pair only managed a pair of birdies, but finished with one to stay inside the top 20 on the leaderboard.
It's still a good spot to be in, especially for Alex, who missed the cut in his only previous PGA Tour start at the 2022 Valspar Championship. So at the very least, the Wake Forest product will share a check with big brother. And considering how much Matt won last week, maybe he'll let little bro have a bigger cut.
John Daly and David Duval probably won't be playing together again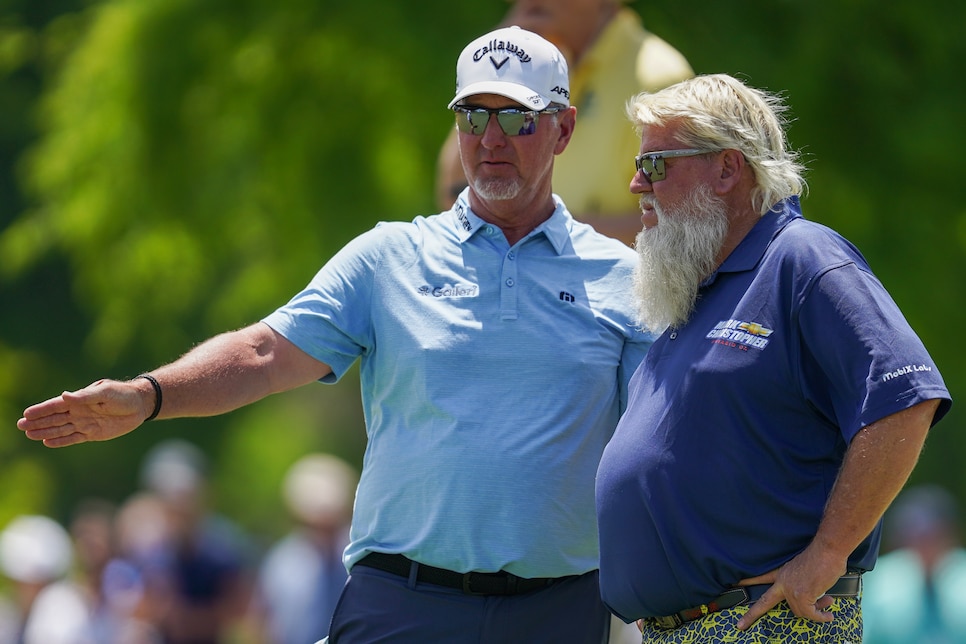 At least, in this event. Golf fans were intrigued at this over-50 pairing, but it turned out to be a total disaster as the pair of major champs shot 83 on Friday to finish dead last. By a dozen shots.
Daly and Duval were playing because the Zurich has an unlimited amount of sponsor exemptions to round out the field. But while they may have drawn big crowds, we're guessing their big numbers on the scorecard will make them a one-and-done entry.
Not that this was a surprise. Unlike. . .
A marquee pairing misses the cut
Schauffele and Cantlay may have been the pre-tournament favorites, but Collin Morikawa and Max Homa were a close second. And yet the pair of Cal Golden Bears will be hibernating this weekend.
A spectacular recovery shot by Morikawa on No. 10 set up a birdie that moved them on the cut line, but a disappointing eight pars to close kept them two shots off the number. And just one shot better than U.S. Ryder Cup captain Zach Johnson and Steve Stricker.
If Morikawa and Homa want to partner again this fall in Rome, they better hope Johnson was too busy playing to notice.