WGC-Dell Match Play
Xander Schauffele's day was going rocky, and then got an unbelievable break off a rock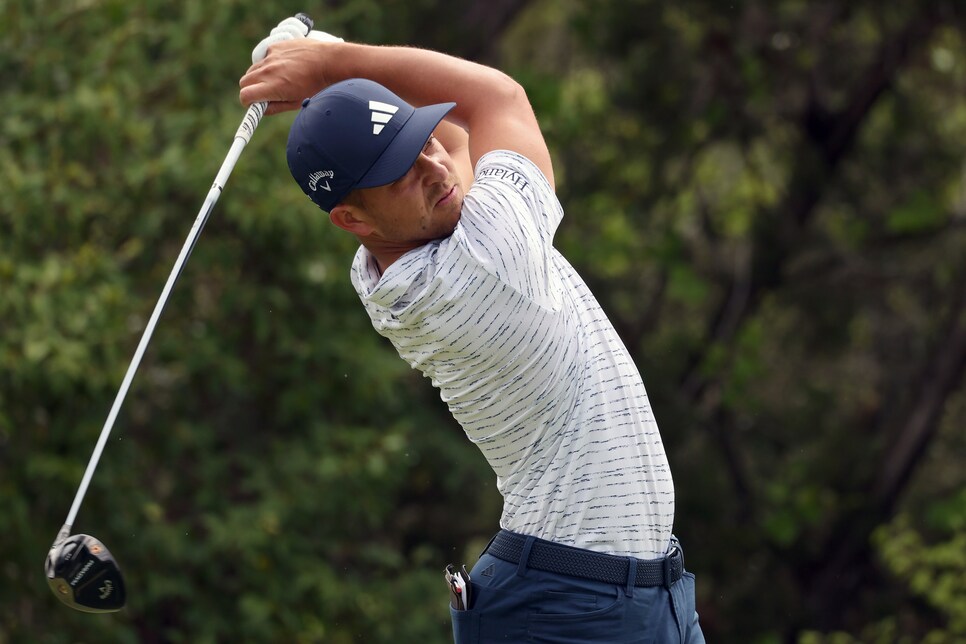 Xander Schauffele hits a drive from the second tee during Day 3 of the WGC-Match Play.
Harry How
In trying to go unbeaten and advance out of group play for the first time, Xander Schauffele was having a bit of a rocky day on Friday in the WGC-Dell Technologies Match Play. He was 1 down to winless Tom Hoge through 16 holes and needed at least a tie to assure himself of playing in Saturday's Round of 16.
Then, when Schauffele's ball left his 9-iron on the par-3 17th, it looked as if he might be destined to lose. The tracer showed a bad hook, long and left, and that's dead at Austin Country Club. Schauffele's shoulders slumped, but the next sound was a click as the ball bounced off rocks inside the penalty area, floated high in the air, landed on the bank behind the green and trickled into the fringe to create a relatively easy putt.
"Wasn't one of my best," Schauffele said of the tee shot.
"I didn't see it bounce," he said. "[Caddie] Austin [Kaiser] said it hit a rock and kind of came back in. [Hoge's] ball could have rolled down and not have a shot, but we both got lucky there, to be honest. Mine more than his."
Hoge missed the green left, too, and ended up making bogey, so the match was tied heading into 18. And that's when Schauffele seized the moment, rolling in 12-foot birdie for the victory.
Seeking his seventh PGA Tour win, Schauffele had, remarkably, never made it out of group play in his previous four tries. He said in one year he was 2-1 and didn't advance. He was one of 11 group winners to go 3-0.
"Probably the best I've played for three rounds," said Schauffele, whose other wins in Group 6 came over Cam Davis and Aaron Wise.
In a Saturday matchup of former San Diego State players, Schauffele takes on J.J. Spaun, who won Group 11 when he finished 3-0 after beating Min Woo Lee on Friday. They were no doubt headed to watch basketball on Friday night, with their Aztecs facing No. 1-seeded Alabama in the Sweet 16 of the NCAA Tournament.