WGC-Dell Match Play
Jason Day, low on confidence, fights his way to 3-0 at the Match Play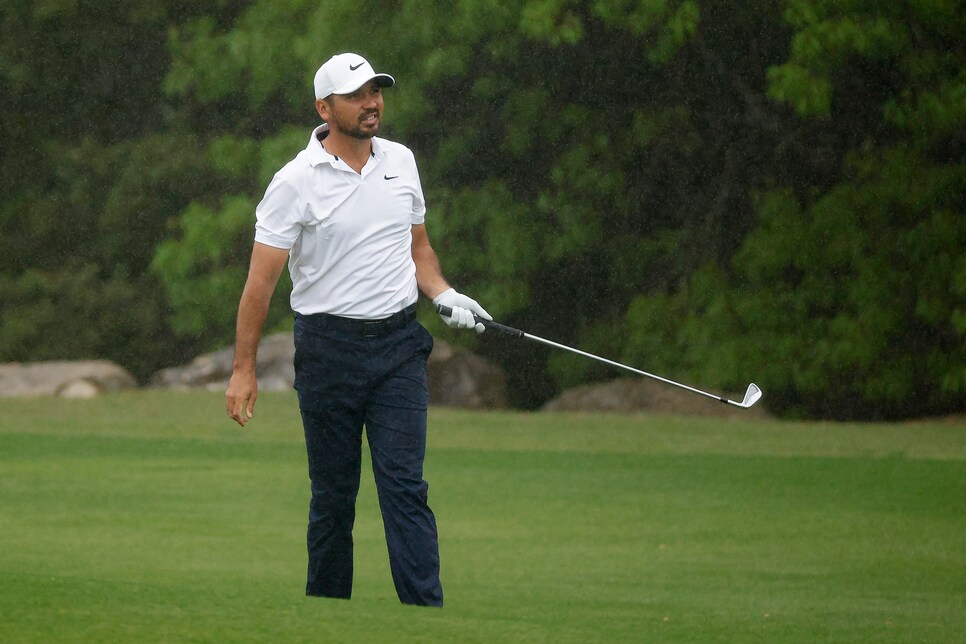 AUSTIN — When a player at the WGC-Dell Match Play comes unscathed through the group play, qualifying for the weekend with a 3-0 record, you expect to hear a few positive thoughts about his game, and some optimism for the knockout stages. But if that player is Jason Day, you hear this instead:
"It's still uncomfortable. … It hasn't felt like I've been in a groove for a while, just because of the swing changes. I mean, I can't fully let it go. … It's just so hard to put an exact date on when I'm going to break through."
Considering that 64 of the best players came to Austin this week, and 48 of them will be heading home after tonight, the fact that Day can stake his claim in the final 16 with all that discomfort is a testament both to his hard work and his prowess in this format. Along with Tiger Woods and Geoff Ogilvy, Day is one of just three players to have won this event twice, and though he's been on an unprecedented cold spell since his last title in 2016, having lost 10 of his last 12 matches heading into the week, two straight wins over Adam Svensson and Victor Perez set him up for a Friday showdown with Collin Morikawa. Day was the better player from the start, with three birdies in his first four holes vaulting him to a lead he wouldn't relinquish. A pinpoint approach on the par-3 11th and a 12-foot birdie putt on 12 extended his lead to 4 up with six to play, and from there he ground out three straight pars to end the match.
"I think that if Collin holed some more putts we'd be going like some extra holes," Day said. "It was nice to be able to take advantage of some of my putts on two and nine. Some good quality iron shots out there again, which was great. Some of the shots that I didn't feel comfortable over, I felt like I handled those pretty nicely."
Day's discomfort with his game stems from swing changes necessitated by his battles with recurring injuries. As Golf Digest's Luke Kerr-Dineen wrote earlier this year, he slipped all the way to 175th in the world before his recent resurgence, and back injuries had begun to erode all parts of his game. Mental struggles, and the passing of his mother, exacerbated the situation, and finally in 2020 he hired Chris Como as his swing coach. Together, they built a swing that would protect his back and preserve his health, which entailed making some big changes in everything from hip flexibility to swing path.
"You hear guys saying they're taking ownership of their game. I never really understood that until the last two years," Day said on Friday. "To really kind of understand how my body's working, where things need to be body-wise and balance-wise, for me to be able to swing the club a certain way is important. I'm not 21 anymore and I don't recover the same way, so I have to be smart."
Day wasn't done reflecting; the former World No. 1 and major champion clearly spends a lot of time thinking about his process, and how it has changed now that golf doesn't come quite so easy.
"When I got to No. 1 in the world back in '15, I enjoyed the journey getting there, but when I got there, I didn't know how I got there, which is interesting to say because I had a team of people around me that would just take care of everything," he said. "So they just kept the horse running, and I was just like, OK, I'm going to run in a straight line. I think this time around I'm just doing it slightly different. At least I'll kind of have essentially an understanding of how things are and where they're going and where I want to be."
The type of self-reflection is somewhat new for Day, and though the Match Play is a volatile format in which you can get lucky to win, the fact that he's reached the weekend once more proves that the changes are starting to take effect. Even better, he feels truly healthy, something he hasn't been able to say for large chunks of his career. Day is 35 now, but in terms of the strain on his body, and how long he's been grinding on the PGA Tour, he feels like an old 35. The irony, though, is that his round of 16 opponent is the oldest man in the field—44-year-old Matt Kuchar. Day is the one man standing between Kuchar and the all-time record for most wins at the Match Play; Kuchar tied Tiger Woods at 36 wins on Friday, and could pass him Saturday morning.
"I'm definitely older than a lot of the guys now," Day said. "This is, I think, my 16th season or something like that. But I must say I'm playing against an older guy tomorrow, so that's going to be fun."