PLAYERS CHAMPIONSHIP
Players 2023: Jason Day continues resurgence, securing spot at another familiar venue in April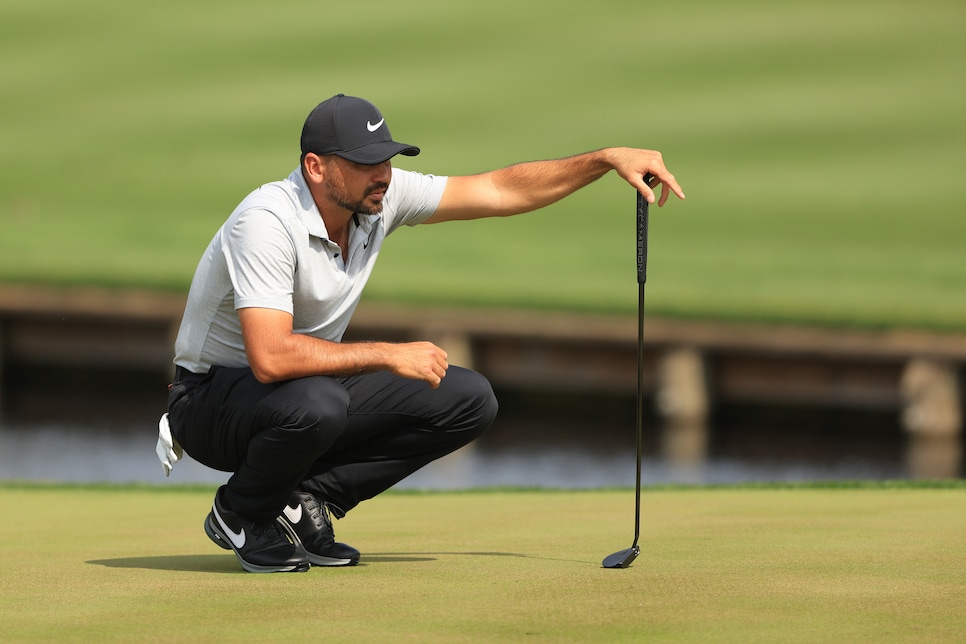 PONTE VEDRA BEACH — It feels a little soon to call Jason Day's solid play over the first two rounds at the Players Championship "vintage." It was only seven years ago that the Australian won the Players Championship in record fashion, equalling the course record with an opening 63 and setting the lowest 36-hole total (129).
Let's call it a "resurgence." The 14-time PGA Tour winner had struggled over the past three years until last fall, when his game began to turn around. The 35-year-old is searching for his first victory on the PGA Tour since May 2018, but he arrived at TPC Sawgrass this week with four top-10s in his past four starts. After consecutive 70s at TPC Sawgrass, and a four-under-par total through two rounds, he's in weekend contention yet again.
"I'm coming off some really good golf, which is nice," Day said Friday. "I've got Chris Como, my coach, here this week, so [he's] trying to help me through some of the swing stuff that I have been struggling with. I feel like that stuff is coming around nicely."
Day's score is made all the more impressive considering he double-bogeyed the par-4 seventh, and bogeyed the par-5 16th (the third-easiest hole so far), both days at TPC Sawgrass.
"I was walking up No. 7, talking to Luke, my caddie, I said, 'It's really easy to make a quick double here.' And I ended up doubling the hole," Day said with a laugh.
That part was not vintage; in 2016, when Day held world No. 1 ranking for 47 consecutive weeks, it's unlikely he would have even thought about doubles. "Six over par at two [different] holes can definitely take you out of a tournament, but luckily it's The Players, and the pressure and everything we're playing through this week, it's [difficult to play] yourself too far out of it."
That pressure, and the brutality of the Pete Dye-designed Stadium course at TPC Sawgrass, proved too much for Day's playing partners—fellow Australian and PGA Tour winner Lucas Herbert and Aaron Wise. Herbert shot 85 Friday following an opening 82 to finish at 23 over par. Wise, who made a 10 on the 18th on Thursday during an 82, signed for a 76. With the cut line projected at one over, both are assured of missing the weekend.
"It can be [a distraction] if you let it affect you; I tried not to pay attention too much to how those guys were going," Day said. "I know that they struggled, and I feel bad for them. Aaron was trying to play his hardest. He had a bit of a struggle on 18 yesterday that kind of kicked it over the edge. Lucas just looked like he was just struggling with his overall game. I kept telling myself to be patient."
Patience will be key, not only as Day tries to capture a second Players Championship title, but as he tries to earn a likely return to the Masters having missed Augusta National last year when he was outside the top 100 on the Official World Golf Rankings and the major exemptions from his 2015 PGA Championship win ran out. It was the first Masters absence in Day's career, having earned a spot in every edition since finishing second on debut in 2011.
But now, at World No. 43 and assured of making the 36-hole cut at the Players, Day is likely to hold onto his place in the top 50 on the OWGR through March 27—at the conclusion of the WGC Match Play.
"I'm trying not to get too far ahead of myself, because I know I missed last year and it's my favorite tournament of the year," he said. "If I have the opportunity [to return to August], that'd be great. But I'm not really thinking about it too much. I'm just trying to play well here," he said. "If I can play well here, then that should just firm it up."