Players Championship
Players 2023: Viktor Hovland, thanks to "a little drama," is in mix at Players Championship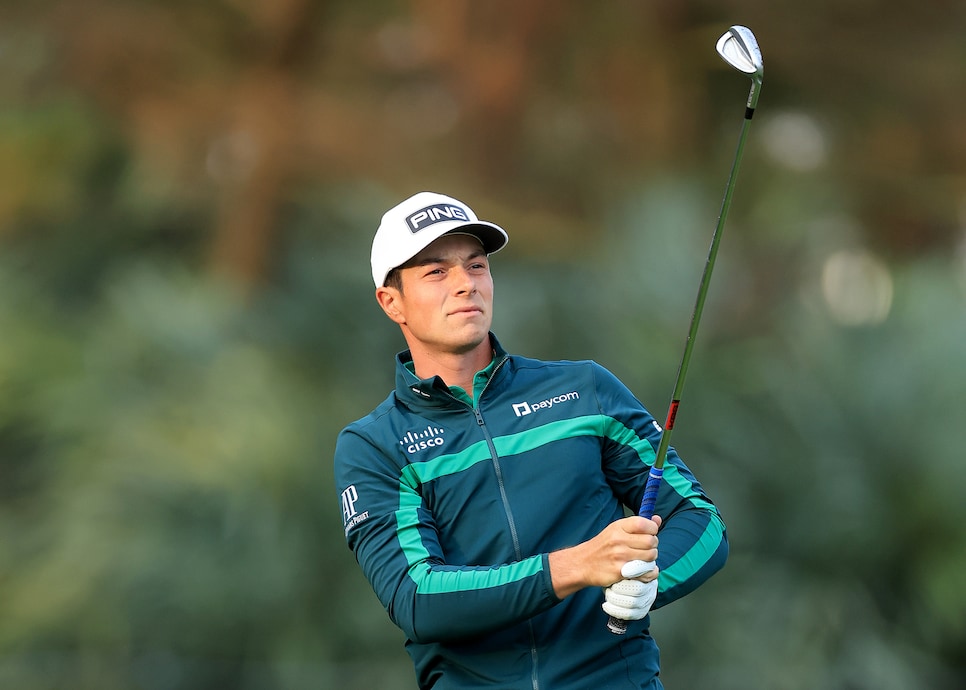 PONTE VEDRA BEACH — He made the hard course look easy for much of the day, in conditions that shouldn't have allowed for such a thing thanks to an array of shots as beautiful as they were bold as they were ridiculous, a reminder that the man when he's at his best is capable of stick-and-ball genius. But the biggest cheer Viktor Hovland received Friday was for a shot that could have been his worst.
Hovland came to the 17th on a heater, birdieing his last three holes and four of his first seven in his second round at the Players Championship to grab a share of the lead. But his tee shot at the 145-yard island green appeared to go only 125, and the resigned sigh that stumbled out of Hovland's mouth said as much. Only the shot went just far enough to catch the top of the railroad tie, sending the ball careening high and long and catching the single yard of rough separating land from water in the back of the green. The crowd yelped, "OHHHH," then screeched "AHHHH," and then hollered with delight when they realized the ball stayed dry. Hovland sighed again and eventually conceded a smile when he left the green with 3 knowing damn well it could have been 5 or worse. "It was a little too much drama there," Hovland later said.
Sawgrass is not known for its generosity, and judging by some ugly scores on Day 2 it was not in a giving mood. Sometimes, you just get lucky. That providence, coupled with his play, has Hovland in the mix heading into the weekend at Ponte Vedra.
"Yeah, I was just hitting it really well, hitting a lot of fairways, hitting a lot of greens," Hovland said after second-round 71, two off the clubhouse lead as the afternoon wave hit the property. "I hit a lot of really nice iron shots to close and give myself a lot of looks and made a couple nice putts on top of that. Had it going."
Hovland's day was not without his missteps, starting with when he got dressed. Hovland wore tight lime-green pants with a dark-green pullover that was adorned with a neon-green strip, a tracksuit ensemble that is common in these parts, albeit not on the course but in retirement communities.
As for the course, Hovland was five under through 12 holes—including an almost hole-out from 175 yards at the 15th—at one point gaining nearly five shots over the field in approach, but got tripped up at the par-4 fourth, a poor drive leading to a worse approach where he made a mess around the greens to walk away with double.
"It's hard to hit the fairway, and if you miss the fairway it's hard to hit it close, and obviously the water is in play," Hovland said about the fourth. He compounded those issues with a bogey at the fifth and missed a putt at the par-3 eighth that most folks would have scooped up in a round with friends. His final score was two shots higher than yesterday.
However that 71 still beat the field average by two-and-a-half strokes, and with winds starting to make their presence known as the morning makes its way into the afternoon at Sawgrass that score and standing will only improve. A standing that gives Hovland a chance to do something he's yet to do.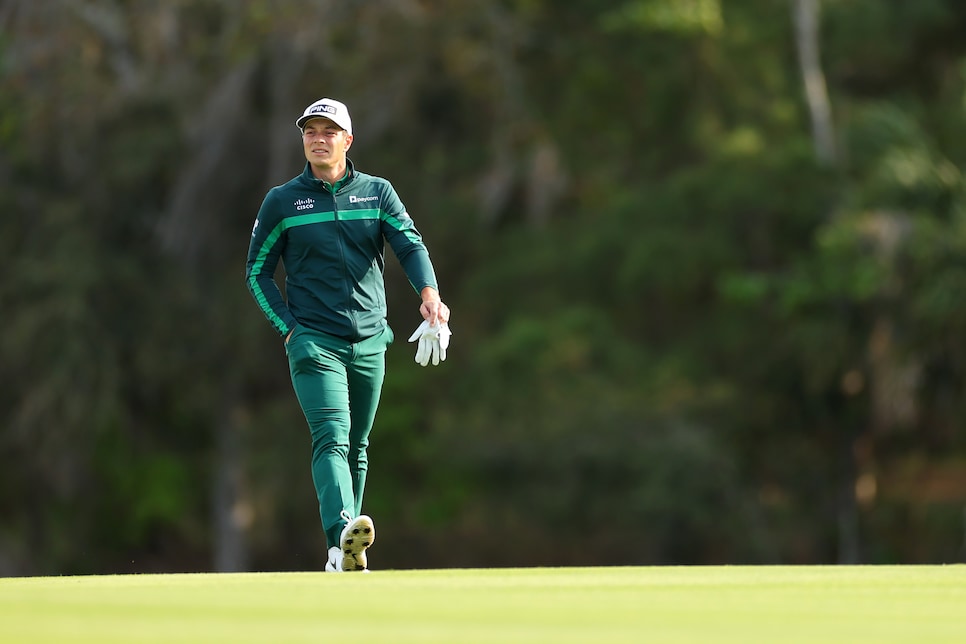 The 25-year-old has lived up his billing in his early career, hitting all the touchpoints required of a fledgling star. Save for one, and it is a doozy: Playing well when it matters the most. Hovland worked his way into the final pairing at last year's Open Championship, the first time he was in contention at one of golf's biggest gatherings. Alas; he and Rory McIlroy were the only players in the top 14 who failed to shoot in the 60s that Sunday at St. Andrews.
That is not an indictment on Hovland's game, where it is now and where it could be headed. Golf's marquee events are notoriously unkind to the inexperienced, and a bit like riding a bull in that you have to fall off at first in order to figure out how to stay on. But until you do, questions will endure if you've got the stuff to stay in the saddle.
Sawgrass is a venue that should allow Hovland to ride. It's been said this course does not cater to one particular skill, and while that's true there is a roadmap for success: Keep the ball in play and make the most of your opportunities when you get them. Hovland enters the week seventh in SG/off-the-tee and 34th in accuracy, and when he does find the long stuff his ball-striking is so strong it's not much of an issue (second in proximity from rough). Yes, the contoured areas on and around the greens call for a sound short game, and as Hovland has noted before his short game "sucks." Except it no longer stinks (sorry Hov, this is a family publication), as Hovland has done his best not make his only weakness not so weak.
When I asked Hovland at Pebble Beach what exactly the issue was, he cited that the things that work well for him in his swing do not translate from 30 yards and in. The dilemma was deciphering how to fix what was broken without breaking what didn't need to be fixed.
"I had to pivot a little bit more with my body and lower body instead of just using all my arms," Hovland said. "For me, I've been, yeah, just focusing almost like standing up a little bit, and it's helped. You've got to find a way to shallow the club out without turning your body or bending the left arm. For me, I've been, yeah, just focusing on almost standing up a little bit, and it's helped."
The change ... well, so far, it's not really evident. That includes through 36 holes here, Hovland ranks 119th in SG/around-the-green. But he feels like he's getting better, and more importantly, he feels comfortable at Sawgrass' unfriendly confines. Hovland said he likes the challenges presented by Pete Dye designs and plays often at Oak Tree National in Oklahoma. Still, he wasn't particularly thrilled with his finish, at one point kicking his bag in frustration after the eighth. He's knows he's in striking position but also knows it could be better.

"Yeah, obviously in a good spot, but pretty disappointed I didn't finish it off today because I played some really, really good golf," Hovland said. "It's frustrating with that finish."
Perhaps Hovland should have been reminded of his luck at the 17th, but it would have fallen on deaf ears. Even when Sawgrass is generous, it still finds a way to be mean.