Takeaways
Xander Schauffele's 'Green Mile' stumble, Rory McIlroy's lucky birthday break, and a weird Wells Fargo streak continues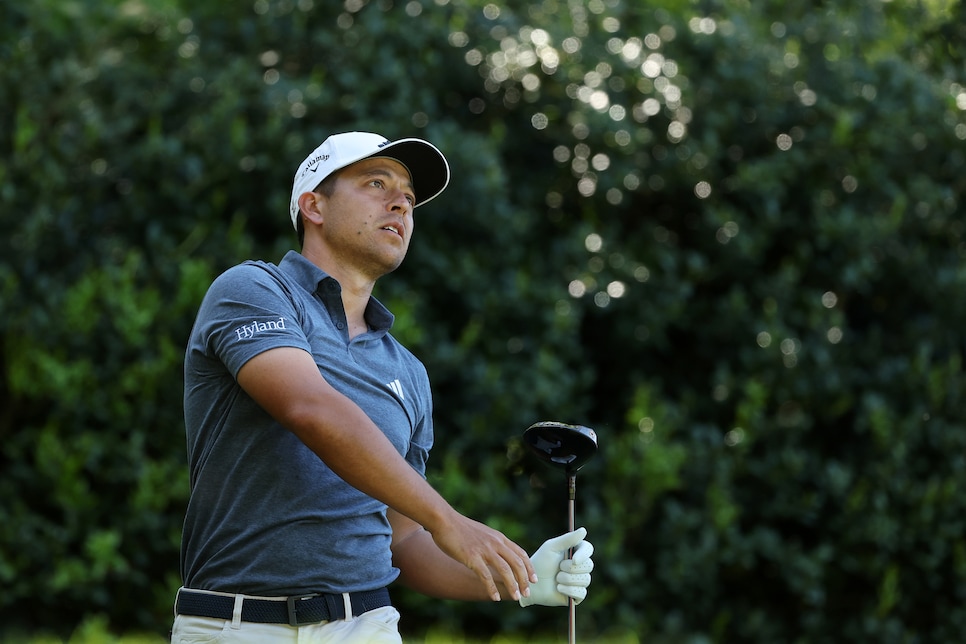 Xander Schauffele proved on Thursday that it doesn't matter how good you are—or how well you're playing—Quail Hollow's vaunted "Green Mile" can still trip you up.
The seven-time PGA Tour winner was in the zone and in the lead on Day 1 at the Wells Fargo Championship. But after making two bogeys in the difficult three-hole closing stretch—including one on the 18th hole after his tee shot found the creek—Schauffele had to settle for a five-under-par 66.
"I really had it going there," Schauffele told reporters after. "Ball was on a string for a bit, did everything really well. It's a championship-style golf course, so played really well through 15 holes and then had a little hiccup there coming in, so it is what it is."
Still, there's plenty to feel good about for Schauffele, who is part of a five-way tie for second after the first round. So the 29-year-old should feel pretty confident heading into Friday.
"Yeah, I had a big enough head start on the course that I figured giving some back wouldn't hurt me too much," he added.
OK, maybe not that confident. Anyway, here are four other takeaways from Thursday at Quail Hollow.
Tommy Fleetwood's fantastic finish
Not everyone stumbled coming home, though, on Thursday. Tommy Fleetwood actually thrived with a pair of birdies to finish his round and take the solo lead at six under.
"Yeah, you can obviously look at it as you can make it as daunting or as simple as you want to make it," Fleetwood said. "There's somebody that's going to hit a great shot on all of those holes today, like the shot today at 18, I made a birdie. There's good shots out there, and you have to always be looking for them and you always have to feel like you can hit one of those. Whether you do or not is a different story, but believing you can is the first part."
Fleetwood, a six-time DP World Tour winner, certainly believes that he has the game to win on the PGA Tour as well. For whatever reason, though, it hasn't happened yet. But after putting himself in fantastic position to make his maiden victory a big one at a designated event, he knows he's got a lot of work to do.
"Look, today was just another round of golf," Fleetwood said. "There's a lot more to play, a lot more to play in the year. But yeah, good rounds builds confidence and that's the only way sort of you can gain confidence is by going out there and playing well. See if we can keep it up."
Speaking of building confidence …
Pat and Joe's solid start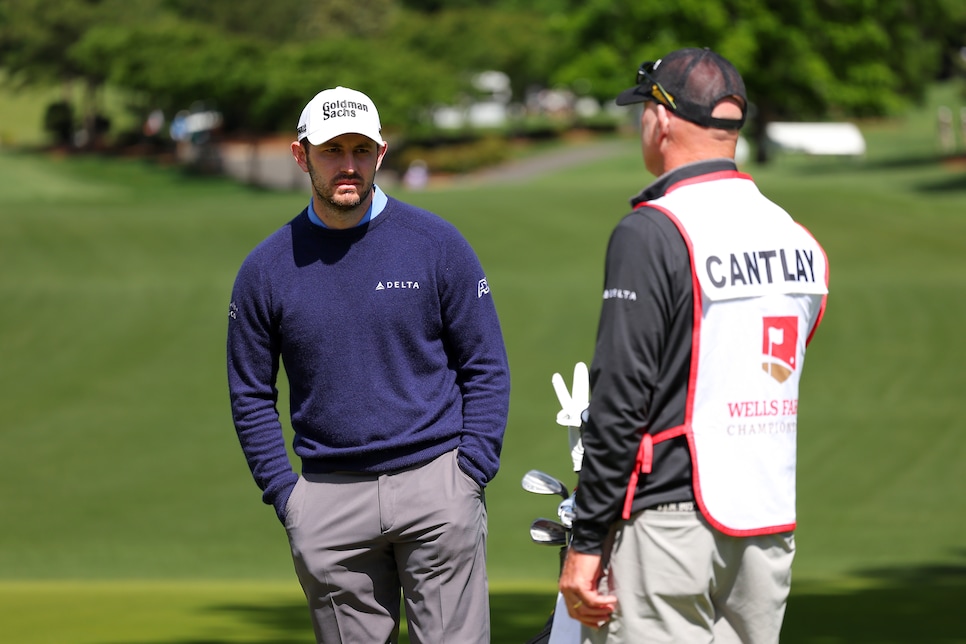 News that Tiger Woods' longtime looper, Joe LaCava, was now Patrick Cantlay's full-time caddie shocked the golf world on Tuesday. Far less shocking is the tandem getting off to a great start on Thursday.
Cantlay opened with a four-under-par 67, and seemed to get about 67 questions on the new partnership after. Here's what we learned:
– It's a "pretty easy transition" given their experience and friendship.
– They don't talk a lot of golf in between shots.
– LaCava helped him with a couple reads on the green, including with a "tricky" birdie on No. 8.
– Pat didn't need any pep talks from Joe on Thursday.
We're not sure about how that last one will go given Cantlay's SoCal roots, but we're pretty sure these two are going to do just fine on the course.
Rory's lucky birthday break
We know Rory McIlroy loves Quail Hollow and Quail Hollow loves Rory McIlroy. Heck, they named a bald eagle there after him a few years ago, but this was something else.
McIlroy hit a fine shot on the par-3 fourth hole (McIlroy's 13th hole of the day) on Thursday, but his golf ball was going to run well towards the back of the green. Until it hit Matt Fitzpatrick's golf ball, which was sitting about three feet from the hole. The result was both of them having near kick-in birdies (Fitzpatrick got to replace his ball where it was). Have a look:
How about that for a birthday present? That took McIlroy, who turned 34 on Thursday, to three under, which is how he finished his round. And even though he trails Fleetwood by three shots, DraftKings has him as the favorite to win for a fourth time at Quail Hollow.
K.H. Lee's bizarre streak continues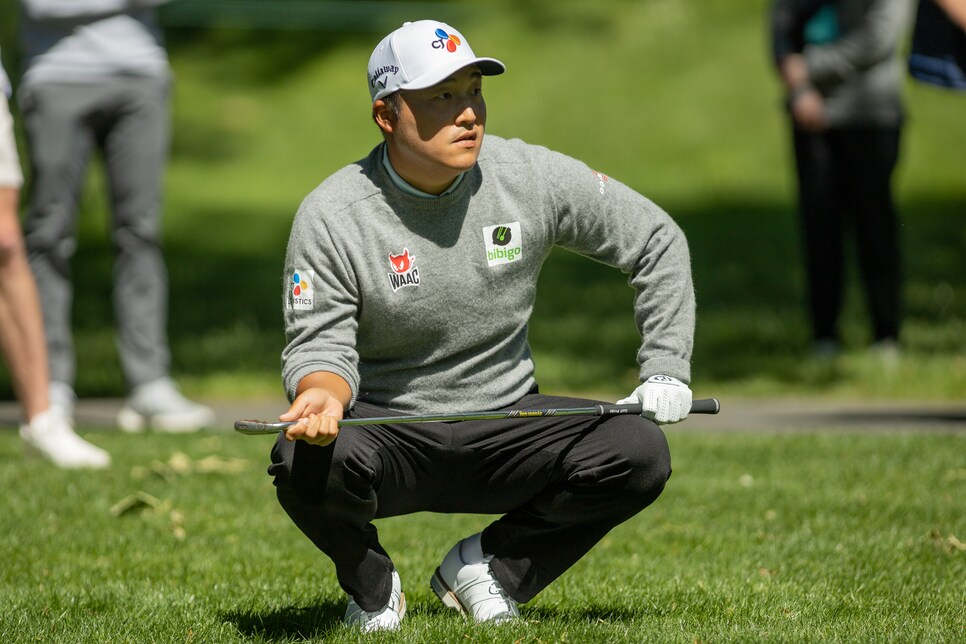 The good news for K.H. Lee? He opened the Wells Fargo Championship with a 66. The bad news for K.H. Lee? He opened the Wells Fargo Championship with a 66. Confused? Let's explain.
In a rather odd coincidence—especially because TPC Potomac at Avenel Farm hosted the event last year—this is the third consecutive year Lee has begun this tournament by shooting 66. And, also oddly, it hasn't led to any particularly high finishes. Lee finished T-25 in Maryland last year and T-58 at Quail Hollow in 2021.
"Yeah, have really excited memory when I tee up the first hole and then even when I bogey or (inaudible) still I'm so happy here," said Lee, who also played at Quail Hollow in last year's Presidents Cup. "I just enjoyed it today and then I think (inaudible) make more birdies today."
Imagine how happy he'll be then if he actually strings a couple more good rounds together. That being said, Lee has also won the AT&T Byron Nelson the following week in each of the past two years so that seems like a pretty good trade-off. In other words, it looks like the rest of the guys will be playing for second place in Dallas again next week.