Clown Golf
British Open 2023: Wyndham Clark hitting a bunker shot backwards only for it to roll back in the bunker is insanely cruel
Considering the break he got on the 72nd hole of the U.S. Open, Wyndham Clark was due for some good ol' fashioned karma from the golf gods.
Even still, the bad break the U.S. Open champ got on the par-3 13th hole at Royal Liverpool was cruel and unusual. Despite the R&A's efforts to ease up on the penalty for being inside a bunker prior to the second round, they are still playing like legitimate hazards on Friday. Clark found that out went he had to hit backwards out of a greenside bunker at the 13th, a common sight this week at Hoylake.
But Clark's attempt at taking his medicine just made things worse. The ball actually rolled back into the bunker, reminiscent of the clown's mouth spitting the ball back out at Happy Gilmore before he chopped its nose off:
Pain. Also, early contender for screenshot of the year: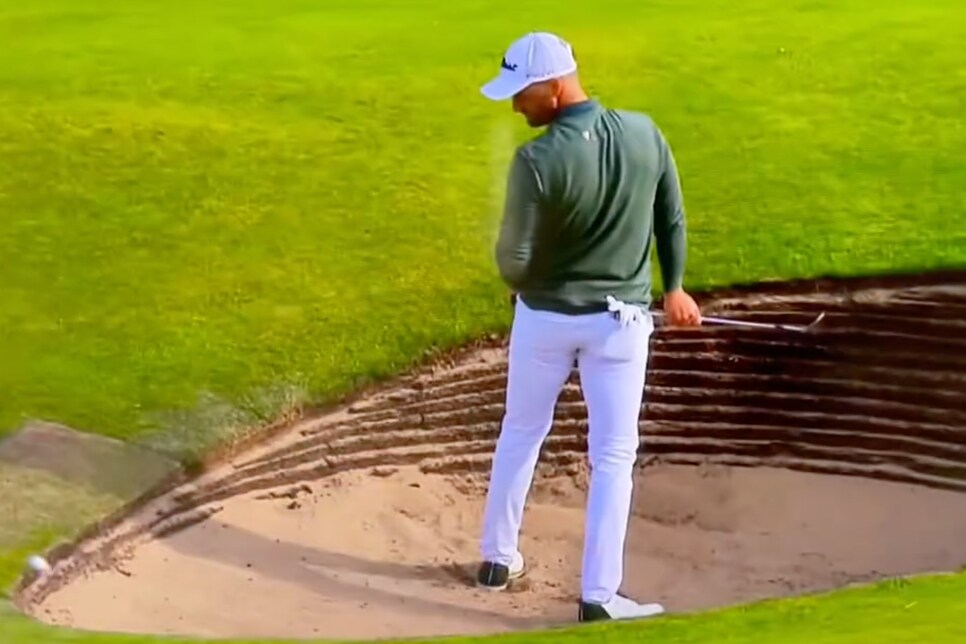 For us mere mortals, this is a "pick it up" situation to save yourself from further embarrassment. Clark didn't have that luxury, but being the pro's pro he is he knocked the next one on the green and took his two-putt double bogey. That's normally a week-ender at a major, but Clark did finish at one under over his first 36 holes, which is good enough for T-10 heading into the weekend. That's nine back of Brian Harman, who is in solo first, but it's just four back of Tommy Fleetwood's solo second position. Given the way this tournament seems to be going, Clark is still very much alive, but we could be revisiting this moment if he loses by a stroke or two come Sunday.