The Loop
Wow, people actually care that Bryce Harper "cheated" during the Home Run Derby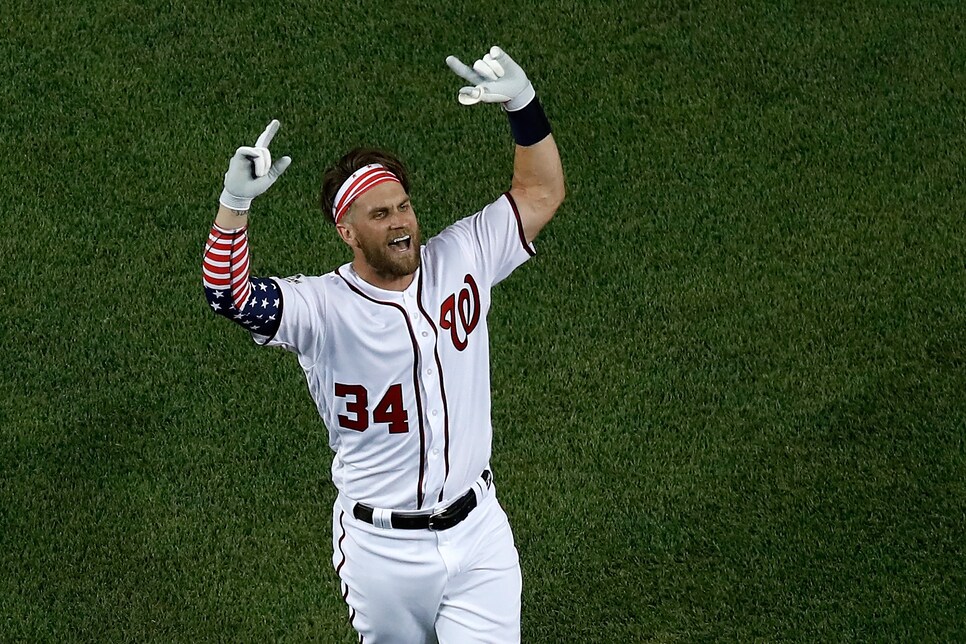 Find any good thing. Seriously, anything remotely positive. Some shred of something that makes you feel slightly better about the crumbling planet around you. Found it? Good. Now type that thing into Twitter. Now watch said good thing get a torn apart like a gazelle carcass by a pack of hyenas. This, in a nutshell, is the online experience.
The technical term for this is milkshake ducking—the process of discovering an online folk hero, such as Ken Bone for instance, is actually a mouthbreathing reddit creep who makes sexually exploitative fan art of beloved anime characters for fun or something. Last night, Bryce Harper got milkshake ducked. Before the confetti had even settled on his emotional, hometown, come-from-behind, father-son-affirming Home Run Derby victory, digital rubberneckers and Mad Online Cubs fans alike rushed to their sticky keyboards to howl into the void with a single, righteous voice.
Now I'm a Mets fan. I loathe the Nats. I loathe Harper's stupid hair and Murphy's stupid beard. I don't want to them to go back to Montreal. I want them to be shot into freaking space. But this is so incredibly, irrationally, pointlessly idiotic that I almost don't where to to begin. Oh wait, here's a good place:
1.) IT'S THE FREAKING HOME RUN DERBY
My god. Put your down your pitchforks you stinky peasant mob. This is the Pro Bowl skills competition minus the skills. It's sponsored by T-Mobile. Do even know anyone who has T-Mobile? If this is the moral hill you're going to die on right now, do everyone a favor and die on it already.
2.) EVERYONE WAS DOING IT
Your elementary school teachers taught you that "everyone was doing it" is never a valid excuse. You're probably smarter than your elementary school teachers now. All night long, each player loosely adhered to the the-ball-must-land-before-the-next-pitch protocol...until they desperately needed some dingers, at which point they were willing to do just about anything except run all the way to center and drop the ball over the wall (and only because that would take too long). If everyone is Sig Heiling, don't do it. If everyone is getting pitches delivered a half second early in a make-believe sports competition with nothing but a shiny trophy on the line, by all means, start firing 'em in.
3.) THE BEST PLAYER ON THE FIELD WON ANYWAY
Bryce Harper won the Home Run Derby when he did this back in April. We just didn't know it yet.
He's a phenom who didn't flame out, a former MVP, and an impending paradigm shift for American sports economics (once he signs that purported half-a-billion-dollar contract this offseason). The best guy on the field won the award of being the best guy on the field. Get off Twitter and take your kids to school.
4.) IF YOU WANT TO BE MAD ABOUT SOMETHING, THE PRESIDENT JUST WENT ON TV IN FRONT OF THE ENTIRE WORLD AND CALLED AMERICAN INTELLIGENCE AGENCIES LIARS IN ORDER TO DEFEND THE RUSSIAN PRESIDENT
Speaking of collusion, here's some that actually matters. Plus, once great and supreme leader Putin is in charge, he'll win every Home Run Derby by default. Want to preserve the sanctity of your precious summer swing-jam? Great. Let's start with democracy and take it from there.