The Loop
Wow, NFL players really don't like Jay Cutler
Professional athletes rarely tell us what they are actually thinking. When they do, they get criticized. And when they don't, well, then they are boring and just paying everyone "lip service."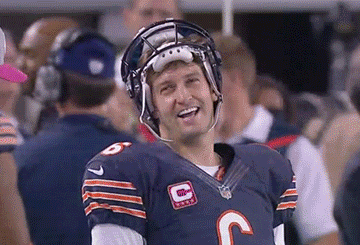 Despite loads of talent, a cannon for an arm and having a very attractive wife, Cutler has rubbed a lot of people the wrong way during his 11-year career. In the ESPN poll, he received 42% of the 64 total votes in the category of "Who is the one QB you would not want as a teammate?" Ouch. One player even went as far to say that he's not sure Cutler even wanted to play this season, a theory Cutler didn't exactly debunk when he hilariously lined up in the Wildcat formation during Miami's London game against the New Orleans Saints a few weeks ago:
The more unexpected poll answers included Tom Brady receiving 49% of 78 votes when players were asked "Which QB will win the most Super Bowls in the next 10 years?" At the age of 40, his opponents are still confident/afraid that the Patriots QB can still get it done in the near future.
Then there was the "Which QB talks the most trash?" question, which Cam Newton won by a slim margin over.... Philip Rivers!? While this seems shocking, upon further review, he probably should have won this one in a landslide strictly for his use of the words "GOLLLLY" , "DADGUMMIT" and "SHOOT." Clean trash-talk is the best trash-talk.
For the rest of the poll questions, like who holds the crown for most overrated quarterback, check out ESPN.com. (Hint: It's Eli Manning, which is a terrible opinion to have and it can't be trusted)