Money
Combined annual salaries of Capital One's The Match participants was $147 million. Would some skin in the game make things more interesting?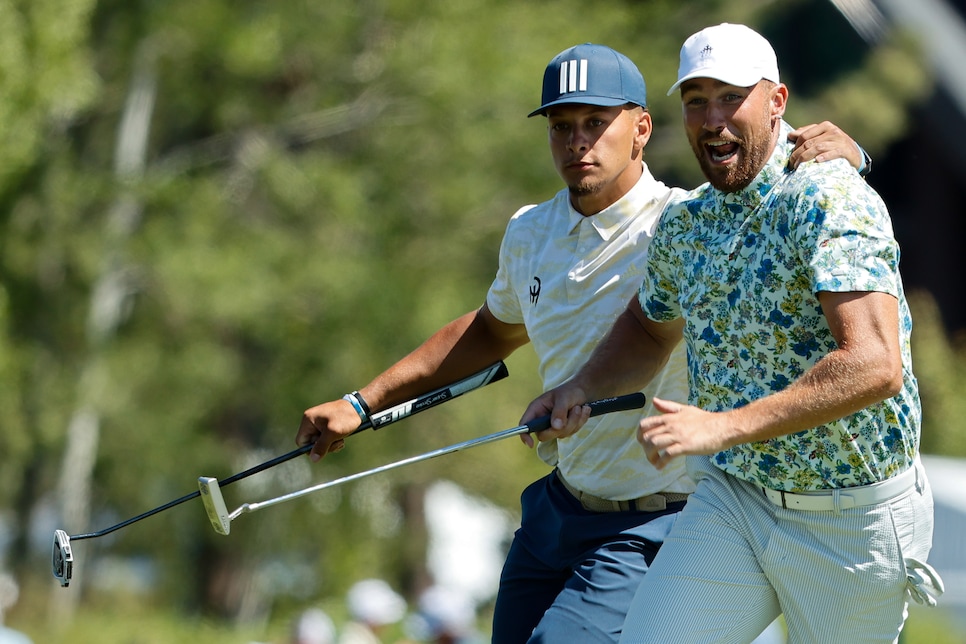 The NFL's Patrick Mahomes (left) and Travis Kelce topped Steph Curry and Klay Thompson, 3 and 2, in Thursday's match.
Isaiah Vazquez/Clarkson Creative
Bragging rights (and seven figures for charity) are worthwhile stakes for a tussle among athlete/celebrities Patrick Mahomes, Travis Kelce, Steph Curry and Klay Thompson at Capital One's The Match.
But even if $100,000 per hole was coming out of the players' own pockets, it probably wouldn't be enough to tighten anyone's collar. The four players in yesterday's Match—the eighth iteration of the popular event—set a record for combined annual salary in their chosen profession. Curry ($52 million), Thompson ($43 million), Mahomes ($40 million) and Kelce ($12 million) combined to make almost $148 million this past season. That's $12 million more than the previous high-earning quartet of Josh Allen ($47 million), Aaron Rodgers ($42 million), Mahomes ($32 million) and Tom Brady ($15 million) from last year's Match.
Want to really unify golf? Make the next match a combination of new super-rich LIV and PGA Tour players Phil Mickelson ($102 million), Dustin Johnson ($99 million), Rory McIlroy ($88 million) and Jordan Spieth ($44 million) and soccer star Lionel Messi ($75 milllion), NBA legend Lebron James ($41 million), boxer Canelo Alvarez ($85 million) and Curry ($52 million). Match up two four-person scramble teams made up of two golfers and two athletes—say PGA Tour/U.S. vs. LIV/World. Keep the charity element as one component, but have the players dig into their own pockets for the stakes.
Fun experiment? Find out just how much money it takes for professional golfers and battle-hardened athletes in other sports to blink—and how skittish a player like Mickelson might get not when he has his own putt for big dollars, but when he's watching a partner like 8-handicap Alvarez stand over a 12-footer for $1 million of his own money. That'd be a heck of a way to reintroduce himself to Las Vegas.