Cold-Weather Tips
Here's why you should be wearing wool on the golf course
*All products featured on Golf Digest are independently selected by our editors. However, when you buy something through our retail links, we may earn an affiliate commission.*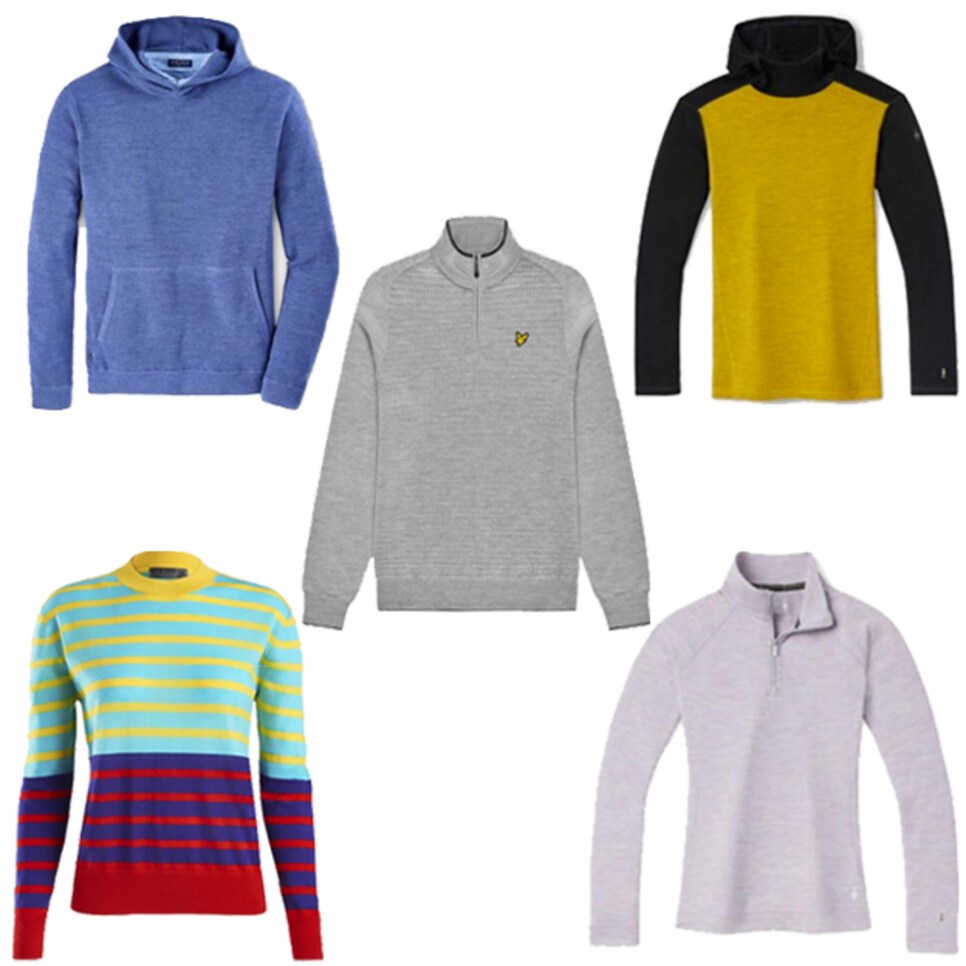 Wool can get a bad rap for being a thick and stuffy sweater material when it is, in fact, one of the oldest and most trusted performance fabrics. One of the thinnest and softest types, Merino wool, is a material all golfers should consider incorporating into their cold-weather golf layering ensembles. It naturally regulates body temperature, wicks away moisture and is odor-resistant.
When you layer multiple pieces of Merino wool on top of each other, the fibers work together to insulate the body while transporting excess heat or sweat away from the skin. Synthetic layers (like nylon, polyester or spandex) can trap sweat and sweat vapors, causing that clammy feeling that will disrupt the regulation of your body temperature—and likely your golf game, too.
RELATED: 7 pairs of pants you need for fall golf
If you live in a climate with cold winters, you're likely familiar with Smartwool socks. It's a popular cold-weather accessory for golfers looking for a warm-yet-comfortable sock that won't leave a puddle of sweat in your golf shoe post-round. The brand's wool collection continues to expand and includes several options that are great for golf.
"Two benefits wool can bring to golfers are that Merino wool transitions well between temperature swings and layers well," Maggie Meisinger, manager of Strategic Communications at Smartwool, said. "From early morning golf in the fall to hot summer afternoons, the inherent benefits of Merino wool and the power of layering it make it a really effective piece."
In addition to being a great thermal regulator, Merino is one of the softest and most comfortable types of wool. This, and its natural performance qualities are what attract many golf brands to using the material.
"The role of an apparel brand is to find or develop fabrics that provide optimal performance for the golfer." Chris Somerton, head of golf at Lyle & Scott said. "Be it 100 percent Merino or as a blend, performance is almost a given, so we can focus on styling and other key details."
Knitwear is a staple for golfers navigating different climates throughout the season, and as Somerton relaunched the brand's golf line, working with Merino was a natural choice for both classic and technical apparel pieces.
"For us as a brand, the attraction to Merino is its versatility," Somerton said. "You can enhance certain aspects of performance for a garment by combining Merino with other fibers ... adding acrylic boosts durability and resistance to pilling, particularly important if the garment will experience a lot of rubbing, for example, when carrying a golf bag."